Spinach and Turkey Lasagna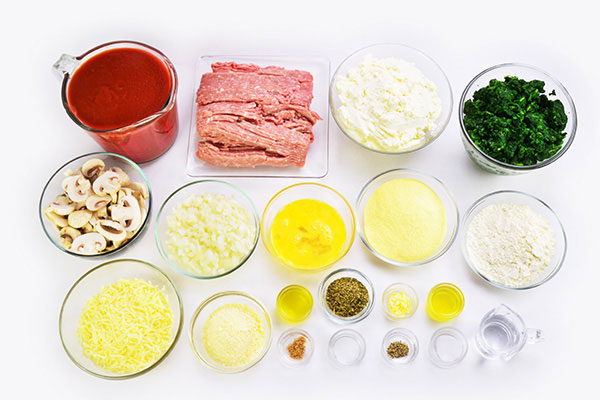 Ingredients (for BB-CEC20, serves 6-8):
Lasagna Dough:
1/4 cup (60ml) water
2 large eggs, beaten
1 Tbsp. (13g) olive oil
1 cup (160g) semolina flour
1 cup (130g) all purpose flour
1/2 tsp. (2.8g) salt
Turkey Filling:
1 Tbsp. olive oil
1 medium onion, chopped
2 tsp. garlic, minced
2 lb. ground turkey
3 (15 oz. each) cans tomato sauce
8 oz. sliced button mushrooms
2 Tbsp. Italian seasoning
1/4 tsp. ground black pepper
1/2 tsp. salt
Spinach Filling:
1-1/2 lb. frozen chopped spinach, defrosted
32 oz. ricotta cheese
1/4 tsp. ground nutmeg
Cheese Filling:
1-1/2 cup mozzarella cheese, shredded
1/2 cup Parmesan cheese, grated
You will need a 3 quart or larger sized oblong baking dish.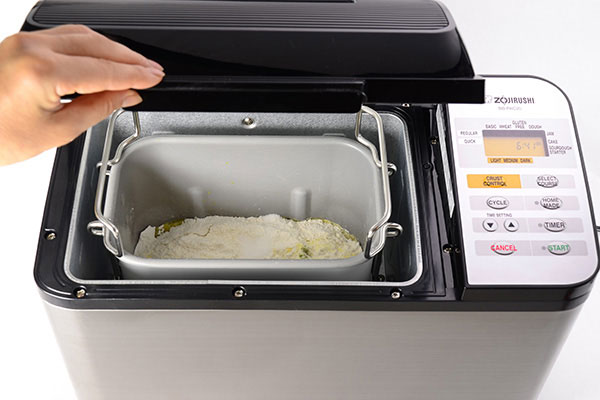 1

Make sure the kneading blade(s) are properly attached. Add the Lasagna Dough ingredients to the baking pan in the order listed. Place the baking pan into the Home Bakery, close the lid and plug the cord into the outlet. For BB-PAC20/BB-CEC20 model, select HOME MADE course. Press CYCLE button turning OFF the following: Preheat, Rise 1, Rise 2, Rise 3, Shape, Bake, Keep Warm. Select KNEAD cycle. Press and hold TIME until the display shows 0:20. Then press CYCLE twice to record. For BB-HAC10 model, select COOKIE/PASTA DOUGH course. Press START.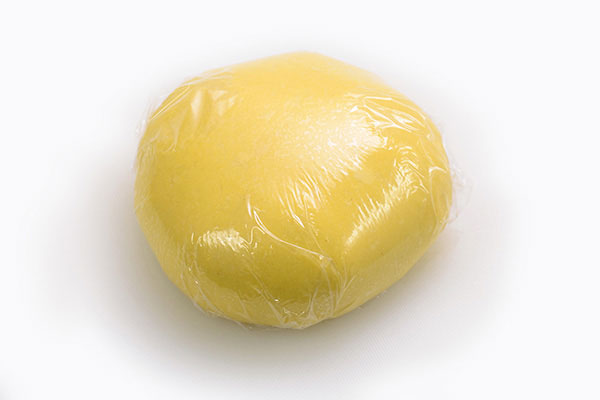 2

When the Home Bakery completes kneading, press CANCEL and remove dough from the Baking Pan. Roll dough into a ball, cover with plastic wrap and let it rest for an hour in the refrigerator.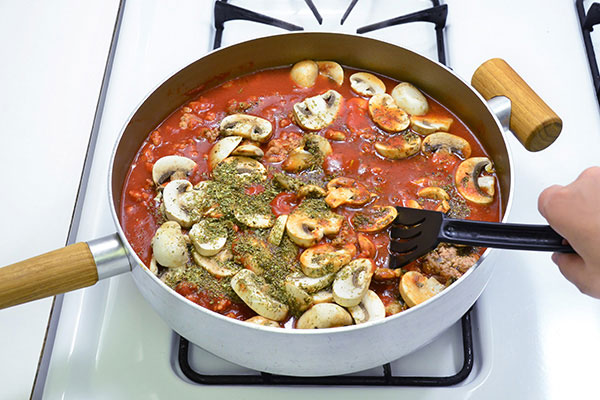 3

Prepare the filling. Heat olive oil in a frying pan over medium heat. Add onion, garlic and sauté for 2 minutes. Add ground turkey, stir to break up any large chunks of meat and cook at high heat for 6 minutes. Add tomato sauce, mushrooms, Italian seasoning and black pepper to the pan and bring to boil. Reduce to simmer, cook for 2 minutes and add salt. Set aside.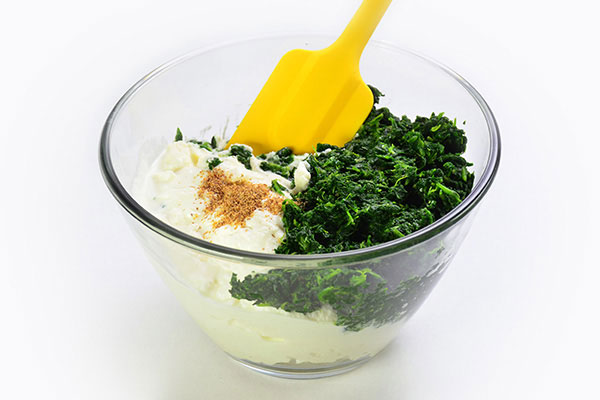 4

Squeeze out excess water from spinach. In a large bowl, combine spinach with ricotta cheese and nutmeg. Set aside.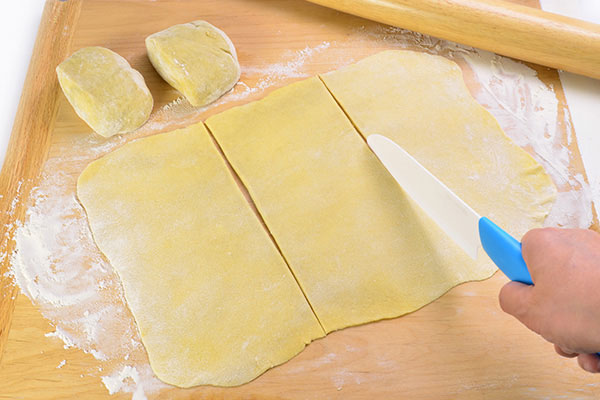 5

Place dough on a lightly floured board and divide into 1/3. Then roll each dough to fit into the bottom of the baking dish. Cut each sheet into 3-4 strips for so that it is easier to transfer.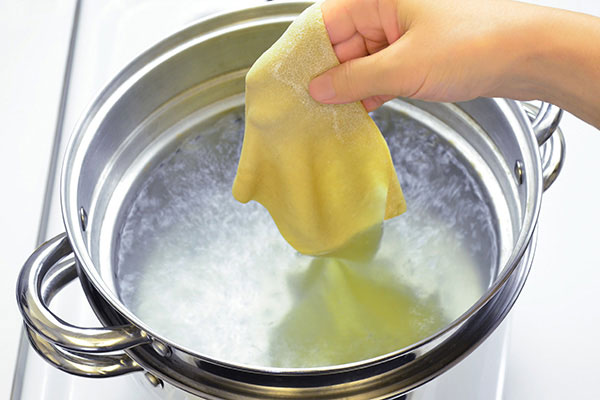 6

Bring water (not included in the ingredients list) to a boil in a large pot. Add a pinch of salt (not included in the ingredients list) and pasta and cook for two minutes or until the pasta floats to the surface. Drain and rinse with cool water. Drizzle olive oil (not included in the ingredients) over pasta to prevent from sticking. Set aside.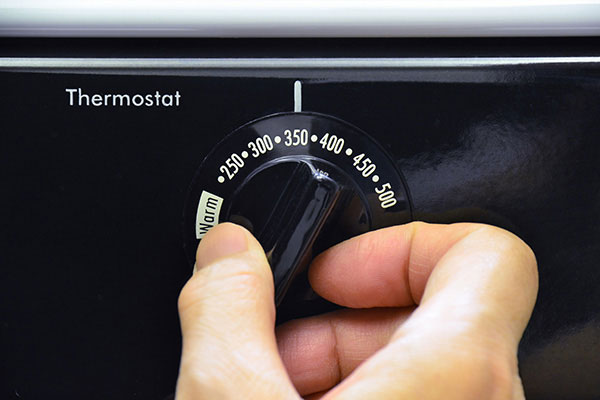 7

Preheat oven to 350ºF.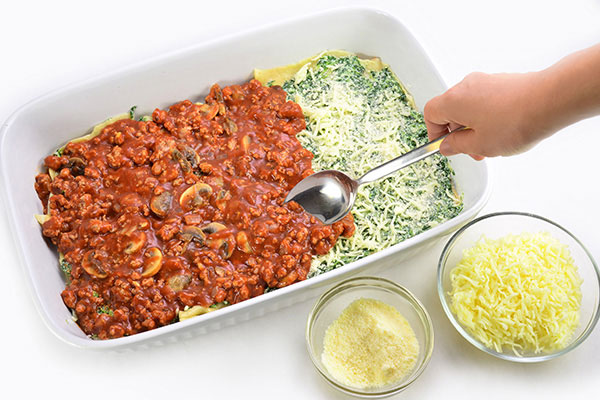 8

Assemble lasagna. Lightly coat inside of a baking dish with small amount of olive oil (not included in the ingredients). Ladle in a cup of turkey mixture and cover with 1/3 of the pasta. Add a third of spinach filling, a third of mozzarella cheese, a third of Parmesan cheese and half of the remaining turkey filling. Repeat the layers twice in the same order. Make sure to completely cover the top layer of the pasta to keep lasagna moist while baking.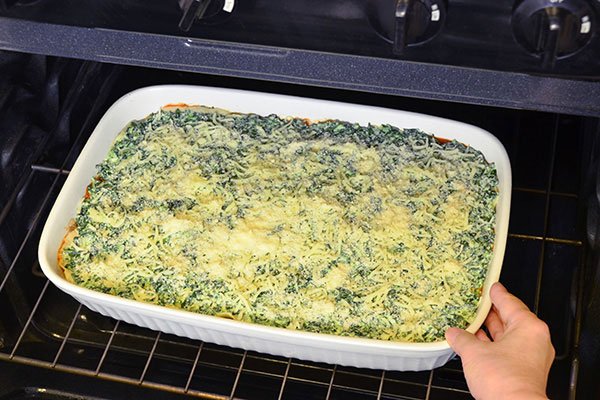 9

Bake in oven for 40-50 minutes.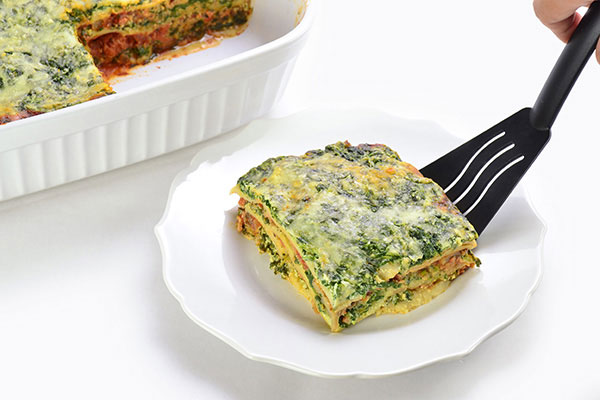 10

Allow to stand for 20 minutes before serving. Enjoy!