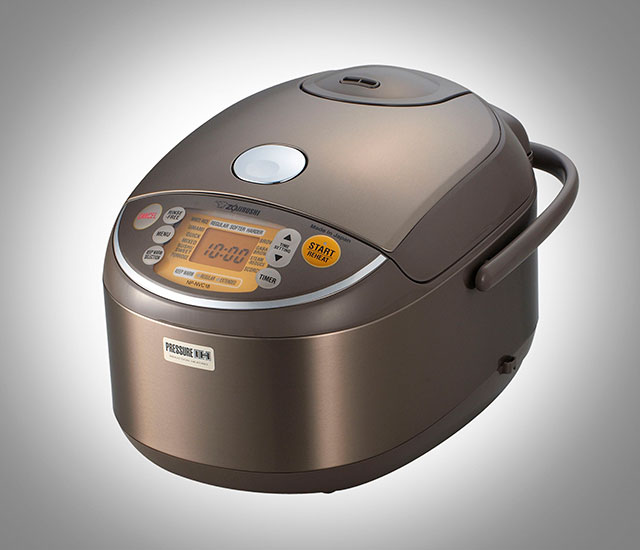 Ahhh, December. The time of year for holidays and for hunkering down with warm, wholesome foods. At Zojirushi, we're obviously fans of rice as a staple of those warm meals and are showcasing our top-of-the-line Induction Heating Pressure Rice Cooker & Warmer (NP-NVC10/18) to get you through the winter.
This rice cooker combines multiple cooking technologies to provide top-notch results each and every time. It's made in Japan and comes in two sizes, 5.5 cups and 10 cups. As with our other rice cookers, it's styled to coordinate with any kitchen décor and comes with two measuring cups and a rice spatula for your convenience.
But really, the most innovative features of this rice cooker are its technologies, including induction heating (IH) and pressure cooking, both of which are controlled by the fuzzy logic technology with artificial intelligence (AI). Whew! Say that fast 10 times!
Knowing how these three technologies work together helps to really understand why this is a superior rice cooker, so get ready for some tech talk.
This rice cooker uses induction heating as one of its cooking methods. When you look inside the rice cooker, you won't see a heating element or plate, like those used in a radiant heat-dependent appliance. Instead, this rice cooker has a system of magnetic coils that are hidden within the body of the machine. When electricity is run through these magnetic coils, they instantly heat the stainless steel of the inner cooking pan, making the pan itself the 'heating element'!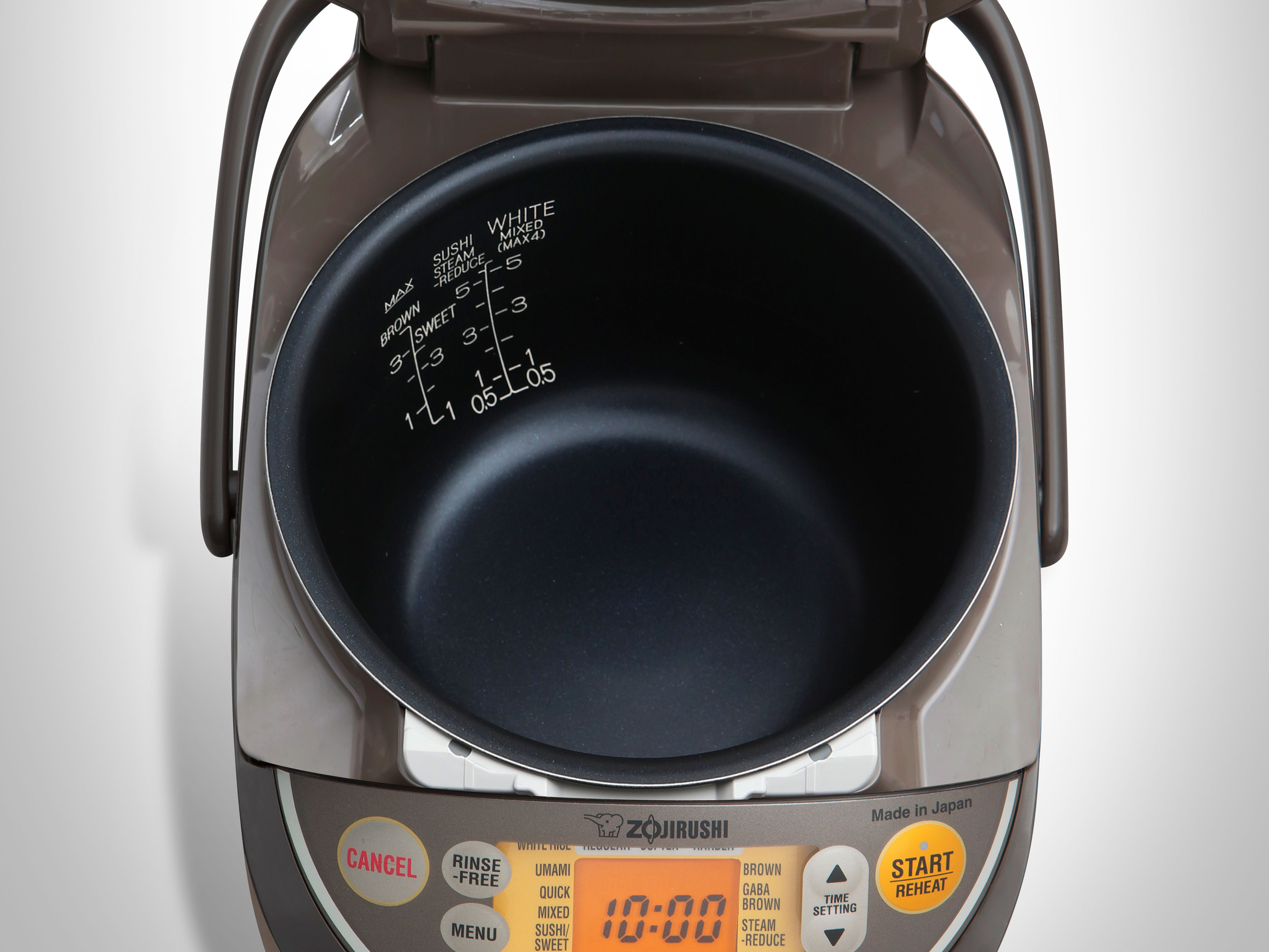 The heat can be controlled for precise tuning during cooking and the resulting rice is perfectly cooked, every time.
This rice cooker also uses pressure cooking to cook rice. Pressure cooking is simply the act of heating food under steam pressure in a sealed vessel, forcing liquid into the food in order to cook it. In the case of our rice cooker, once the menu setting has been selected, the machine automatically selects from the pressure levels that result in hard, medium or soft rice–the more pressure, the more liquid forced into the rice, and the softer it becomes. In our rice cooker, applying pressure while cooking also helps convert the hard beta starch in raw rice into alpha starch, making it softer and easier to digest. For example, brown rice will need more water forced into it to make it soft and fluffy whereas sushi rice won't, since it needs to have a firmer texture. Plus, rice cooked under pressure has been found to stay softer longer, perfect for rice that will be stored before consumption.
Both cooking methods are controlled by the rice cooker's microcomputer, or Micom for short. It's programmed using advanced fuzzy logic technology with artificial intelligence that adjusts the cooking time and temperature for each menu setting. Fuzzy logic is important, because it can make subtle adjustments the cooking process, creating a flow that results in rice that's perfectly cooked every time.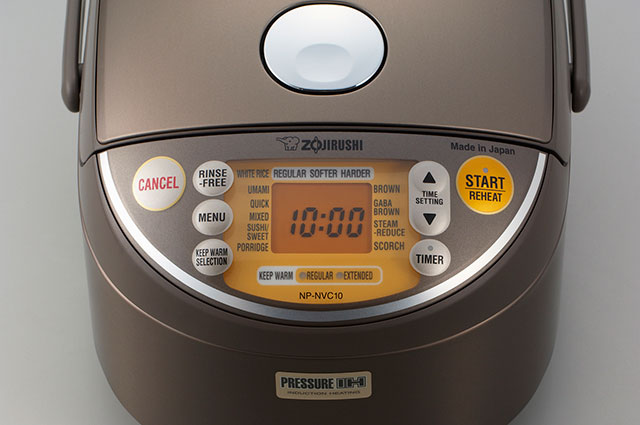 Considering there's so much technology in this rice cooker, it's surprisingly easy to use. All of the menu settings can be selected from the easy-to-read LCD panel and include menus for White Rice, in regular, softer or harder textures (see… different pressures!), Mixed Rice, Sushi/Sweet Rice, Porridge, Brown Rice, GABA Brown Rice, as well as Zojirushi's exclusive UMAMI, Steam-Reduce and Scorch settings.
The Delay Timer, also accessible from the LCD control panel, allows you to program when you'd like the rice to be ready, and Keep Warm and Reheat settings keep your rice hot and fresh when you're ready to eat.
Inside the machine, the easy to clean platinum-infused nonstick inner cooking pan (which heats beautifully because of induction heating!) makes sweeter tasting rice, and the detachable inner lid is fully washable and equipped with a filter to prevent small food particles from becoming stuck in the pressure system.
With all of these features, we know you're going to make amazing dishes. Our favorite warming dish are Garlic Flavored Beef Yakimeshi, Kimchi Fried Rice and Rice and Beans with Bacon and Collard Greens. Check out some more rice cooker recipes on our website!
Happy cooking and happy end of year!
And don't forget to share your favorites with us below.