Japanese Curry & Rice (kare-raisu) is a hearty dish made with a mélange of vegetables and a protein of choice. It's so popular in Japan that it's considered one of the country's national dishes, right alongside ramen. It is enjoyed by children and adults alike all year long, especially when it's made by mom! Below, we'll dive into what makes this dish unique, how to enjoy it, and how to make it on your own for a perfect and comforting meal. Let's dig in.
Where Does it Come From?
Curry originally came from India and was introduced to Japan by the British navy in the late 1800s, or what's known as the Meiji period. The word "curry" is derived from the word "kari," from the Tamil people of India and Sri Lanka. It simply means "sauce" and has countless different forms in those regions.
By the time curry landed in Japan, it had been altered a bit by the British to better suit their palates, where it was then served to the Japanese Imperial Navy. From there, the dish continued to transform over the centuries until it became what it is commonly known as today: Japanese "kare." What made kare's popularity skyrocket in the last few decades, however, was when pre-made curry "roux" blocks were introduced to markets and restaurants in the 1960s, making what was once a labor-intensive process convenient and accessible to all.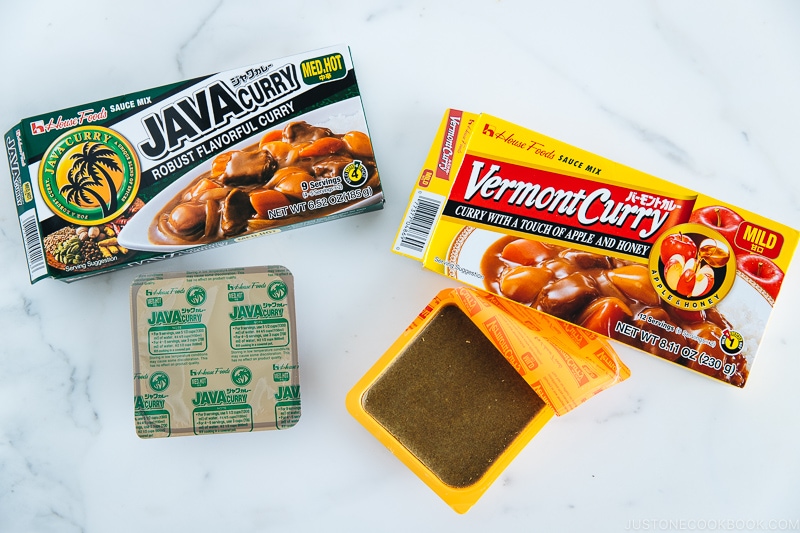 What Makes Japanese Curry Japanese?
What sets Japanese curry apart is its milder and sweeter profile, and its thick viscosity that makes it more akin to a stew than a soup. Instead of a fiery spice, it is gentle, soothing, and comforting. Kind of like a mother's hug!
Japanese curry also incorporates a variety of vegetables, most commonly onions, carrots, and potatoes, but it can include more adventurous toppings such as root vegetables, fruits, Fukujinzuke (Japanese relish), and oyster sauce. For mothers, it's a great way to "trick" or introduce their children to vegetables.
Though many Japanese people use pre-made "roux" blocks for their curry base, they refer to "kakushiaji," or "secret ingredients," to make it truly their own. No Recipes uses banana, soy sauce, and cocoa powder as their kakushiaji, and others, like Chopstick Chronicles, swear by apples and honey.
So, How Should I Eat It?

If you simply refer to "kare" today in Japan, it is understood that you are looking for "kare-raisu," or curry with rice. However, you can enjoy kare in many forms, such as over noodles, as a filling within a pastry, or as a dipping sauce for another popular Japanese dish, Katsu. The answer is: whatever suits you best!
From Scratch
We have two different versions of this dish on our website if you'd like to whip it up yourself. A Dry Curry for a shorter prep time or a more traditional Beef Curry for the slow food fans. Don't forget to set your Zojirushi rice cooker to prep the white rice while you begin preparing your curry.
From Curry Roux Blocks
AZ Central offers a list of their "top" packaged curries that you can purchase at Japanese markets for quick meal prep. Take note that many of these come in different spice levels, from mild, medium, to hot, and can taste widely different by brand.
Golden Curry (S&B)
Java Curry (House Foods
Kokumaro Curry (House Foods)
Premium (Glico)
Premium Golden Curry (S&B)
Tasty Curry Sauce Mix (S&B)
Vermont Curry (House Foods)
Zeppin (Glico)
Let's Just Order in!
If you're dreaming of eating Curry & Rice pronto, find a local restaurant that specializes in this dish:
Know another place that offers the best kare-raisu? How do you enjoy yours? If you have any tips and tricks to make the best kare-raisu, let us know on social media by tagging your photos on Twitter, Facebook, or Instagram! #Zojirushi #ZoFan