---
Other Electric Products Recipes
Genghis Khan (Japanese Barbequed Lamb)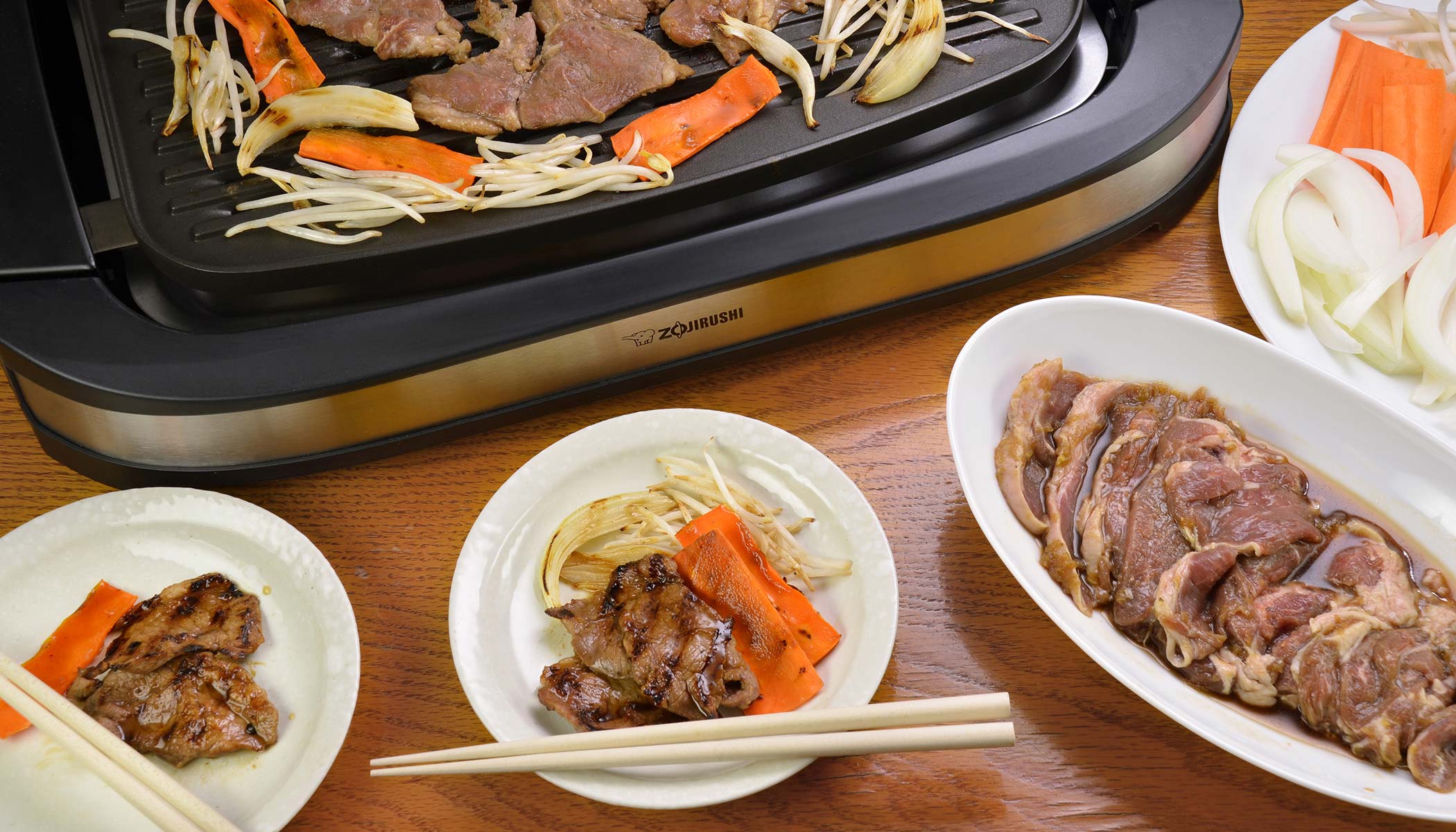 This BBQ recipe takes its name from the historic Mongolian emperor, but is not directly related. Genghis Khan is a popular barbeque style of Hokkaido, which is located in the northern part of Japan.
Ingredients (serves 2-3):
1-1/2 lbs. lamb shoulder, leg or loin (chef's choice), thinly sliced
1 onion
1 carrot
4 oz. mung bean sprouts
For Marinade:
1/2 onion
1/2 apple, peeled and cored
1 clove garlic
0.5 oz. fresh ginger, peeled
5 Tbsp. soy sauce
2 Tbsp. sake (Japanese rice wine)
2 Tbsp. orange juice
1 Tbsp. sugar
1/4 tsp. freshly ground pepper
*This recipe was developed for the Indoor Electric Grill (EB-DLC10). Adjustments may be necessary when using other models.

1
Grate 1/2 onion, apple, garlic and ginger with a fine grater into a large bowl.
2
Add soy sauce, sake, orange juice, sugar and pepper and combine.
3
Add lamb to the bowl. Mix and marinate for 15 minutes or up to overnight.
4
Slice onion and carrot into bite sized pieces and plate with mung bean sprouts.
5
Set all ingredients and serving plates on a table along with the Indoor Electric Grill. Preheat the Indoor Electric Grill at HI for 6 minutes or until the operation light turns off. Place some vegetable around the edge, and turn the heat down to MED. Please be careful of the heated grill.
6
When the vegetables on the grill are cooked half way through, place marinated lamb on the center of the grill.
7
Spoon some marinade sauce from the bowl over the grilling vegetables while they cook.
8
Flip meat once, and when they reach your preferred doneness, remove vegetables and meat to serving plate.
9
Continue to add vegetables and meat to the grill, cooking and eating as you go.