---
Other Electric Products Recipes
Mizutaki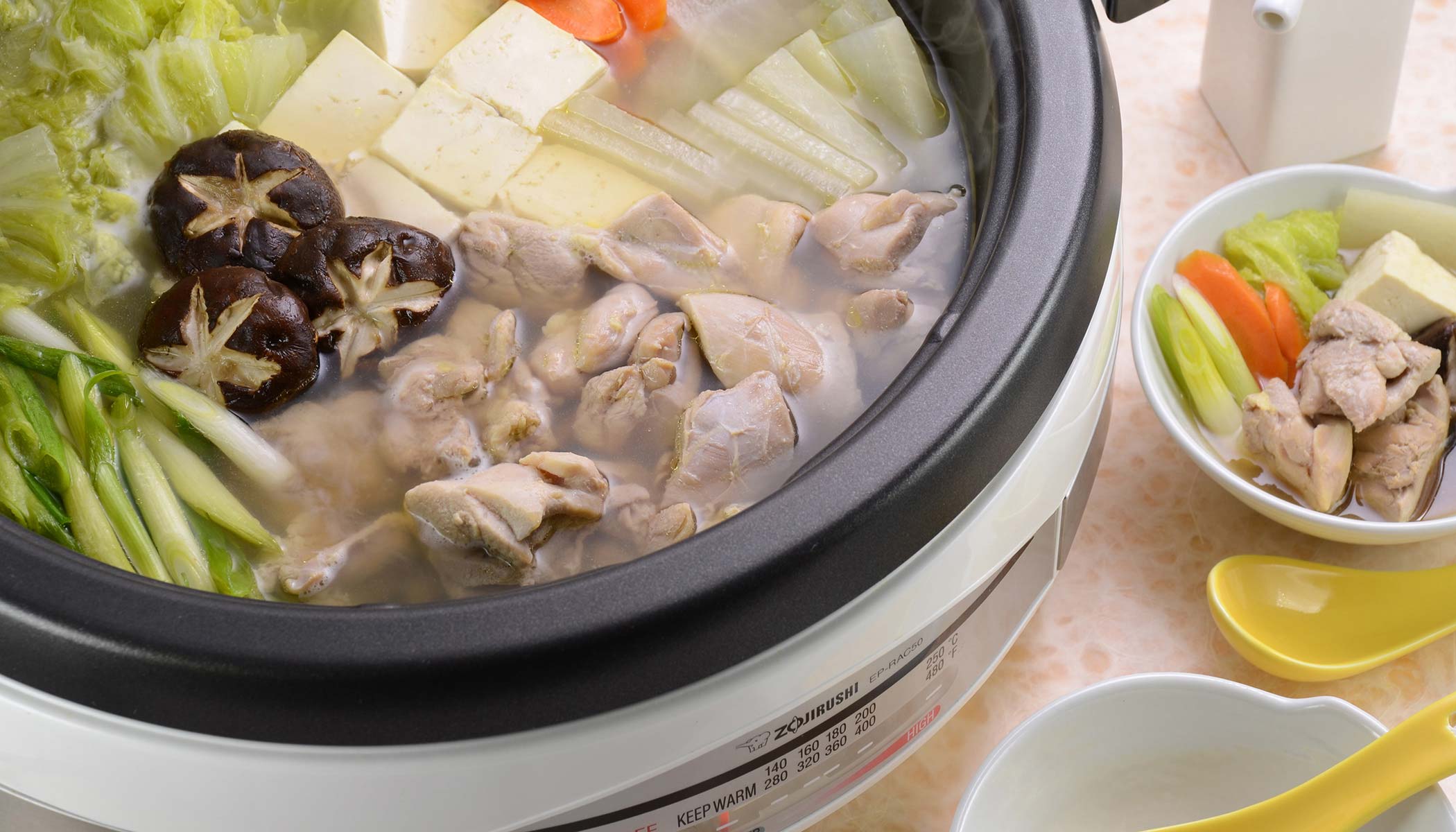 Mizutaki means water stew. Ingredients are commonly cooked in a kelp broth without other seasonings, then served with a Ponzu dipping sauce. It is popular to finish off the Mizutaki by adding rice to it, to make Zosui, a Japanese rice soup.
Ingredients (serves 2):
6 cups water
3" x 8" sheet kombu kelp (optional)


1 lb. boneless chicken thighs, cut into bite-sized pieces
1 lb. nappa cabbage, cut into 2-3" squares
1 carrot, sliced into 1/4" thick slices
5 oz. daikon radish, sliced
1/2 pkg. tofu, cut into 1-1/2" small blocks
6 stalks green onions, diagonally cut into 2-3" lengths
4 shiitake mushrooms, stems removed, whole
Ponzu sauce for dipping (Ponzu can be replaced with equal amounts of soy sauce and lemon juice mixture)
*This recipe was developed for Gourmet d'Expert® Electric Skillet (EP-RAC50). Adjustments may be necessary when using other models.

1
Place kelp and water in the Gourmet d'Expert® Electric Skillet and set temperature to HIGH (480°F/250°C).
2
When the water reaches a boil, remove and discard the kelp.
3
Add chicken pieces into the skillet, cook until water boils again and skim off any scum that rises to the surface.
4
Add nappa cabbage, carrot, daikon to the skillet and turn down the heat to LOW (280ºF / 140ºC). Cover the lid and simmer until the chicken is cooked, about 20 minutes.
5
Add tofu, green onions and shiitake to the skillet and simmer for 5 minutes. It is now ready to eat.
6
Serve about 1 tablespoon Ponzu sauce in individual small bowls on the side. Set the skillet to KEEP WARM. Before eating, dilute Ponzu with soup from the skillet according to individual taste.
7
Take cooked ingredients from the pot to individual bowls, dip in the sauce and enjoy!