---
Other Electric Products Recipes
Sukiyaki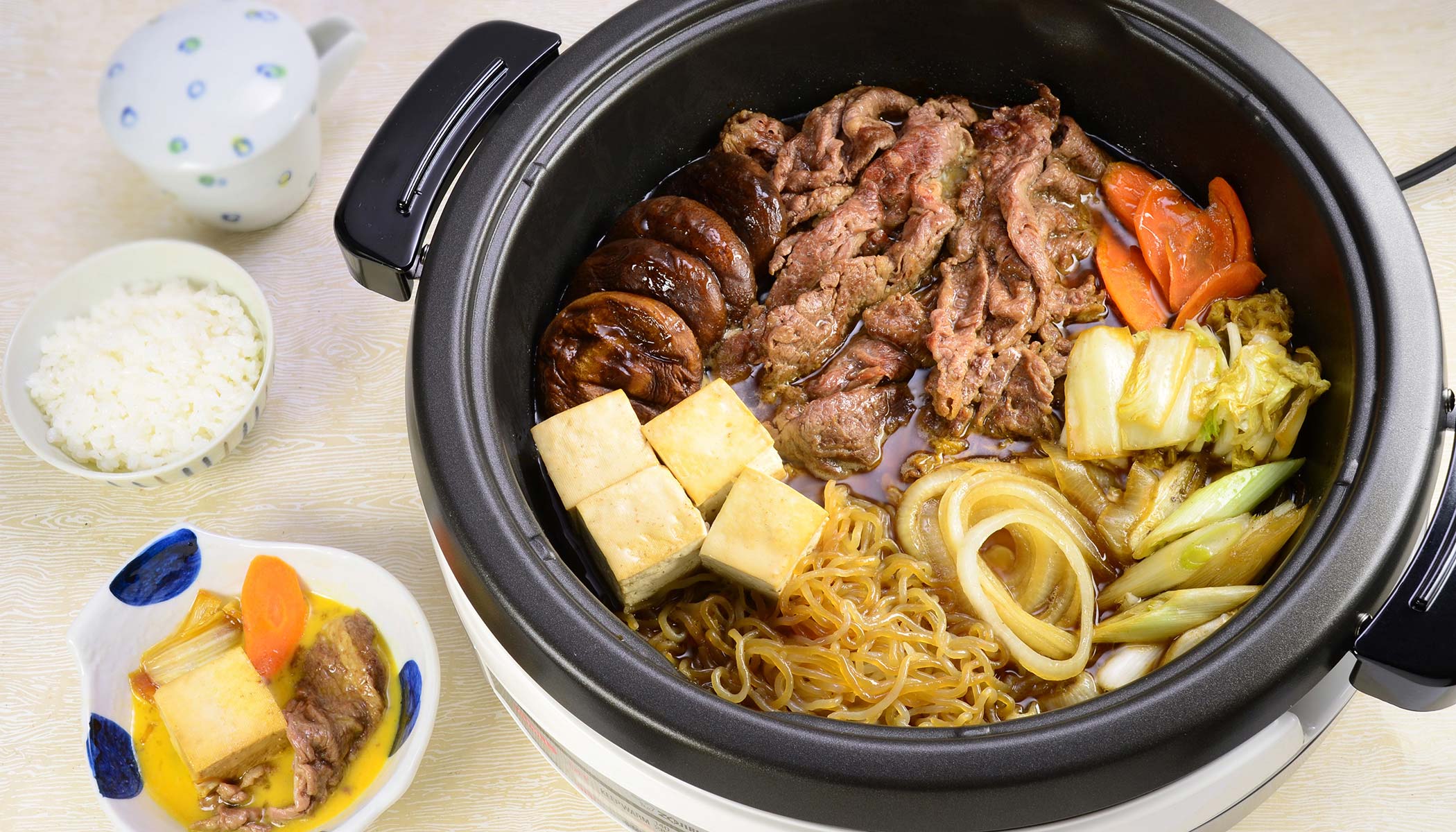 Sukiyaki is a popular Japanese recipe that is often cooked and served at-the-table. Common ingredients include beef, tofu, negi (green onion), leafy vegetables, shiitake mushrooms and shirataki noodles. Have fun cooking and eating at-the-table!
Ingredients (serves 4):
1 1/2 pounds thinly sliced beef (purchased from an Asian market)
8 ounces nappa cabbage, cut into 2" chunks
1 package (about 8 ounces) shirataki (Japanese yam noodles) or 2 ounces of bean thread
8 fresh shiitake mushroom caps, cleaned and stems removed
1 medium onion, peeled and cut into 1/4" thick rings
1 medium carrot, peeled and thinly sliced
2 tender leeks, washed, trimmed and white parts cut diagonally into 1/2" thick pieces
1 block firm tofu, cut into bite-sized 1 1/2" cubes
1 tablespoon vegetable oil or 2" cube of beef suet
Cooking Sauce
1/2 cup soy sauce
1/2 cup mirin (Japanese sweet rice wine)
2 Tbsp. sugar
1 cup ichiban dashi (Japanese broth, see here) or water
*This recipe was developed for the Gourmet d'Expert® Electric Skillet (EP-RAC50). Adjustments may be necessary when using other models.

1
Combine all ingredients for the cooking sauce in a small pan and cook over low heat until the sugar is dissolved and the liquid is simmering. Remove from heat, cool and refrigerate until ready to use.
2
Put shirataki in bowl and rub with 1/2 tsp. salt. Rinse and put in a pot with hot water. Boil for 1 minute, drain and rinse under cold water. Cut into 4" lengths. If using bean thread, soak in hot water until soft, drain and cut into 6" lengths.
3
Arrange the beef attractively on a large platter and all the prepared vegetables, noodles and tofu on another. Have the sauce mixture ready in a small pitcher and bring everything to the table.
4
Turn the Gourmet d'Expert® Electric Skillet to 460°F. Add vegetable oil, or grease cooking surface. When the temperature reaches 460°F, pan-fry 12 slices of beef for 30 seconds, then push meat to the side and add leeks and onions. Cook for 1 minute, then pour soy sauce mixture over meat.
5
Add in vegetables and other ingredients. Add a little more sauce to cover ingredients. Boil for 1-2 minute until vegetables are tender. Reduce heat to maintain a steady simmer. Each guest serves themselves, dipping food in beaten raw egg before eating with rice.