---
Other Electric Products Recipes
Buenos Días Burrito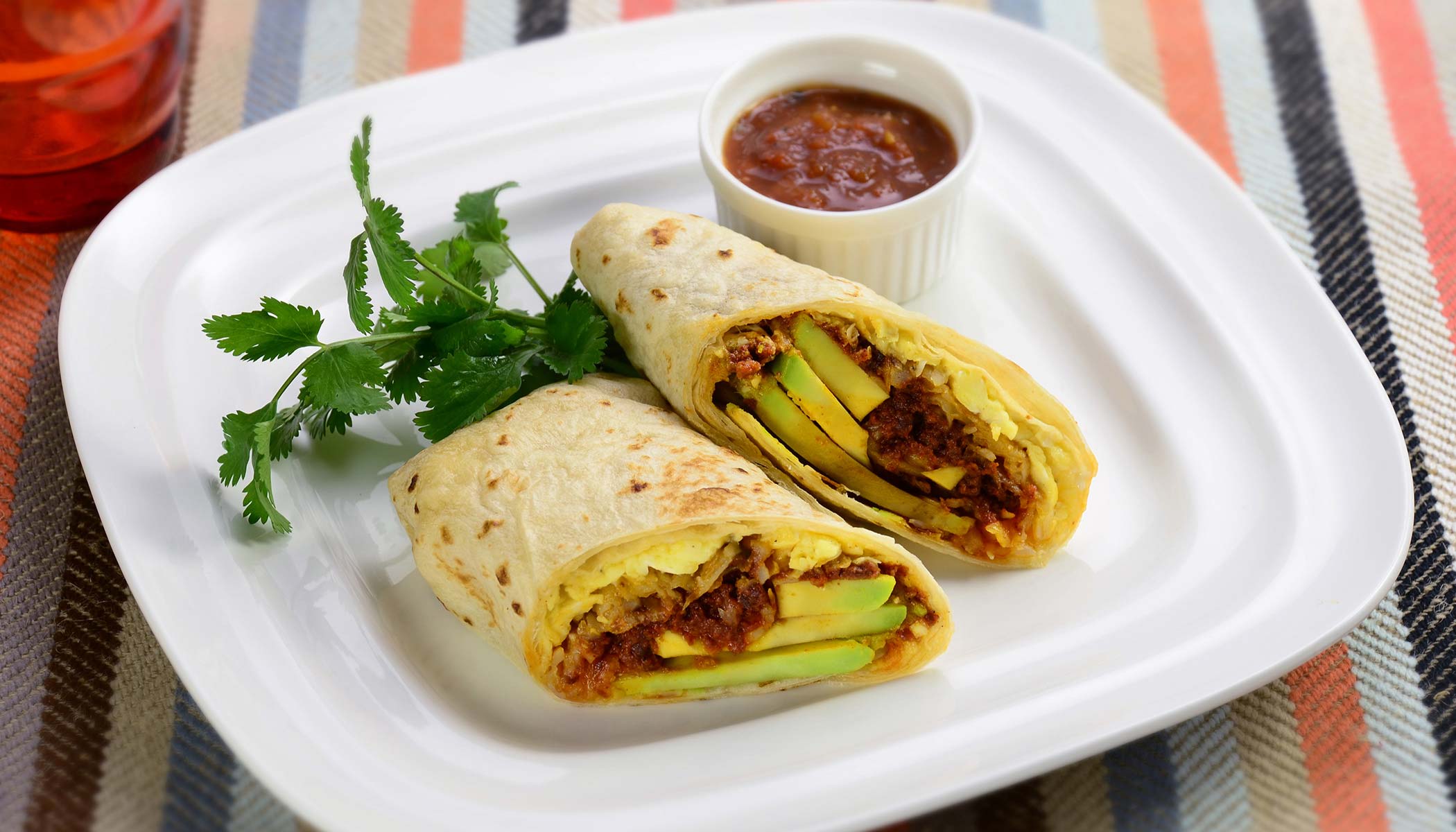 This Zo version of a breakfast burrito uses flour tortilla to wrap your breakfast favorites. If Mexican chorizo is too spicy for you, substitute a portion of it with eggs!
Ingredients (serves 2):
1 small potato (about 6 oz.)

1 Tbsp. olive oil

salt and pepper to taste

4 oz. Mexican chorizo

2 large eggs

1 Tbsp. milk

2 flour tortillas

(9" to 11")

1/2 cup shredded cheddar cheese

(about 4 oz.)

1/2 avocado, sliced
Condiment:
1/4 cup fresh or bottled salsa

*
Please use the stainless steel spatula that came with your product or a silicone spatula to protect the nonstick coating and ensure extended use of the plate.
**This recipe was developed for the Gourmet Sizzler® Electric Griddle (EA-DCC10). Adjustments may be necessary when using other models.
1

Peel and shred potatoes into a bowl filled with cold water. Stir the potatoes gently and drain well. Pat dry with paper towels, and squeeze out any excess moisture.
2

Turn the Gourmet Sizzler® Electric Griddle (EA-DCC10) control knob to 300ºF. When the pilot lamp turns off, add olive oil and shredded potatoes on one side of the griddle. Flatten with a spatula, sprinkle salt and pepper and cook for 5 minutes or until the edges turn golden brown.
3

Cook chorizo on other side of the griddle. Break chorizo into smaller pieces and cook until just cooked through, 3 to 5 minutes. Transfer chorizo to a plate and set aside.
4

Flip potatoes and cook for another 5 minutes to make crispy hash browns. Transfer to a plate and set aside.
5

In a bowl, add eggs, milk, salt, pepper and beat well. Pour egg mixture to the middle of the griddle, stirring with the spatula* to make scrambled eggs. Turn heat off the griddle, transfer them to a plate and set aside.
6

Place tortillas on the still warm griddle, heat 30 seconds each side, transfer to a cutting board.
7

Assemble burritos on the cutting board. Place scrambled eggs, hash browns, chorizo, shredded cheddar cheese, sliced avocado on each tortilla.
8

Pull the bottom half of the tortilla over to meet the top half. Then, pull the tortilla back. This will form the filling into a roll. Next, fold left, right sides in and tightly roll.
9

Cut burritos in halves, serve with salsa on side in a small container.