---
Other Electric Products Recipes
Chicken Breast Cacciatore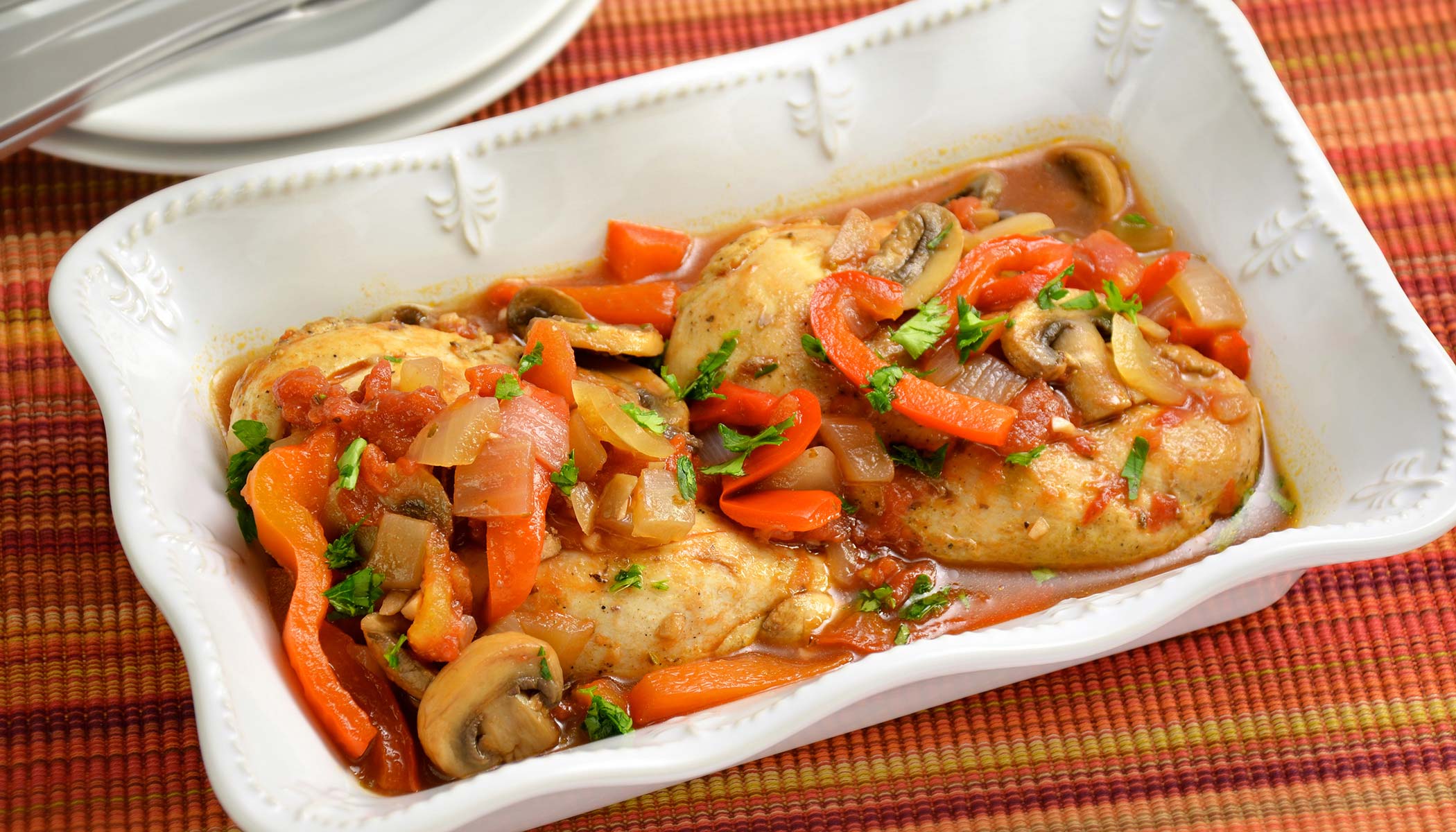 Cacciatore in Italian means "hunter", which refers to a meal prepared "hunter style" with tomatoes, onions, mushrooms, bell pepper and sometimes wine. Make this meal complete with some Artichoke Mixed Brown Rice and Cauliflower Soup. Buon Appetito!
Ingredients (serves 4):
4 boneless, skinless chicken breast halves, about 2 lbs.
1 tsp. sugar
Freshly ground black pepper for taste
1 tsp. celery salt
1 Tbsp. olive oil
2 garlic cloves, minced
1 medium onion, chopped
1 pkg. (8 oz.) white mushrooms, sliced
1 red bell pepper, sliced
1/2 cup dry red wine
1 (14.5 oz.) can diced tomatoes
1/4 tsp. salt
1/2 tsp. dried oregano
2 bay leaves
Garnish:
Flat leaf parsley, chopped
*This recipe was developed for the Gourmet d'Expert® Electric Skillet (EP- RAC50). Adjustments may be necessary when using other models.

1
Rub sugar into the chicken (this will help seal in the juices) then rub with celery salt and black pepper. Refrigerate at least 30 minutes or overnight.
2
Heat olive oil in your Gourmet d'Expert® Electric Skillet (EP- RAC50) at High (480ºF). Brown the chicken on both sides. Remove and set aside.
3
Add garlic to skillet, stirring for 10 seconds. Add onion, mushrooms and red bell pepper, and sauté until they begin to soften, about 5 minutes.
4
Add the wine and cook until reduced to half. Add diced tomatoes, salt, oregano and bay leaves.
5
Return the chicken breasts from step 2 to the skillet, reduce the heat to Simmer, cover, and cook for 10 minutes.
6
Flip the chicken breasts and continue to cook with the lid on until the chicken is cooked all the way through, about 10 more minutes. Garnish with fresh chopped parsley and serve while hot.