---
Other Electric Products Recipes
Creamy Roll Cake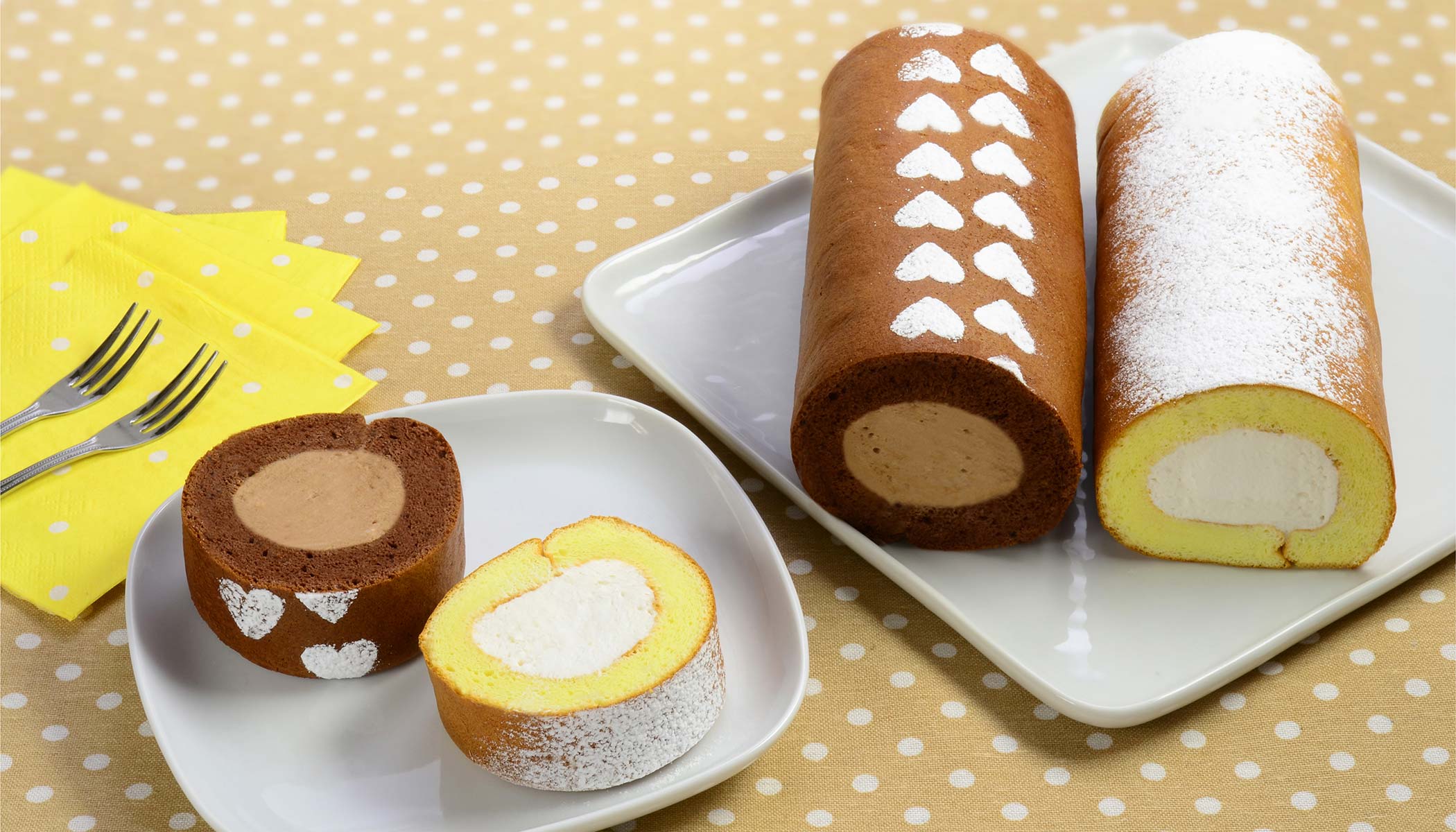 This rolled sheet of cake with a fluffy cream center is a popular Japanese dessert. See our decoration idea at the end to make this truly yours.
Ingredients (serves 5-6):
For Vanilla Roll Cake:
3 eggs

1 Tbsp. vegetable oil

1 Tbsp. milk

1 Tbsp. corn syrup

1/3 cup cake flour

4 Tbsp. sugar
For Vanilla Cream:
6 oz. heavy cream
1 Tbsp. sugar
1/2 tsp. vanilla extract
For dusting:
Fun Variations
Chocolate Roll Cake:
3 eggs
1 Tbsp. vegetable oil
1 Tbsp. milk
1 Tbsp. corn syrup
1/4 cup cake flour
2 Tbsp. cocoa powder
4 Tbsp. light brown sugar
For Chocolate Cream:
6 oz. heavy cream
1 Tbsp. sugar
2 oz. chocolate chips
For dusting:
*You will need a 9" square cake pan.
*This recipe was developed for the Micom Toaster Oven (ET-ZLC30).  Adjustments may be necessary when using other models.
1
Make the Sheet Cake. Line the cake pan with aluminum foil and grease with vegetable oil (not in the ingredients).

2
Place the rack of the Micom Toaster Oven (ET-ZLC30) on the upper rail. Turn the Dial to select BAKE. Set the temperature and time to 375°F for 12 minutes, and press the OK button to begin preheating.

3
Separate the eggs into yolks and whites.

4
Place egg yolks, vegetable oil, milk, corn syrup in a bowl and whisk.
5
Sift cake flour (and cocoa powder, for chocolate roll cake) into the yolk mixture and mix in with the whisk. Set aside.
6
Place egg whites in a separate bowl and whisk. When egg whites start to foam, add sugar to the bowl and continue whisking to make a stiff meringue.

7
Add the meringue to the batter from step 5 in three steps to retain the foam. First, add 1/4 of the meringue to the batter and mix well. Second, add 1/2 of the remaining meringue and fold in gently without deflating, then fold in the remaining meringue in the same manner.

8
Pour the batter into the prepared cake pan and evenly spread.

9
When preheating completes, place the cake pan in the oven and press the OK button to start baking. Be careful of the heated rack.

10
Use a bamboo skewer to test doneness. The cake is ready if the skewer comes out clean. When finished, remove the cake pan. Cover with aluminum foil and allow to rest for about 20 minutes or until completely cooled.

11
For vanilla roll cake, make vanilla cream. Place heavy cream, sugar, vanilla extract and whisk to make whipping cream.
For chocolate roll cake, make chocolate cream. Place 2 tablespoons of heavy cream and chocolate chips in a microwave-safe bowl, then microwave for 30 seconds at 1200 watts and stir until the chocolate is completely melted. Microwave more if necessary. In a separate bowl, whip sugar and remaining heavy cream then combine with melted chocolate. Set in a refrigerator if it is too soft to handle.
12
Uncover the cooled cake and flip on a piece of plastic wrap and peel off the aluminum foil lining.

13
Spread prepared cream from step 11 on the cake. Cover entire surface of the cake with the cream and make slightly thicker at the center. Roll up using plastic wrap, set in the refrigerator for a minimum two hours.

14
Remove the plastic wrap, and dust powdered sugar (or cocoa powder for chocolate roll cake) with tea strainer.

15
Slice in 5-6 pieces. Enjoy!

16
Decoration Idea:
Cover top of the rolled cake with a cut out wax paper with your design, then dust with powdered sugar or cocoa powder.