---
Other Electric Products Recipes
English Roast Beef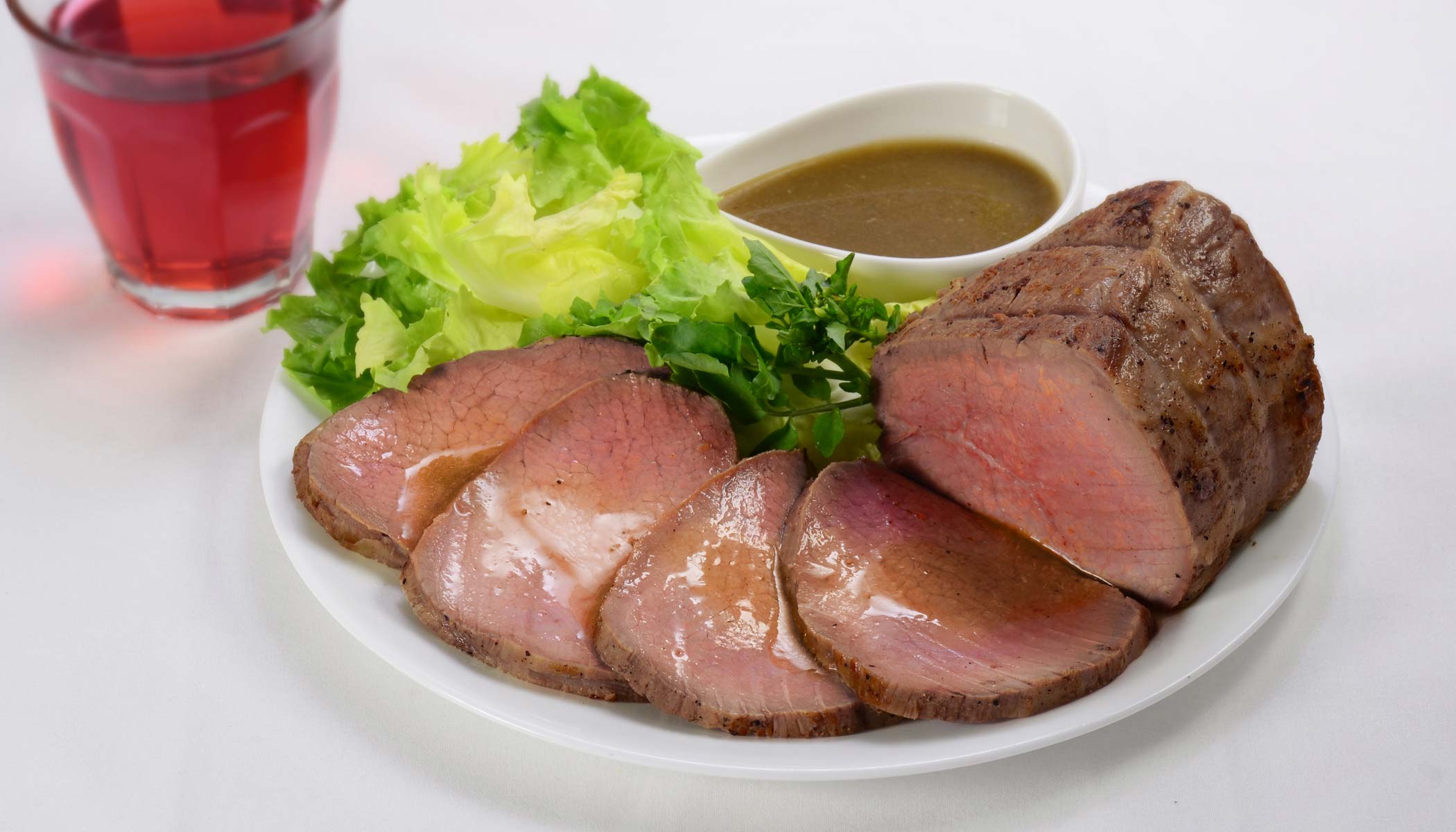 Make roast beef in a Zojirushi Multicooker and avoid heating up your kitchen. From searing the roast to making gravy, make the recipe all in one pot!
Ingredients (serves 4):
2 lbs. round beef roast
1 tsp. salt
1/2 tsp. freshly ground black pepper
2 Tbsp. olive oil
1 cup beef broth
4 cloves garlic, lightly crushed
0.25 oz. fresh thyme sprigs
For Au Jus:
1-1/2 cup beef broth
1 tsp. onion powder
1 tsp. Worcestershire sauce
1 Tbsp. corn starch
2 Tbsp. water
Salt and pepper to taste
You will need a cooking thermometer.
*This recipe was developed for the Multicooker (EL-CAC60). Adjustments may be necessary when using other models.
1
Prepare the beef roast. Before cooking, remove roast from the refrigerator and let it sit at room temperature for 1-2 hours.

2
Tie the roast with kitchen twine. Sprinkle salt and pepper evenly and set aside.

3
Preheat the Multicooker. Place the pot in the main body. Set menu to SAUTÉ/SEAR at 350ºF. Cover with lid, and press START/CANCEL to start.

4
When the preheating completion beep sounds, approximately 15 minutes later, remove the lid.

5
Brown surface of the roast. Add olive oil to the pot, then sear surface of the roast for about 1 minute per side until the entire surface is browned. Press START/CANCEL to end the setting.

6
Add one cup of beef broth, garlic and fresh thyme springs to the pot, then cover with lid. Set menu to LOW/SLOW COOK at 180ºF. Press TIME SETTING and set 2 hours of cooking time. Press START/CANCEL to start.

7
After about 30 minutes, flip the roast. The cooking time depends on the thickness of the roast. After about 1 hour, start checking the roast's center temperature. When the temperature reaches 145°F, for medium, press START/CANCEL to end the setting. Transfer roast to a cutting board and cover with aluminum foil. Reserve dripping for the gravy.

8
Make the gravy. Add onion powder, Worcestershire sauce, beef broth in the pot, and set menu to SAUTÉ/SEAR at 350ºF. Press START/CANCEL to start. In a small bowl, combine water and corn starch then slowly add to the pot while stirring.

9
Continue to stir and cook for 1 additional minute after reaching a boil. Press START/CANCEL to end the setting. Adjust taste with salt and pepper. Strain the gravy.

10
Remove twine from the roast. Slice the roast and plate. Serve the gravy on the side. Enjoy!