---
Other Electric Products Recipes
Fajita Style Sandwich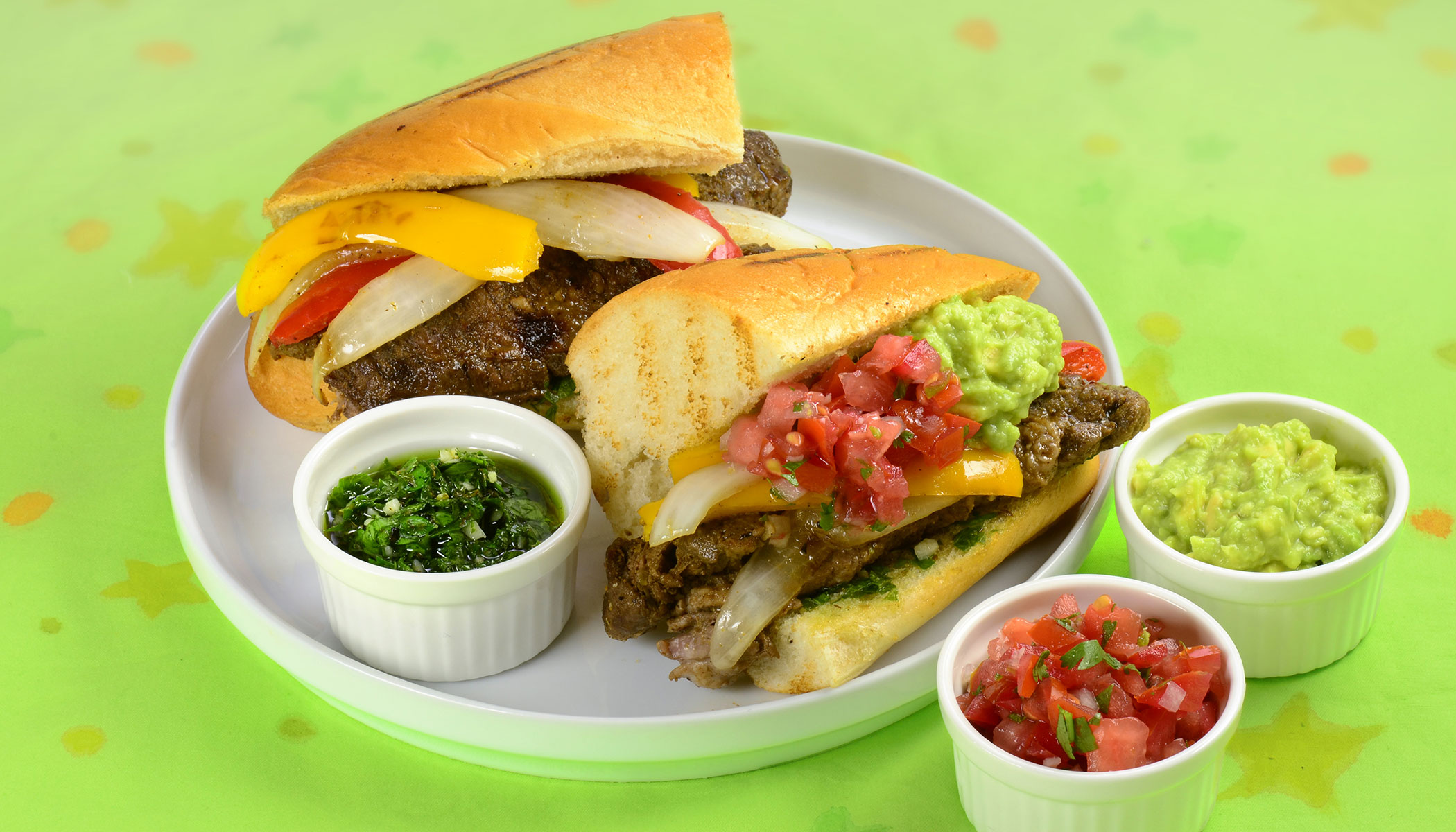 Fajita, traditionally served with tortilla, is re-imagined as a hot sandwich, smeared with chimichurri sauce, and served with guacamole and salsa. Fun and easy to cook on the Indoor Electric Grill, and a great way to get some veggies in your meals.
Ingredients (serves 4):
Meat:
For Marinade:
2 tsp. ground cumin
1 tsp. chili powder
1 tsp. smoked paprika
1 tsp. ground coriander
1/2 tsp. salt
3 Tbsp. olive oil
2 tsp. minced garlic
1 tsp. lime zest
3 Tbsp. lime juice
1 Tbsp. Worcestershire sauce
For Chimichurri:
1/4 cup finely chopped flat-leaf parsley leaves
1/2 Tbsp. minced garlic
1 tsp. dried oregano
4 Tbsp. olive oil
2 tsp. red wine vinegar
1/4 tsp. salt
1/8 tsp. black pepper
1/8 tsp. crushed red pepper, or as preferred
For Salsa:
1 large plum tomato, diced
1 Tbsp. chopped white onion
1 Tbsp. chopped fresh cilantro
1 tsp. minced jalapeño (remove seeds), or as preferred
Juice of 1/4 lime
1/8 tsp. salt
1/2 tsp. minced garlic
For Guacamole:
1 ripe avocado
Juice of 1/4 lime
1/2 tsp. minced garlic
1/8 tsp. salt
Vegetables:
1/2 white onion
1/2 red bell pepper
1/2 yellow bell pepper
1 Tbsp. olive oil
1/4 tsp. ground cumin
1/4 tsp. salt
1/8 tsp. black pepper
2 bolillos or 4 small French sandwich rolls
*This recipe was developed for the Indoor Electric Grill (EB-DLC10). Adjustments may be necessary when using other models.
1
Slice the skirt steak against the grain into strips about one inch wide and 4-5 inches long.

2
Marinate the meat. In a zipper storage bag, place all ingredients for marinade and mix well. Add the sliced skirt steak to the bag, massage over the bag, then set for a minimum 1 hour and up to 4 hours in the refrigerator. Before grilling, remove the bag of meat from refrigerator and set to room temperature for a minimum 30 minutes to 1 hour. Take out meat from marinade bag, pat surface dry with paper towel. 

3
Mix all chimichurri ingredients together in a bowl. Set aside.
4
Mix all salsa ingredients together in a bowl. Set aside.

5
Make guacamole. Remove pit and peel avocado and place in a bowl. Using a fork gently mash avocado a few times then stir all other guacamole ingredients together. Set aside.

6
Cut onion and bell peppers into half-inch wide strips. Place them in a bowl, add olive oil, sprinkle ground cumin, salt and black pepper, then mix to coat the vegetables.

7
Turn on the Indoor Electric Grill, set to HI to preheat. 

8
Open bolillos with a horizontal side cut, then cut in halves. When the grill preheating completes in about 6 minutes, place on the grill and toast one minute per side. Transfer to a plate, spread chimichurri inside. Cover with aluminum foil.

9
Place peppers and onions on the grill, stir occasionally for 2 minutes, then turn heat to MID. Move vegetables to one side of the grill and continue to cook until they soften. 

10
Place meat on the empty side of the grill. Turn the meat after 2 minutes, cook other side for 2-3 minutes or until cooked through.

11
When the meat and vegetables are cooked, turn off the grill, transfer and place the meat and vegetables inside the bolillos.

12
Serve with remaining chimichurri, salsa and guacamole on the side. Enjoy!