---
Other Electric Products Recipes
Fancy Grilled Lobster Tails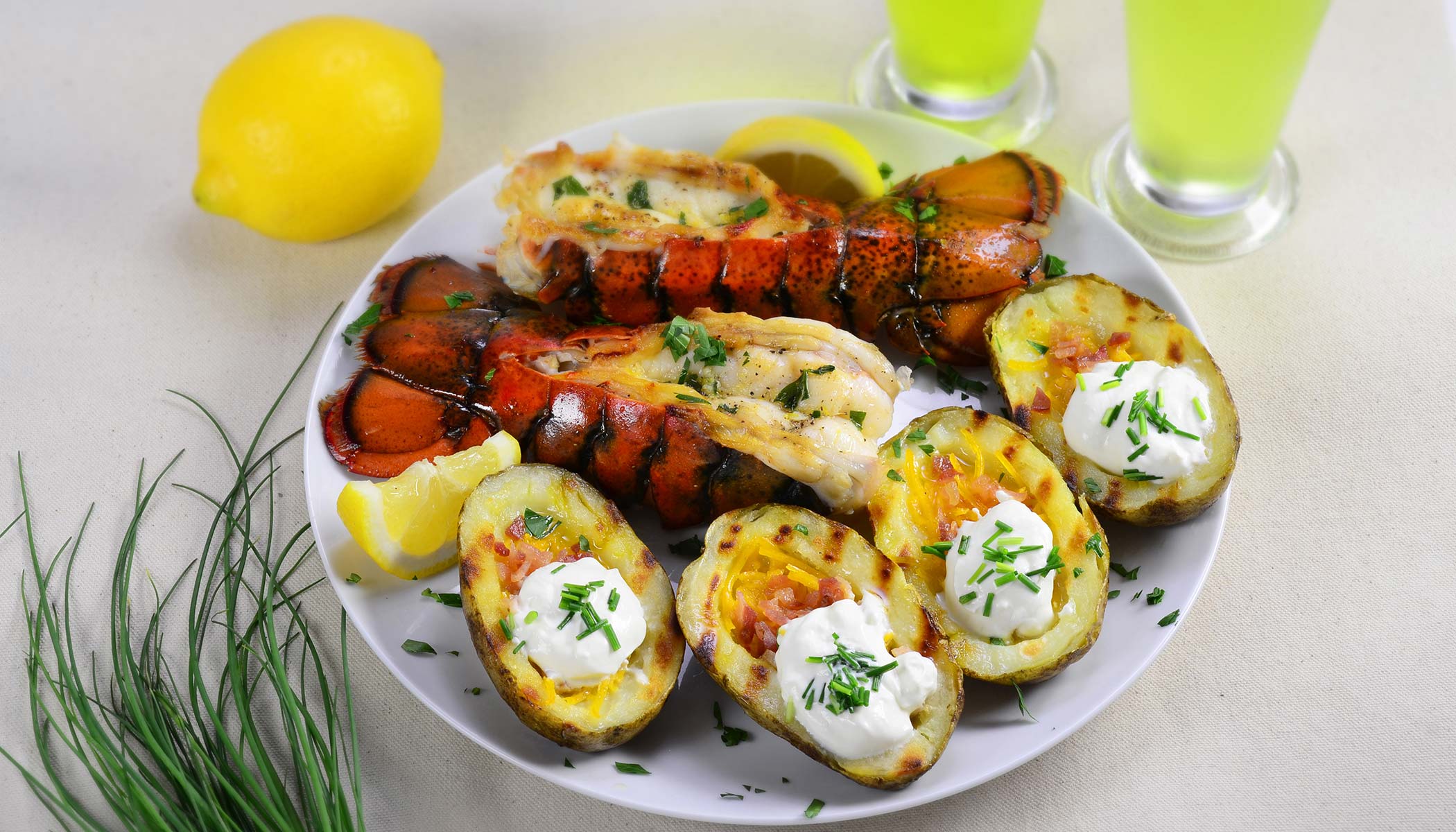 Planning a fancy dinner? How about some lobster tail with potato skin? Make it easy by using your Zojirushi Indoor Electric Grill for quick setup and easy cleanup, so you can spend more time enjoying your meal.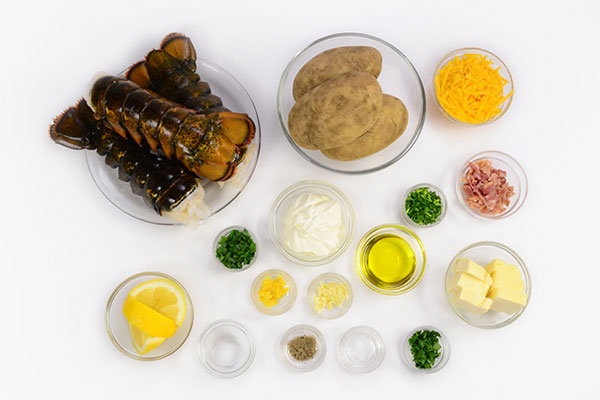 Ingredients (serves 3):
3 small russet potatoes (about 7.5 oz. each)
3 (7-8 oz.) lobster tails
2 Tbsp. olive oil, for brushing
salt and pepper to taste
For Butter Sauce:
6 Tbsp. butter
2 tsp. fresh parsley, chopped
1 tsp. garlic, minced
1 tsp. lemon zest
1/4 tsp. salt
For Topping and Garnish:
1/2 cup shredded cheddar cheese
2 strips pre-cooked bacon, chopped
6 Tbsp. sour cream
2 tsp. flat leaf parsley, chopped
1 Tbsp. fresh chives, chopped
3 lemon wedges
You will need three 6" or longer bamboo or metal skewers.
*This recipe was developed for the Indoor Electric Grill (EB-DLC10). Adjustments may be necessary when using other models.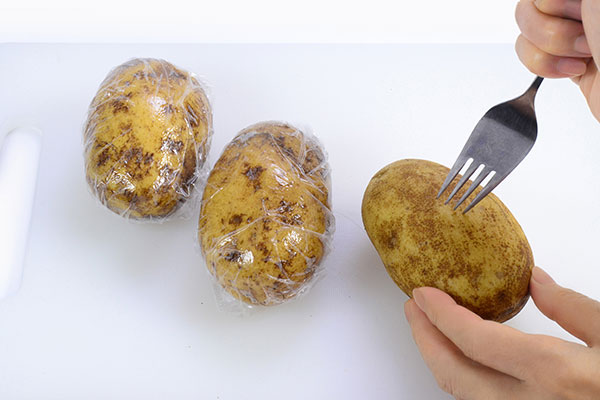 1
Prepare the potato wedges. Wash potatoes, prick each with a fork and wrap with plastic wrap. Microwave at high (1,200W) for about 6 -7 minutes or until cooked through. Set aside to cool.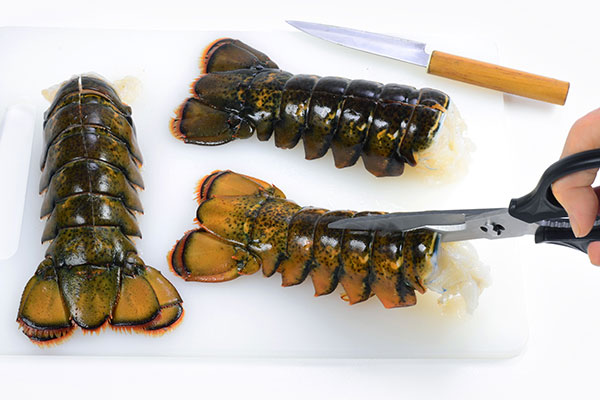 2
Prepare the lobster tails. Using kitchen shears, cut the top of each lobster tail shell. Using a knife, cut halfway through the meat of the lobster. Be careful not to cut through the bottom shell.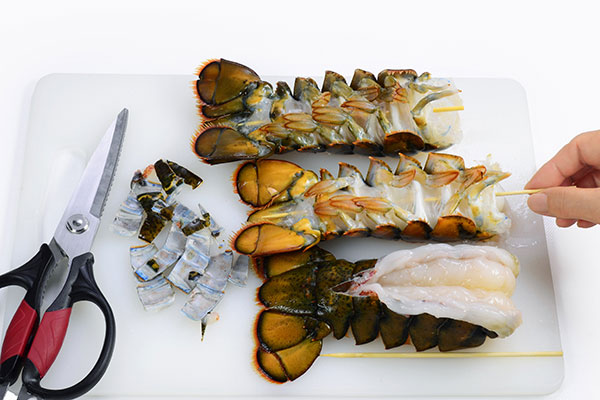 3
Cut and remove the top of each by forming a "V" shape that points toward the tail fins. Place your finger between the shell and meat to separate the shell from the meat.
For each tail, insert a wooden or metal skewer lengthwise to prevent it from curling up while grilling.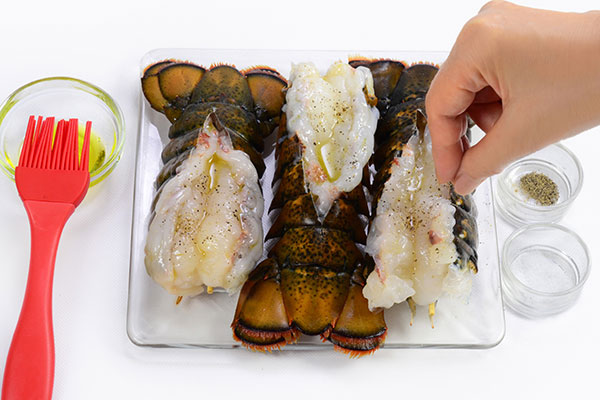 4
Brush the meat with olive oil and sprinkle salt and pepper to taste.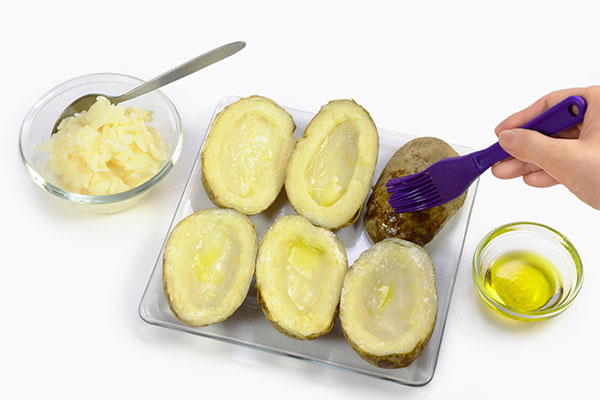 5
Cut each potato in half lengthwise. Using a small spoon, scoop the center leaving 1/2 inch layer from the skin. Brush potato with olive oil, making sure to coat all around. Set aside.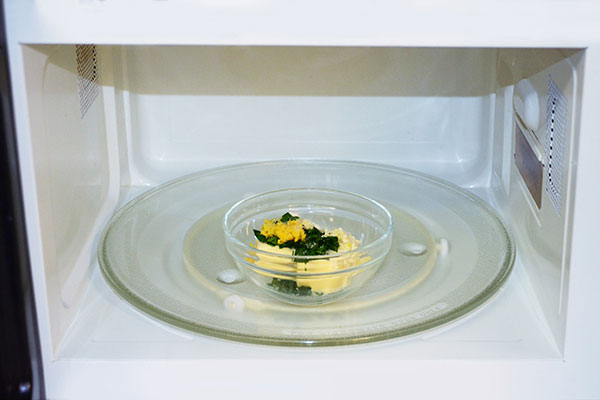 6
Make the butter sauce. In a small microwavable bowl, place all ingredients for butter sauce. Microwave at high (1,200W) for 20-30 seconds or until butter is melted. Stir to combine and set aside.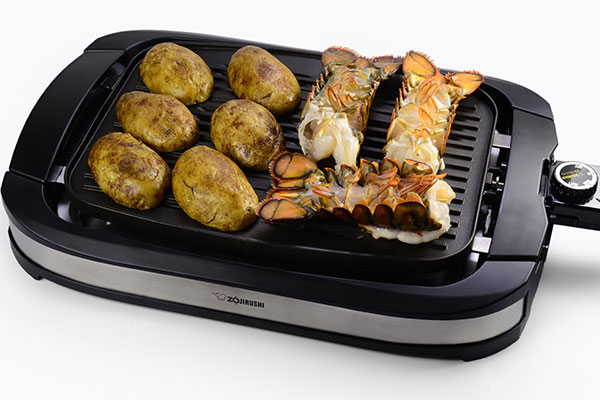 7
Preheat the Indoor Electric Grill at HI for 6 minutes or until the operation light turns off. Place lobsters on the grill, meat side down, place potato skin, cut side down and reduce heat to MED. Please be careful of the heated grill.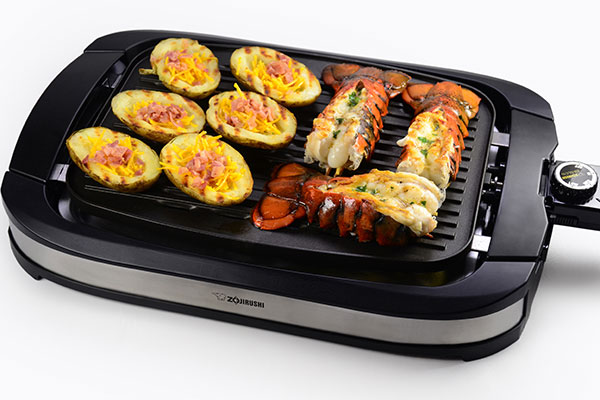 8
Grill lobster and potato skins until lightly charred about 8-10 minutes, then flip over and dollop a teaspoonful of butter sauce from step 6. Fill each potato skin with cheese and bacon.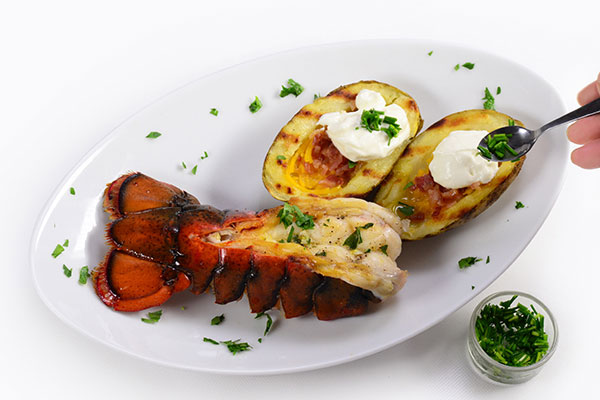 9
Grill an additional 8-10 minutes, cut side up or until cooked through. Turn off the grill, transfer lobster and potato skins to a plate. Remove skewers from the lobsters. Garnish the dish with parsley. Top each potato skin with a dollop of sour cream and chives.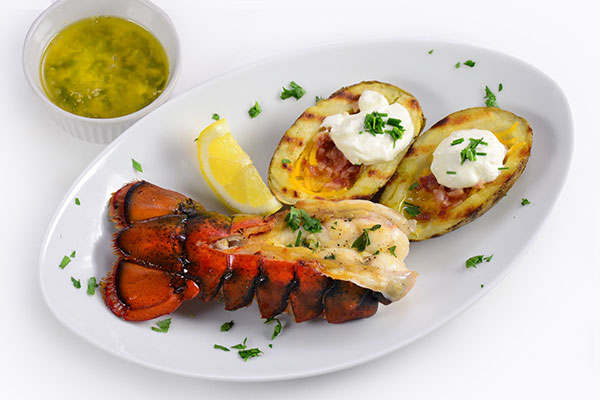 10
Serve with lemon wedges and remaining butter sauce on side. Enjoy!