---
Water Boilers & Warmers Recipes
Mango Gelatin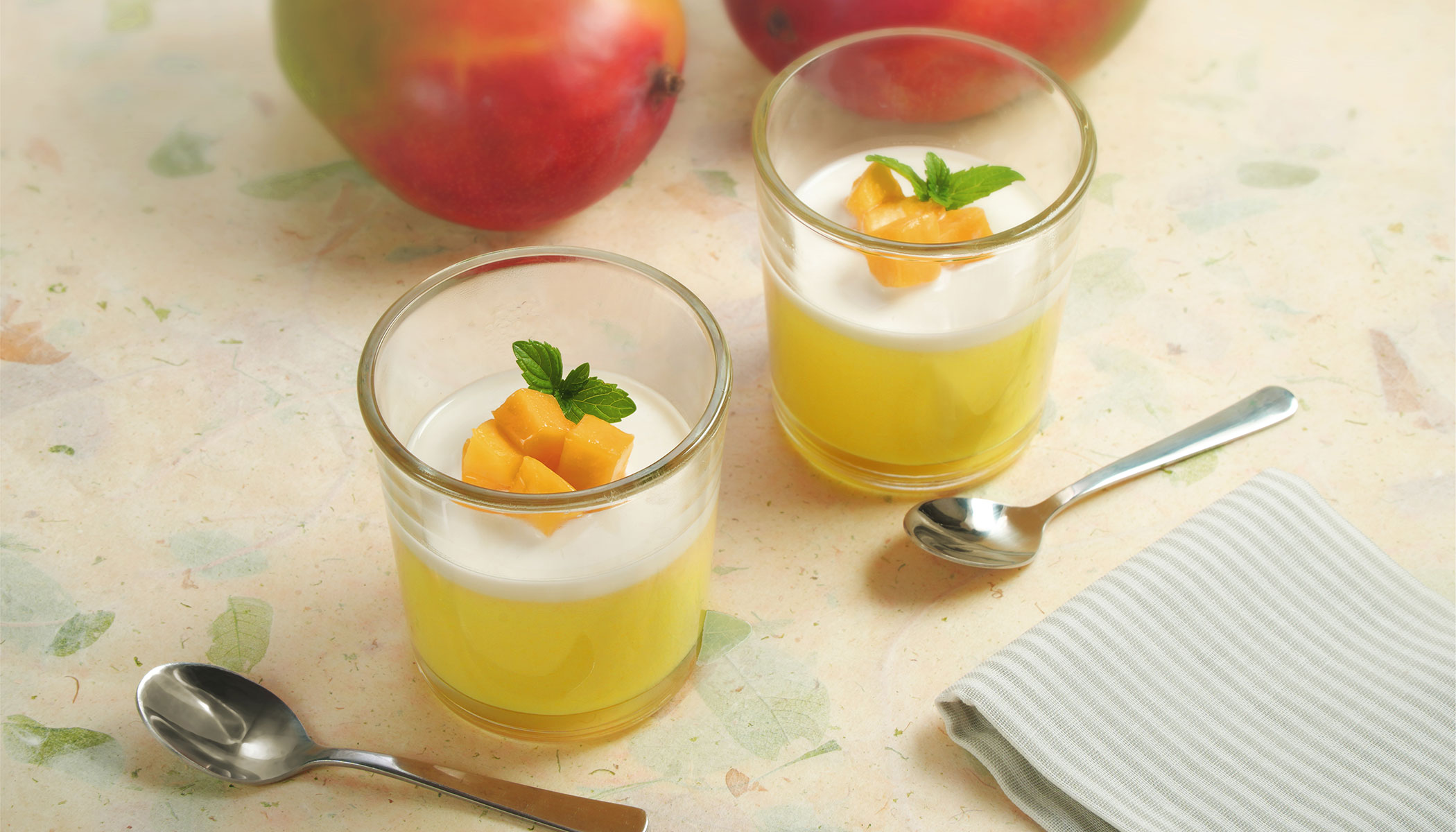 Enjoy the easy-to-make exotic tropical dessert! You won't even need to turn on your stove; just use your water boiler!
Ingredients (serves 6):
2 large mangos, ripe
Cold water if necessary to make 1-1/2 cups of mango purée
1/4 cup (60mL) water
2 envelopes (14g) unflavored gelatin
1/3 cup sugar
2/3 cup (160mL) boiling water (212°F or 208°F)
3-1/2 Tbsp. condensed milk, sweetened
1/3 cup half & half
Topping:
2 Tbsp. condensed milk, sweetened
1/2 cup half & half
1 Tbsp. honey
Mint leaves (optional)
1
Peel and remove seeds from mangos, dice into 1/2 inch cubes. Reserve 1/4 cup of diced mangos for topping.
2
Purée remaining mango cubes with food processer or blender until smooth to make 1-1/2 cups (360g) of mango purée. If less than 1-1/2 cups, add cold water to make 1-1/2 cups.
3
In a medium bowl, place 1/4 cup of water, sprinkle both envelopes of gelatin and let stand 1 minute to bloom.
4
Add sugar, dispense hot water and stir until gelatin dissolves completely, about 2 minutes.
5
Add condensed milk, half & half and mango purée from step 2 and mix well.
6
Pour mixture into cups and refrigerate until firm, about 2 hours.
7
Prepare the topping. In a small bowl, mix condensed milk and half & half. In a separate bowl, coat reserved diced mango from step 1 with honey.
8
Top chilled gelatin with sauce and honey mango from step 7, decorate with optional mint leaves and serve cold.