---
Other Electric Products Recipes
No Skillet Spanish Omelette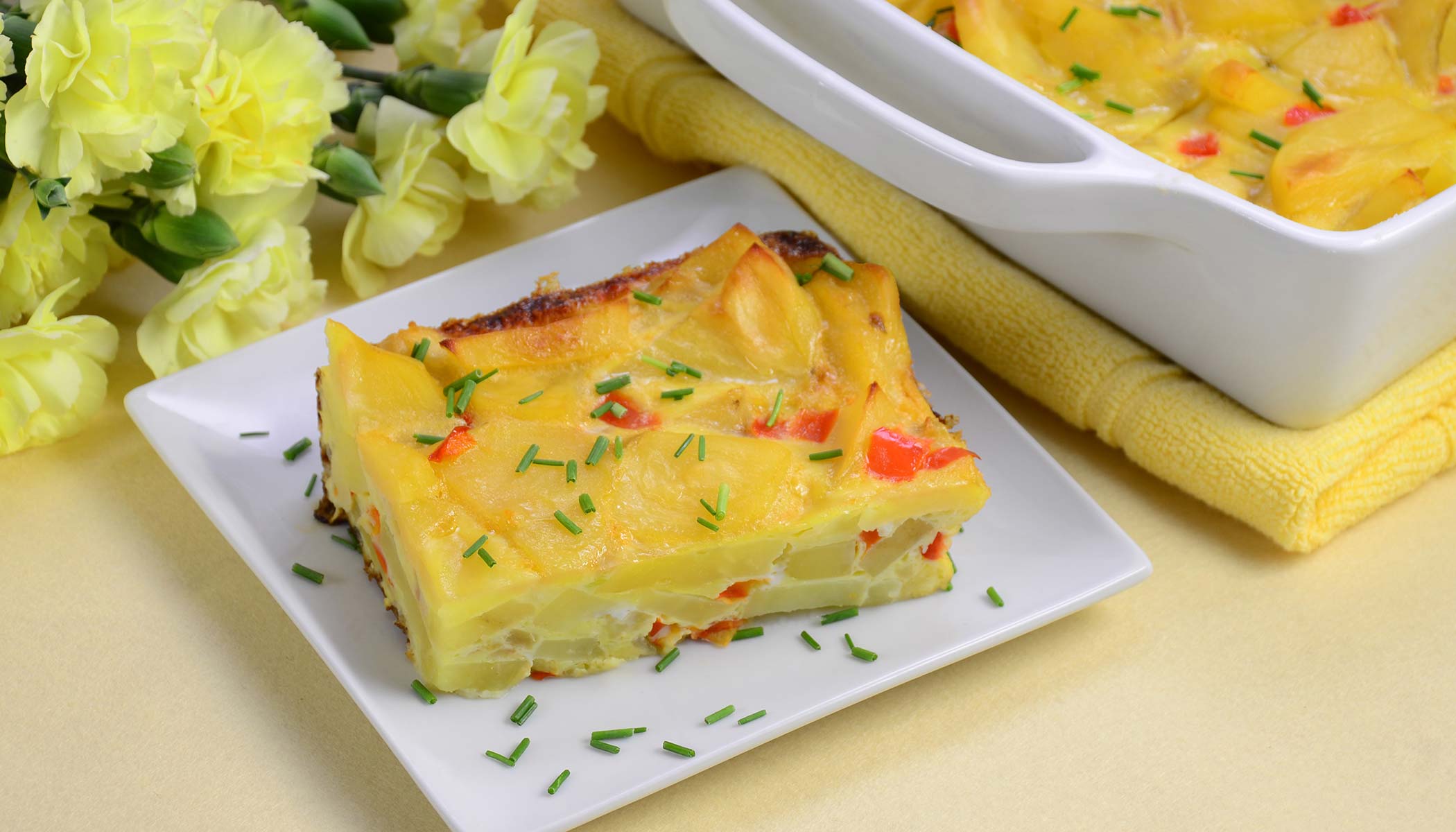 Spanish omelette is a simple dish made with layers of sliced potatoes. It's usually cooked in a skillet and flipped onto a plate, served as a tapa, but the Zojirushi version is baked in the toaster oven for easier temperature control.
Ingredients (serves 9):
2 lbs. Yukon Gold potatoes
1/2 onion
1 tsp. salt

2 Tbsp. olive oil
1 red bell pepper (optional)
6 eggs
Garnish (optional):
*You will need one 2 quarts oven-safe dish, 9" x 9" x 2.5" in size.
*This recipe was developed for the Micom Toaster Oven (ET-ZLC30). Adjustments may be necessary when using other models.
1
Prepare the vegetables. Peel and cut potatoes into 1/4 inch thick bite-sized slices. Dice the onion.

2
In a microwave-safe bowl, place potato slices, diced onions, olive oil and salt. Mix to combine.

3
Loosely cover the bowl with plastic wrap and heat in a microwave for 6 minutes at 1,200 watts.

4
Cut optional bell pepper into small dices. Carefully remove the bowl from the microwave, uncover the bowl, mix in red bell pepper and loosely cover the bowl again. Heat in a microwave for another 3 minutes or until the potato slices are soft.

5
When potato slices are soft, crack and beat eggs in a separate large bowl. Add heated vegetables to eggs and combine.

6
Place the rack on the lower rail of the Toaster Oven. Turn the dial to select BAKE. Set the temperature and time to 375°F for 35 minutes, and press the OK button to begin preheating.

7
Prepare the oven dish. Lightly grease the oven dish with butter (not included in ingredients), then dust with all-purpose flour (not included in ingredients). Tap to remove excess flour. Pour the mixture into the oven dish.

8
When preheating completes, place the oven dish into the oven, and press the OK button to start baking. Be careful of the heated rack.
Use a bamboo skewer to test doneness. The omelette is ready if the skewer comes out clean.
9
When finished, remove the oven dish and allow to rest for about 5 minutes. Cut into 9 pieces.

10
Top with optional chives. Enjoy!