---
Other Electric Products Recipes
Oaty Banana Oatmeal Muffins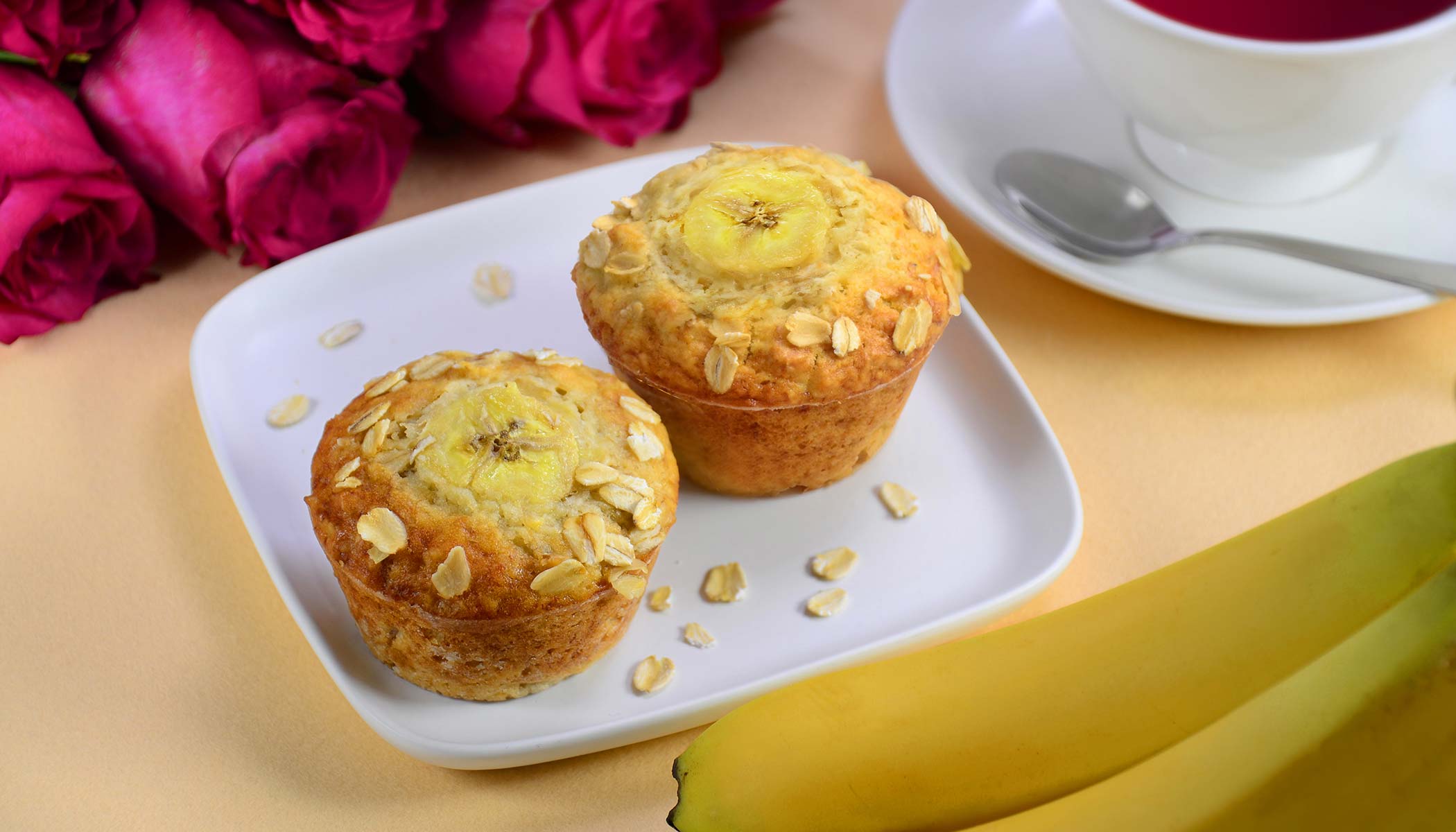 The best kind of muffins are moist on the inside and crispy on top, and we've got the perfect recipe! Rolled oats adds a nice chew, making these perfect for breakfast or a snack!
Ingredients (makes 6 muffins):
1/2 cup rolled oats
3 Tbsp. milk
3/4 cup all-purpose flour
1 tsp. baking powder
1 banana
1/3 cup sugar
1 egg
2-1/2 Tbsp. vegetable oil
1/2 tsp. vanilla extract
Topping:
*You will need one 6-cup muffin pan, 2-3/4" diameter wells.
*This recipe was developed for the Micom Toaster Oven (ET-ZLC30). Adjustments may be necessary when using other models.
1
Place 1/2 cup of rolled oats and milk in a bowl, mix and set aside.

2
Lightly grease the muffin pan with butter (not included in ingredients), then dust with all-purpose flour (not included in ingredients). Tap to remove excess flour.

3
In a separate bowl, place all-purpose flour and baking powder and mix lightly.

4
Peel banana and slice 6 thin slices for topping and set aside. Break the remaining banana into small pieces and add to the rolled oats mixture from step 1. Smash banana in the bowl using a fork.

5
Add sugar, egg, vegetable oil, vanilla extract to the rolled oats mixture and mix well.

6
Add half of the dry ingredients mixture from step 3, and fold it in using a rubber spatula. Repeat step to fold in the remaining dry ingredients mixture.

7
Pour batter into the prepared pan, and tap the bottom a few times to release excess air. Top with sliced banana and sprinkle rolled oats.

8
Place the rack on the lower rail of the Toaster Oven. Turn the Dial to select BAKE. Set the temperature and time to 375ºF for 23 minutes, and press the OK button to start preheating.

9
When preheating completes, place the pan in the oven and press the OK button to start baking. Be careful of the heated rack.
Use a bamboo skewer to test doneness. The muffins are ready if the skewer comes out clean.

10
When finished, remove the pan, allow the muffins to cool in the pan for about 10 minutes, then remove and cool on a cooling rack.

11
Serve fresh and enjoy!