---
Other Electric Products Recipes
Pear Melba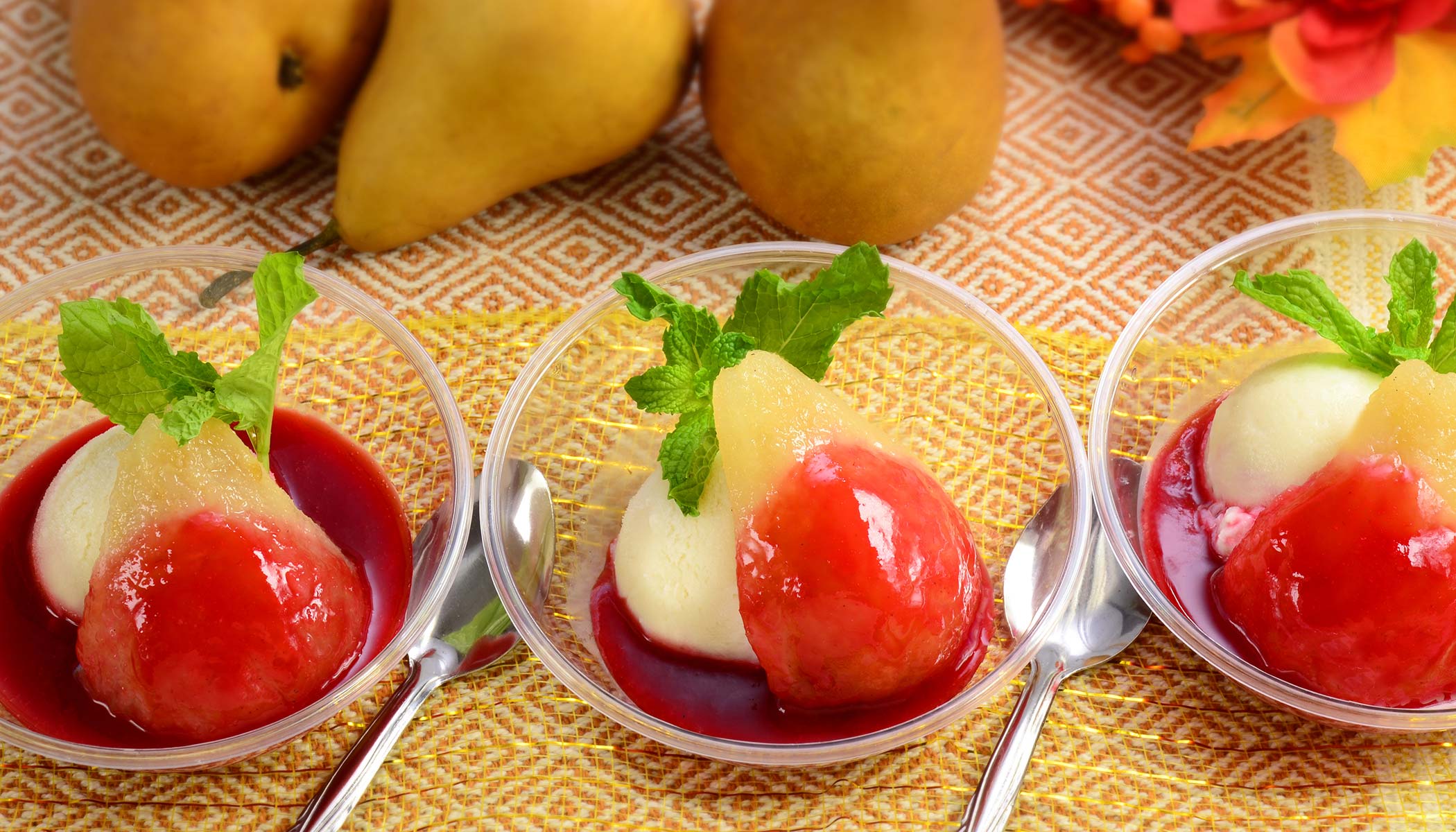 Adapted from the famous Peach Melba dessert, this recipe uses pears instead of peaches. A perfect comfort dessert for a cozy day.
Ingredients (serves 8-12):
Compote:
4-6 Bosc pears
4 cups water
1-1/2 cups sugar
1 Tbsp. lemon juice
1 vanilla bean, split lengthwise
Raspberry Sauce:
12 oz. raspberries
3 Tbsp. sugar
1 Tbsp. kirschwasser cherry spirit (optional)
Topping:
8-12 scoops vanilla ice cream
8-12 sprigs mint (optional)
*This recipe was developed for Gourmet d'Expert® Electric Skillet (EP-RAC50). Adjustments may be necessary when using other models.
1
Peel and cut pears in halves, remove seeds and surrounding hard core parts.

2
Add water, sugar, lemon juice, and vanilla bean into the Gourmet d'Expert® Electric Skillet. Set temperature to 360ºF and stir to dissolve the sugar. Without covering the pan with lid, bring mixture to a boil and keep boiling for about 3 minutes, then reduce heat to SIMMER.

3
Add pears to the pan. Flip occasionally, poach for 20-30 minutes or until tender at the center.

4
Turn heat off. Allow pears to become cool to touch, then transfer to a container. Chill in the refrigerator for a minimum of 2 hours and up to 3 days. The remaining poaching syrup may be discarded or reserved to use for another recipe.

5
Prepare the raspberry sauce. Add raspberries and sugar to a blender or a food processor and puree until smooth. Remove pits with a strainer and mix in optional kirschwasser. Transfer sauce into a pitcher.

6
Assemble the Pear Melba. In each dessert bowl, place one scoop of ice cream, then add a pear half. Pour raspberry sauce and garnish with an optional mint sprig.