---
Other Electric Products Recipes
Pepper Beef Chow Fun (Rice Noodles)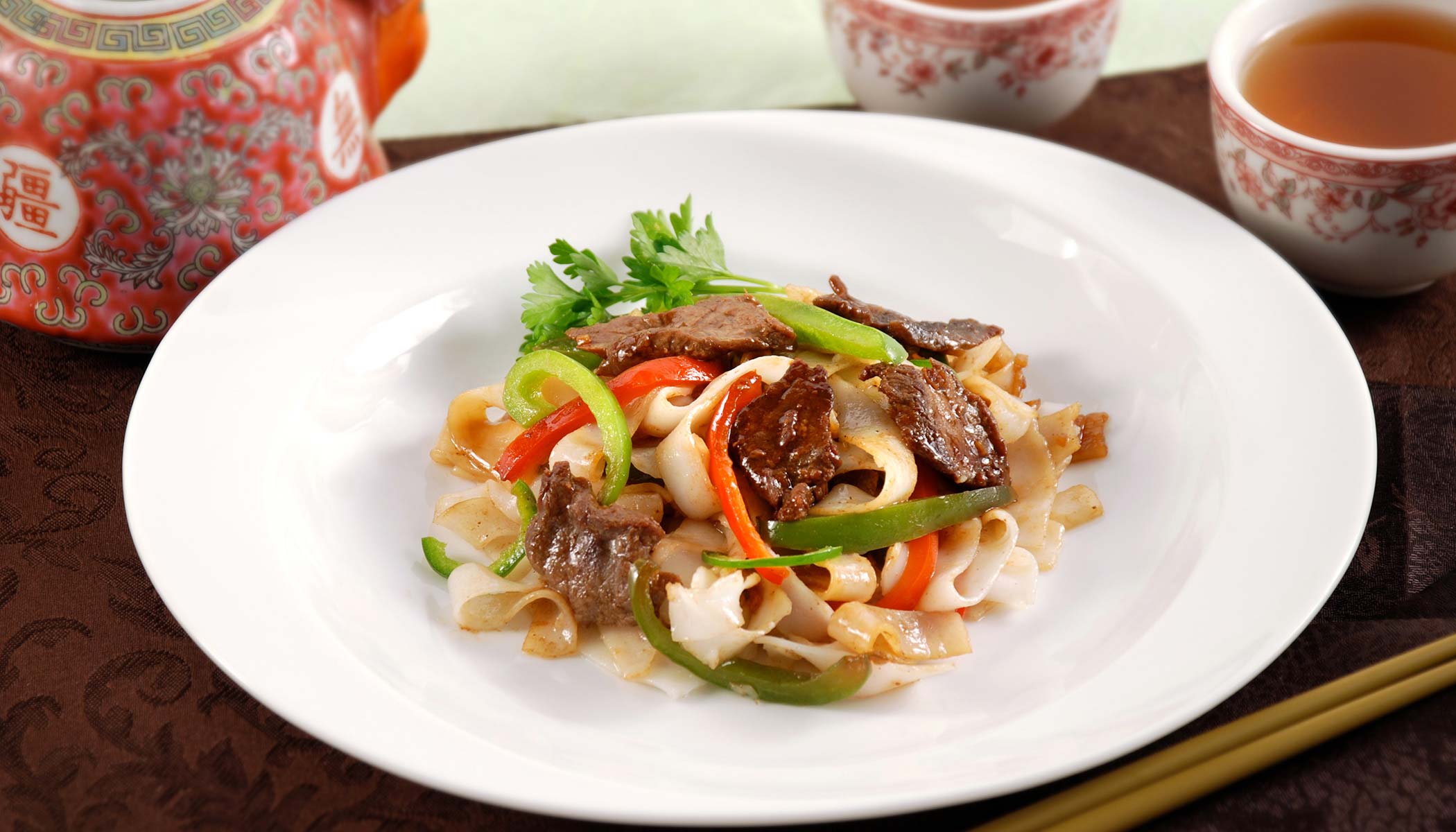 Everybody loves chow fun! Noodles will always make an appearance during festive occasions, because they are a symbol of long life in Chinese culture.
Ingredients (3-4 servings):
1/2 lb fresh rice noodles (chow fun)*
1/2 lb flank steak
1 green pepper, julienned
1 red pepper, julienned
1/2 jalapeno pepper, sliced (optional)
3 Tbsp. vegetable oil
1 Tbsp. black bean with garlic sauce*
2 Tbsp. oyster sauce*
Few drops Asian sesame oil
Marinade:
1/2 tsp. fresh ginger, peeled and minced
1 clove garlic, minced
3 Tbsp. soy sauce
1/2 tsp. corn starch
1 Tbsp. whiskey (optional)
*Chow Fun (rice noodles), black bean with garlic sauce and oyster sauce can be purchased in most Asian markets.
*This recipe was developed for the Gourmet d'Expert® Electric Skillet (EP-RAC50). Adjustments may be necessary when using other models.

1
Cut the flank steak lengthwise into 1/2-inch strips, and then into 1/4-inch slices against the grain. Combine beef with marinade and set aside for 15 minutes.
2
Cut the noodles into 1/2-inch wide strips if not cut. Quickly rinse under water to separate the noodles.
3
Turn the control lever of the Gourmet d'Expert® Electric Skillet to HIGH, and heat 2 Tbsp. vegetable oil. Add the noodles and cook until they are lightly browned, tossing gently. Remove and set aside.
4
With the control lever at HIGH, add 1 Tbsp. vegetable oil and cook the beef for 2-3 minutes. Do not stir until one side is browned. Add the peppers and cook for an additional 2 minutes, stirring frequently. Add the oyster sauce and black bean with garlic sauce.
5
Return the noodles to the pan and toss until thoroughly heated and mixed. Serve while hot. Finish with a few drops of sesame oil. Serve while hot.