---
Other Electric Products Recipes
Seared Tuna with Herb Dressing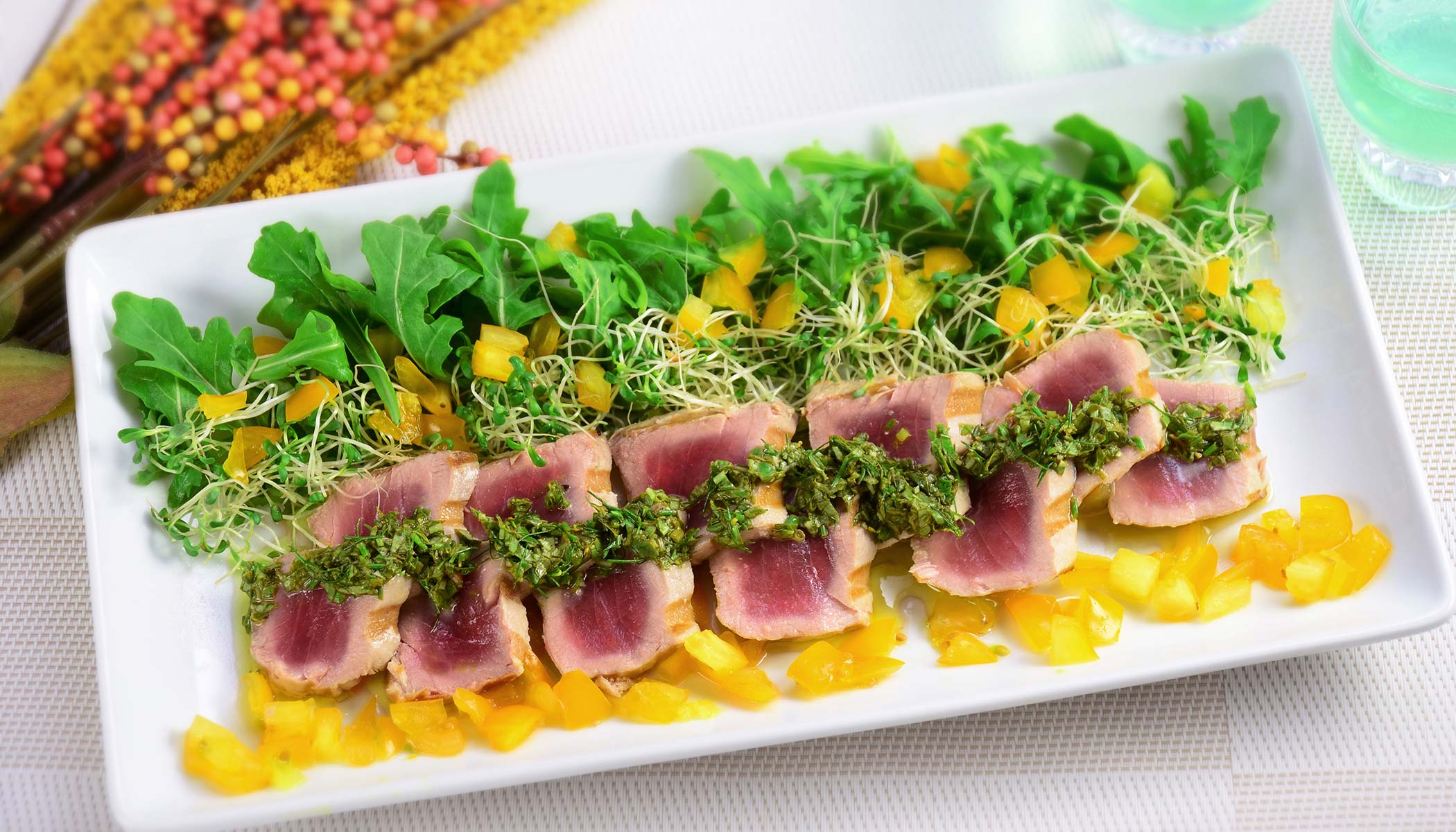 Beautifully seared tuna is easy to make with the Zojirushi Indoor Grill. The light citrus dressing adds a perfect complement to the tuna. The dish will make an outstanding appetizer for the next dinner party.
Ingredients (serves 2):
0.3 lb. tuna block, sashimi quality
1 tsp. olive oil
1/8 tsp. salt
For Dressing:
8 basil leaves
1/2 tsp. fresh thyme leaves, minced
1 tsp. dill, chopped
1 tsp. chive, minced
1/8 tsp. salt
1/8 tsp. black pepper
2 tsp. lemon juice
3 Tbsp. olive oil
For Garnish:
1/2 cup arugula leaves
1/4 cup alfalfa or broccoli sprouts
3 Tbsp. yellow tomato, diced small
You will need a small sheet pan.
*This recipe was developed for Indoor Electric Grill (EB-DLC10). Adjustments may be necessary when using other models.
1
Preheat the Indoor Electric Grill at HI for 6 minutes or until the operation light turns off.

2
Brush tuna block with olive oil and sprinkle with 1/8 teaspoon salt.

3
Place tuna block on the grill and grill each side 30-50 seconds. Turn heat off.

4
Transfer the seared tuna to the sheet pan, place in the freezer to chill immediately. 

5
Prepare the dressing. Mince basil leaves and mix in all other ingredients for dressing in a small container. 

6
Plate arugula and sprouts with tomato. Slice chilled tuna and serve over arugula.

7
Drizzle herb dressing from step 5.