---
Other Electric Products Recipes
Thai Pumpkin Pudding Pie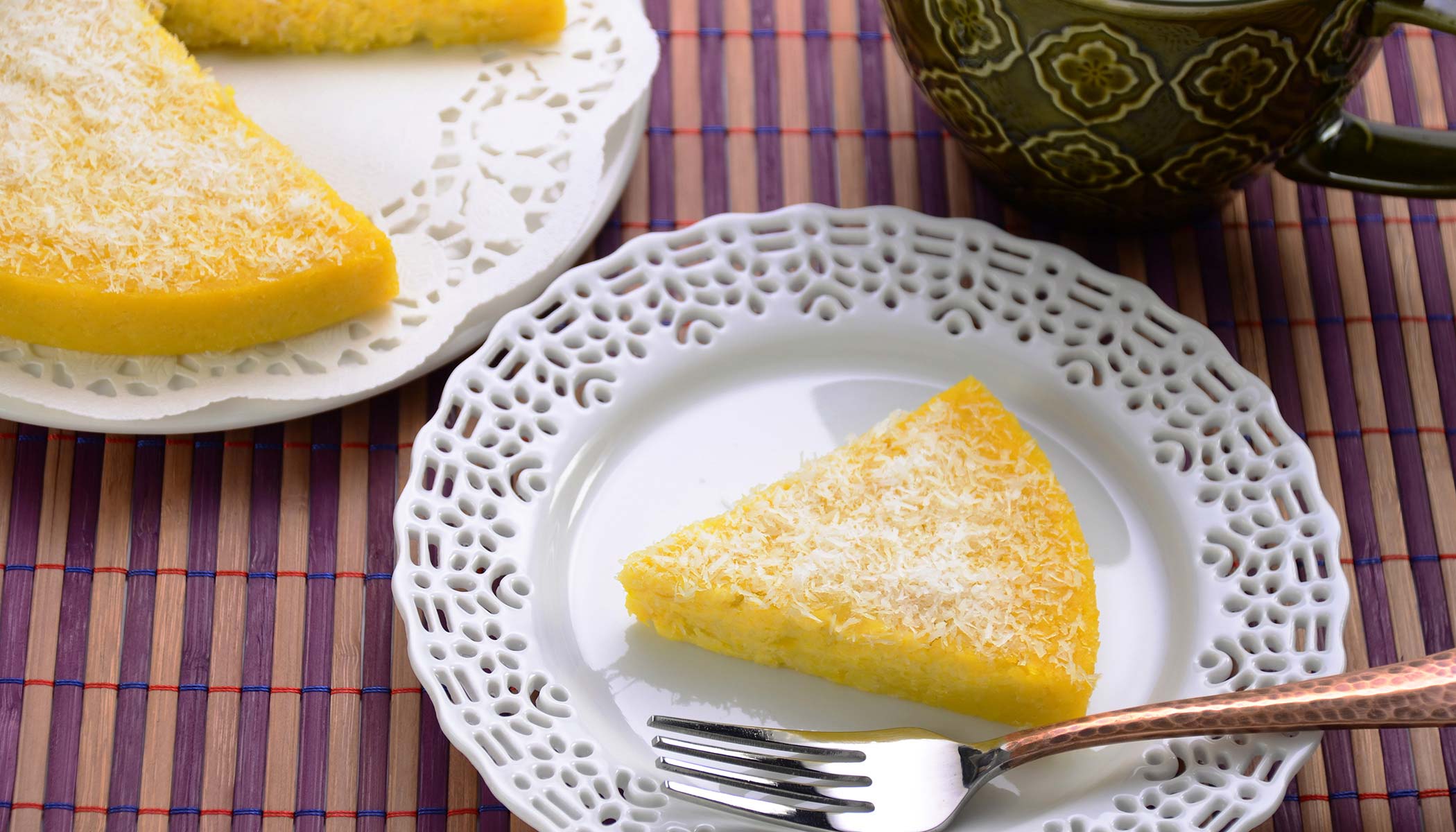 Also known as "Kanom Fuktong Nung", this is a Thai dish in which mashed pumpkin is mixed with rice flour and coconut milk, then steamed. It is a rich pumpkin dessert with a hint of coconut.
Ingredients (serves 4-6):


10 oz. kabocha pumpkin or butternut squash, peeled and diced (large)

3/4 cup rice flour

1/4 cup sugar

3/4 cup coconut milk

1/8 tsp. salt

Topping:


3-4 Tbsp. finely shredded unsweetened coconut
You will need a 7 inch diameter cake pan.
*This recipe was developed for Gourmet d'Expert® Electric Skillet (EP-RAC50). Adjustments may be necessary when using other models.

1

Place pumpkin in a medium microwavable bowl and microwave at high for 5-6 minutes or until fork tender. Mash pumpkin with a masher or fork until smooth.
2

Line bottom of the cake pan with parchment paper.
3

Mix mashed pumpkin from step 1 with rice flour, sugar, coconut milk and salt. Then pour the mixture into the cake pan.
4

Add 6-1/4 cups of water to the deep pan of your Gourmet d'Expert® Electric Skillet (EP-RAC50), and place the steaming plate inside with its legs at the HIGH position.
5

Carefully place cake pan at the center of the skillet.
6

Cover the cake pan with aluminum foil. Cover skillet with lid and turn the control lever to HIGH. Once it reaches a boil (or when steam begins to rise from the gap between the pan and the lid), reduce heat to 320ºF, and steam for 15 minutes. Check the doneness by inserting a skewer. If it does not come out clean, continue to cook 5 more minutes and check again. Add more water if the water level is low. Be careful of the hot steam.
7

When it is cooked through, turn the control lever to OFF. Remove the lid and aluminum foil, wait until pie is cool to the touch, then remove from the skillet.
8

Unmold the cake, garnish with grated coconut. Slice and serve.