---
Vacuum Insulated Food Jars Recipes
Tofu Misoshiru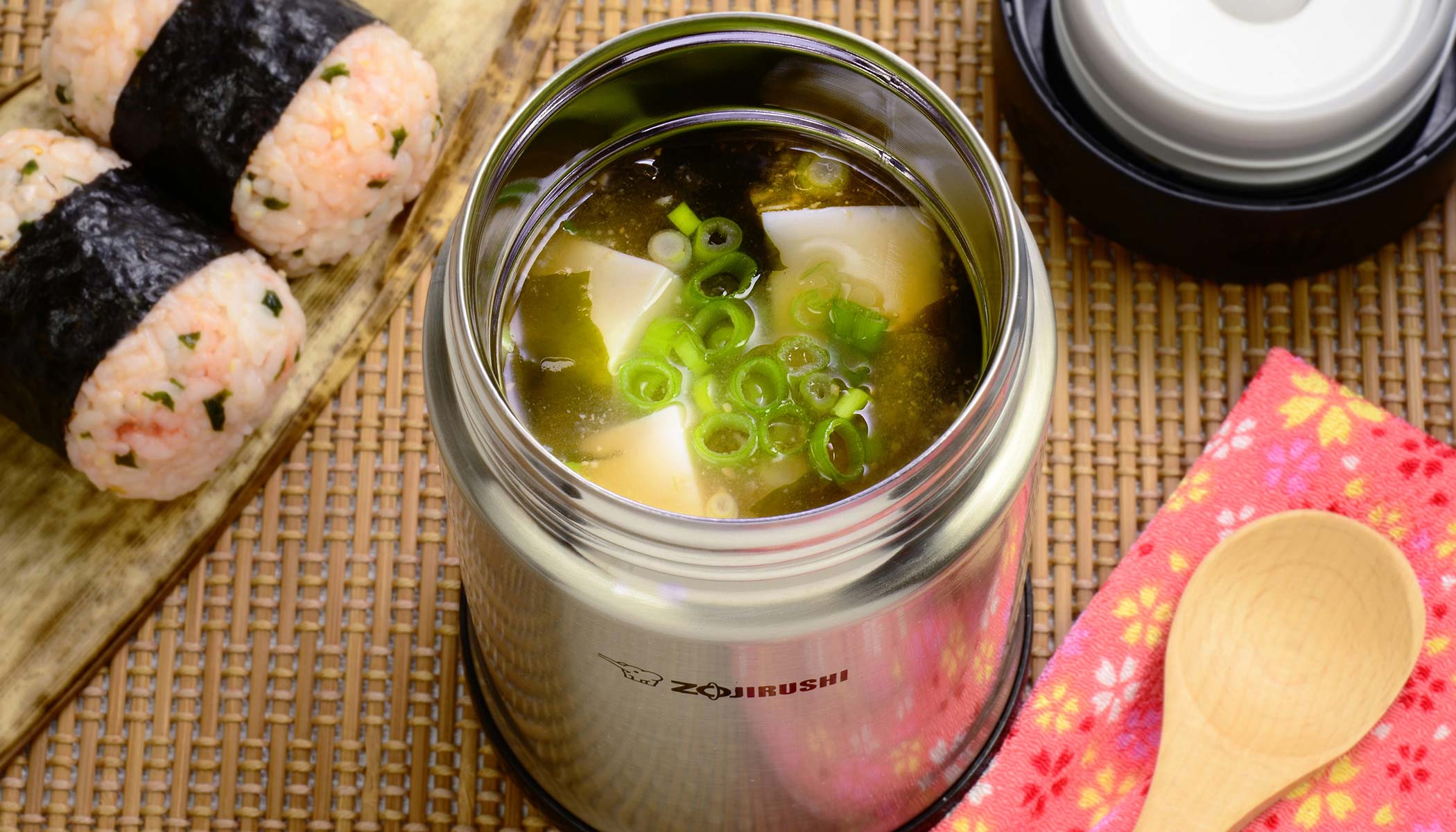 Misoshiru is the Japanese name for miso soup, a Japanese breakfast staple. This soup is made of ichiban dashi, miso, tofu and wakame - ingredients that are used in many Japanese dishes.
[For 12 oz. Zojirushi Stainless Steel Food Jars]
Ingredients (serves 1):
[For 17 oz. Zojirushi Stainless Steel Food Jars]
Ingredients (serves 1):
1-1/2 green onion, sliced

6 oz. soft tofu, cut into 1/2 inch cubes




1-1/2 cups

dashi

(see here)

(or 1-1/2 cups water + 1 tsp.

dashi

powder)




1 Tbsp.

miso

paste

1-1/2 tsp. dried cut

wakame

(seaweed)
*This recipe was developed for 12 oz. and 17 oz. Zojirushi Stainless Food Jars. Adjustments may be required for making this recipe in other Food Jar sizes.
*Please make sure not to overfill the food jar with ingredients, as ingredients will expand with cooking, and may cause the lid to burst.
1
Preheat the Zojirushi food jar by pouring boiling water (not included in the ingredients list). Close the lid and allow to preheat.
2
Set aside a pinch of green onion for garnish. Place remaining green onions into a sauce pan.
3
Add tofu and dashi to the sauce pan, bring to a simmer and cook for approximately 2 minutes.
4
Place the miso paste in a bowl, add 1/4 cup of soup from the sauce pan and whisk until smooth, then pour the mixture back into the sauce pan. This will ensure that miso doesn't clump together while cooking.
5
Just before the soup returns to a simmer, turn off the heat.
6
Discard hot water from the food jar and place dried wakame inside the jar.
7
Fill with prepared soup from step 5 up until 1 cm below the ridge and close lid.
8
Allow soup to set for a minimum of 5 minutes and up to 6 hours. Stir and garnish with the remaining green onions before you eat.