---
Other Electric Products Recipes
Vegetable Fajita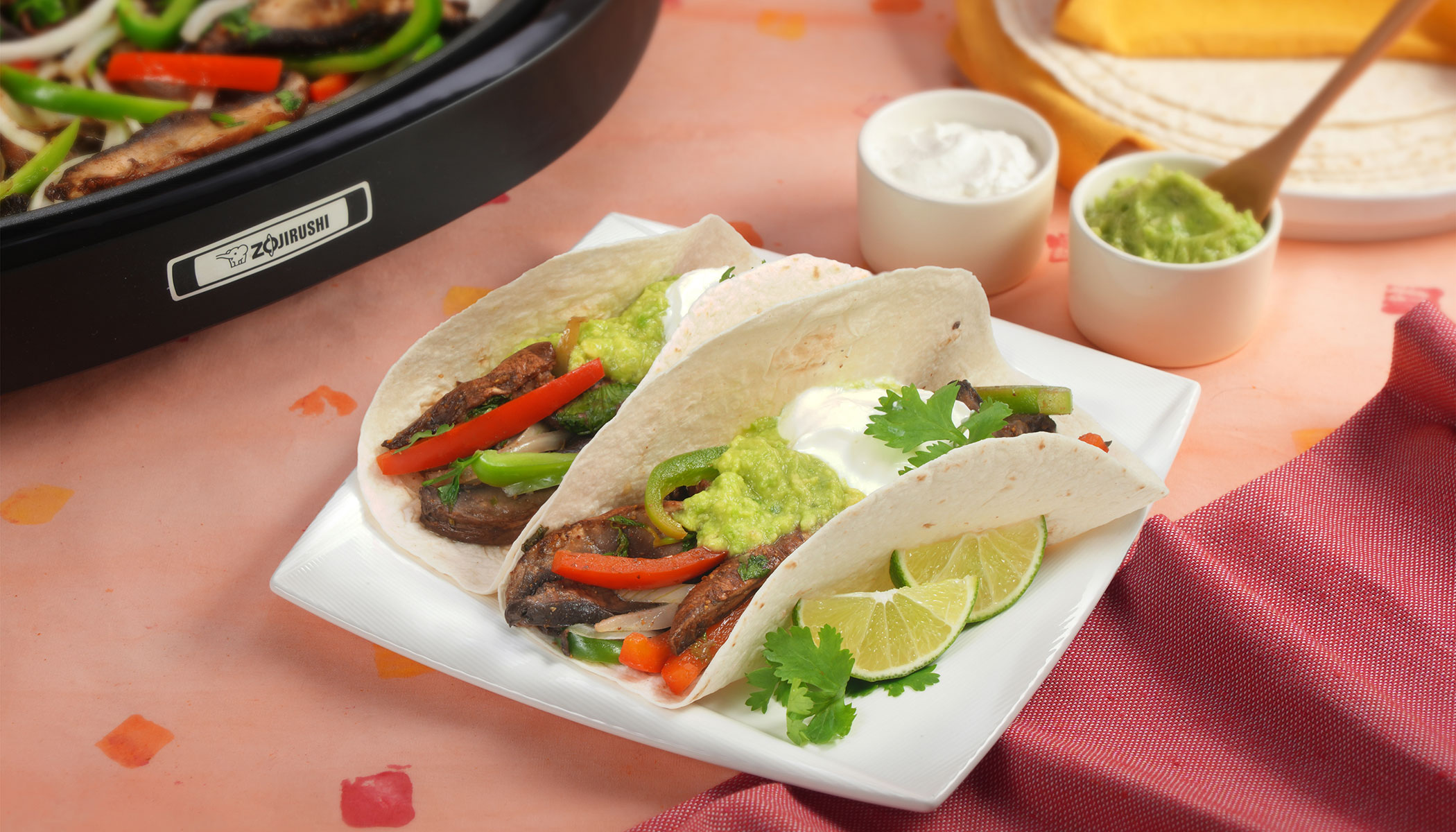 Who said fajita always had to include meat? We chose to go healthy by substituting meat with juicy Portobello mushrooms. This colorful dish with a kick of chili will be perfect for your fiesta tonight!
Ingredients (serves 4):
2 garlic cloves, minced
1-2 Tbsp. or to your preference chili powder
2 tsp. ground cumin
1/2 tsp. salt
1/8 freshly ground pepper
1 juice of lime
1 Tbsp. vegetable oil
4 caps Portobello mushroom, sliced thick
1 small onion, sliced
1 small green pepper, cut into strips
1 small red pepper, cut into strips
1/4 cup fresh cilantro, chopped
8-12 flour tortillas, warmed
Guacamole:
2 avocados, ripe, mashed
2 Tbsp. white onion, minced
1/2 jalapeño pepper, seeded and minced
1 juice of lime
1/8 tsp. salt
Topping:
Cilantro
Lime wedges
Sour cream
*This recipe was developed for the Gourmet Sizzler® Electric Griddle (EA-TAC35). Adjustments may be necessary when using other models.

1
Mix garlic, chili powder, cumin, salt, pepper, lime juice and vegetable oil in a large bowl. Combine the Portobello mushroom, set aside.
2
Make the guacamole. Combine the avocado, white onion, jalapeño, lime juice and salt. Cover and put in refrigerator and chill until needed.
3
Turn the Gourmet Sizzler® Electric Griddle control knob to 400ºF. When the pilot lamp turns off, sauté the marinated mushroom for 3 minutes.
4
Add onion, peppers and chopped cilantro to the mushroom and cook until tender.
5
At the table, serve with warm tortillas, guacamole, and other toppings. Place some of the filling and toppings onto each tortilla and squeeze lime, then roll up and enjoy.