---
Other Electric Products Recipes
Yin Yang Hot Pot: Yosenabe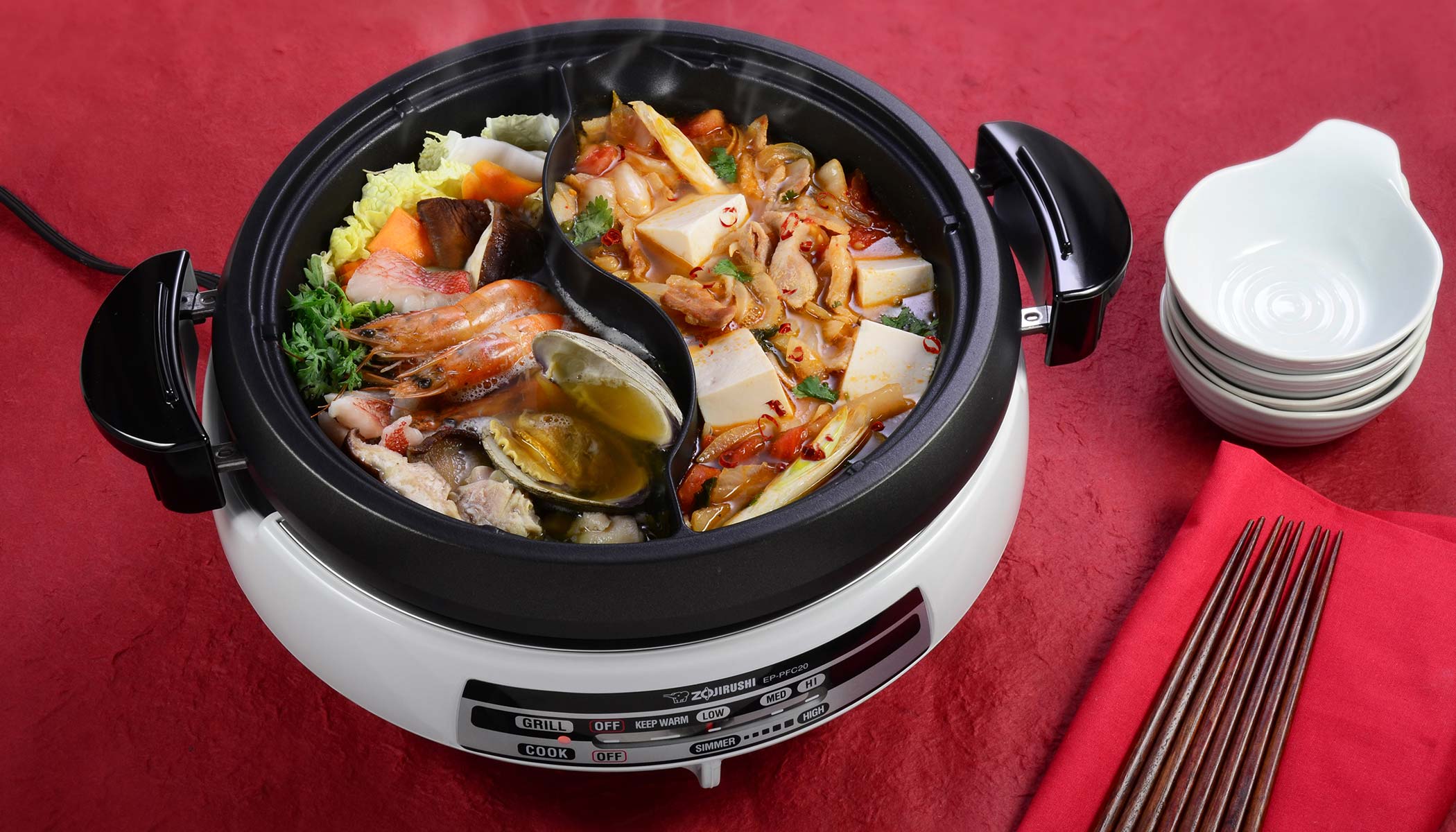 Yosenabe, made of two words "yose" meaning "to bring together" and "nabe" meaning "hot pot," this is a classic Japanese hot pot where a variety of ingredients come together in a light soup base, and is enjoyed with a ponzu-based dipping sauce. Try this hot pot side-by-side with our Kimchi Hot Pot!
Ingredients (serves 2-3):
2-3/4 cups water
2" x 2" sheet dried kombu (kelp)
1 Tbsp. soy sauce
1 Tbsp. mirin (Japanese sweet rice wine)
1 Tbsp. sake (Japanese cooking wine)
Salt to taste
5 oz. nappa cabbage, roughly cut
1/2 (6" in length) Tokyo negi (Japanese green onion), cut diagonally into 3" length
1/2 carrot, thinly sliced
4 stems (2 oz.) chrysanthemum garland, cut into 3" length
2 large shiitake mushrooms, cleaned, stems removed, cut in halves
1/4 lb. chicken thigh, cut into bite-sized pieces
1/4 lb. cod, snapper or kinki rock fish, deboned, descaled, cut into bite-sized pieces
1/4 lb. large prawns, head-on, shell-on
1/4 lb. cherry stone clams
For Dipping and Condiments (optional):
Ponzu (seasoned soy sauce with citrus juice)
Shichimi togarashi (Japanese chili powder)
Thinly sliced green onions
Grated daikon radish
*This recipe was developed for the Gourmet d'Expert® Electric Skillet for Yin Yang Hot Pot (EP-PFC20). Adjustments may be necessary when using other models.

1
Place water and kombu into one side of the Deep Pan of Gourmet d'Expert® Electric Skillet for Yin Yang Hot Pot (EP-PFC20). Heat water and kelp while cooking another hot pot in the other side. Set temperature to HIGH.
*Be sure to add water or other liquids like soup stock to both sides when cooking with the Deep Pan. If one side is empty while cooking, the nonstick coating may be damaged by the heat.

2
Remove and discard kombu just before the water comes to a boil, then add soy sauce, mirin, sake and salt to taste.
3
When the water reaches a boil, add vegetables, meat and seafood one at a time. Turn down the heat to SIMMER. Skim off any scum that rises to the surface.
4
As the ingredients cook, prepare the optional dipping sauce and condiments. Serve ponzu sauce in individual small bowls. Add condiments to your preference.
Take cooked ingredients from the skillet, dip and enjoy!