So recently we threw a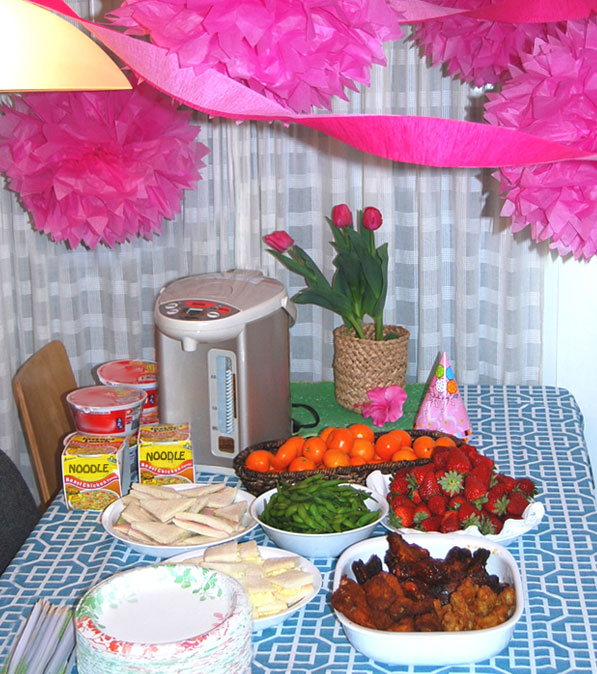 sleepover party for my daughter with 6 of her friends, to celebrate her becoming a "real teenager". Wow, that's a scary thought, right? Wait–are we talking about the party, or the fact that she's now a teenager?
Anyway, we decided to have all of her favorite foods—chicken kara-age, Japanese style finger sandwiches, edamame, fresh strawberries, "Cuties" (the tiny tangerines) and…instant udon! And what I realized is that we take for granted that we have hot water at our disposal anytime with our water boiler. It obviously becomes very important in situations like this, and I wondered what we used to do before we got one. We don't have to worry about boiling the water for the girls, and they can serve themselves to hot udon or ramen even in the middle of the night! What a concept!
Our family drinks a lot of green tea, so I have our boiler set at 195°F so that it's just hot enough to brew the tea without scorching the leaves. That's still hot enough for instant noodles anytime of the day, and my kids use the hot water to make hot chocolate during wintertime. Since I'm picky about my coffee, I like to use boiled water right off the stove and drip brew. But my wife, who likes to drink those instant cappuccino mixes, uses our water boiler to stir up a steaming cup of café au lait without even having to put on the kettle in the morning. I am a firm believer in the importance of readily available hot water.
Just so you know, the sleepover was for exactly 13 hours because it was her 13th birthday. We played a game where the girls had to answer 13 questions about our daughter, and we gave away 13 prizes. It was a fairly manageable night for us parents. Girls aren't as noisy as boys. When my son was 12 years old, we made the mistake of inviting 12 of his friends to a sleepover. That night was a horror story that I'll save for another day—we did not have hot water available for a bunch of 12-year-old boys.