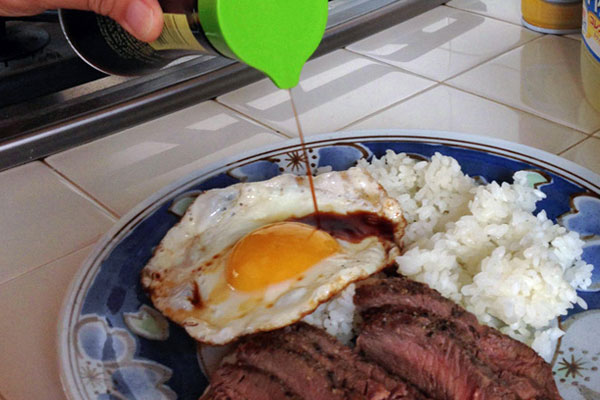 OK, old joke, I know…sorry, but I always get a kick out of puns that cross international language barriers. Shoyu is the Japanese word for soy sauce, the most awesome condiment in the history of Asian cuisine. And since I could totally sustain myself on Japanese cooking exclusively, I just love shoyu.
I pretty much drizzle it on anything if I'm having a dish with white rice–but I do not dump it on the rice! First of all, that would be way too much sodium for me, but it's just the purist in me that wants to eat white rice the way it was meant to be eaten–as an accompaniment to your entreé, not as a side dish. I still wince when I see people do this, but hey, I get it–rice has no flavor on its own. But the flavor comes from the foods you eat with the rice. Here's a hint if you travel to Japan: refrain from doing it because it's just bad form–let's keep the white rice white, people!
Having said that, I am guilty of overusing shoyu and probably season my food when it
doesn't really need it. But my argument is that good quality shoyu enhances the flavor of grilled fish, pan-fried steak, boiled vegetables, even fried eggs. And it absolutely belongs on cold tofu and boiled spinach.
So where does soy sauce come from, and who discovered it? All soy sauce is made from fermented soybeans, but there are many variations, ranging from the thicker, inky black sauces to the more transparent, reddish ones. Taste, color and texture is controlled by intricate differences in the brewing and fermentation process, and by the aging process as well, much like the way fine wine is made. I won't get into too much technical detail here, but when purchasing soy sauce, just avoid the ones made by chemical processes. The best ones are naturally brewed.
The Chinese, of course, discovered soy sauce more than 2500 years ago, which makes it one of man's oldest condiments. But the Japanese didn't start their version until about 500 AD., when a Zen priest is said to have brought it back from China and started modifying its ingredients and brewing technique. The Kikkoman® company first introduced their soy sauce to America back in the 1800s, and they have been producing shoyu locally from Walworth, Wisconsin since 1972.
Soy sauce is widely used today by both professional chefs and home cooks. I've heard of shoyu being the secret ingredient in curry dishes and tomato based beef stews, so it's obviously not being used just to bring the salt flavor out. Much of it has to do with the inherent umami in soy sauce, too. The Kikkoman® company even recommends sprinkling it on ice cream because it "draws out the flavor and gives it a delicious caramel-like aroma." Whaaa? I haven't tried this one yet–I think I'll keep my Haagen-Dazs® the way it is.
Credits: Hiyayakko by pixelatedcrumb, Ohitashi by otakufood
Where Am I?
Can you guess where I took my Zojirushi bottle? Let me know! I go here almost every other week…