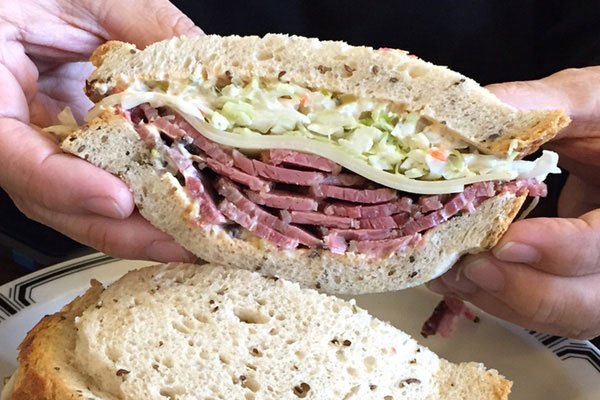 The sandwich above is famously called the Number 19 at a famous deli here in Los Angeles called Langer's®. It's a very simple sandwich–pastrami, swiss cheese and cole slaw on rye bread with Russian dressing. I can assure you that it tastes every bit as amazingly good as it looks.
As a professional writer though, I was wondering why they couldn't think of a better name for it. Don't get me wrong, this sandwich has become so famous that it's their signature, and now everybody knows "the famous #19". But when Langer's® first opened, didn't they want to name their sandwiches? I happen to think adding personality to food is what gives a menu or a restaurant its character.
If it were me, I'd give my sandwiches names. Some restaurants do this, but few do it well. I say that you and I can do better, and no easy tricks like naming yours after a celebrity, like "The Will Ferrel" or "The Beyonce Burger", OK? The trick is to get creative with the ingredients, or project what it tastes like into your name. I'll get us started with these classic sandwiches. I've given each a name and a menu description to make them sound spectacular.
French Dip Sandwich or Beef Dip in a Broth Bath–say that 3 times fast as you plunge our tender rib eye into a warm au jus. Crusty French bread and rare roast beef, soaked in its natural juices.
Egg Salad Sandwich or Eggstreme Makeover–the classic egg salad as you like it, but we've spiced it up a little with curry–finished with cilantro, scallions and cucumber.
Grilled Ham & Cheese Sandwich or Hammy Cheesy Sammy–our premium ham, thinly sliced and nestled between slices of genuine American cheese. The bread is toasted to a perfect brown on our griddle with the right amount of butter on each side.
Tuna Salad Sandwich or Singa Tuna Fish–our flaky fresh tuna lightly tossed with crunchy chopped celery, a balance of onion and finely diced dill. Homemade mayo on the side so you can build to your taste.
Meatball Sub or Polpetta Delizioso–tangy rich marinara sauce smothered on our signature Italian meatballs, served up open-faced on our artisan white bread. This sandwich classic is topped with grated cheddar cheese.
And so on and so on. See how a little bit of creative writing can make anything sound like a heavenly gastronomical masterpiece? You can do it too–create a sandwich and use your imagination to name it. One of my favorites is a popular breakfast sandwich at Denny's® called "Moons Over My Hammy®". It's a "classic ham and scrambled egg sandwich with Swiss and American cheeses on grilled sourdough". This one is so good, Denny's® trademarked the name!
Many sandwiches do have names that have stood the test of time. No need to change anything at all, but it does prove that when a nickname is good, it sticks and identifies it forever. Everyone knows what a Reuben is, or a BLT, or a Hero, PB&J, or Club.
So how about Langer's® number 19? The Prince of Pastrami? Deli Delight? Right Between the Ryes? Maybe we should leave that one alone–it seems to be doing fine on its own without our help.
Additional photography by Shelley Opunui