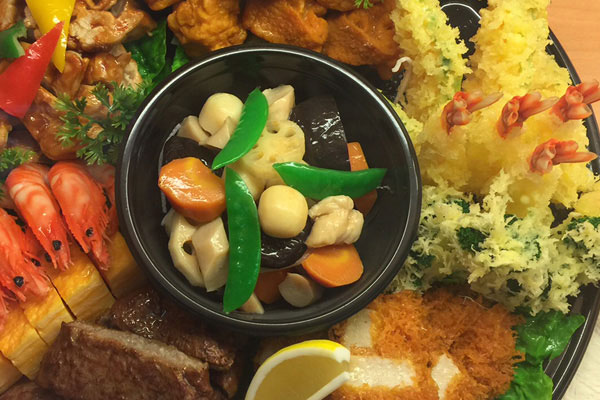 Food replicas are a part of the dining out experience in Japan. Almost any restaurant will have a glass showcase out in front, with several of their most popular dishes on the menu lined up on display. With the price of the dish clearly marked on tent cards, the food models are an easy 3-D menu that allows diners to make up their minds before they even step inside.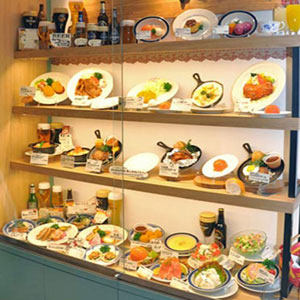 I love these things–invented in Japan and unique to their culture. When they're well-made, it's very difficult to tell them apart from the real food. In fact, I can tell you from personal experience of the time I got queasy from staring at a tempting plate of lasagna at an Italian restaurant in Tokyo.
Let me explain. We had gone out to see a movie and decided to have dinner afterward. Big mistake. The movie was Alien–remember the "chest bursting" scene? It was a pretty intense film with highly stylized and realistic action parts where the alien creature causes a lot of mayhem and human destruction, if you know what I mean. The restaurant was a popular high end place near the theater; and the food on display looked really good until we kept staring at all that tomato sauce and melted cheese and ground beef and…well, we lost our appetite for Italian food and ended up having sandwiches at a coffee shop. LOL! True story!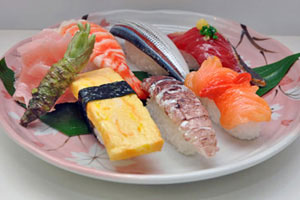 Food replicas have been around in Japan for over 90 years, when a department store restaurant first started making the fake food to lure customers inside. When Americans and Europeans traveled to Japan to help with rebuilding efforts after WWII, no one could read Japanese menus, so the replicas clearly helped the foreigners decide what they might want to eat. At first the models were made of paraffin wax, but the colors would fade over time, so plastic vinyl chloride is used today–a material that is virtually permanent.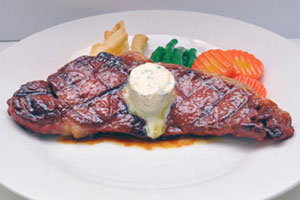 The material may be high tech, but the process is still handmade. Molds of real food are used, and when that's not possible the molds are hand sculpted. Painting and airbrushing is what lends the food its realism and detail, as well as the multiple parts that need to be assembled together to make a  single sushi roll. Sometimes actual food prep techniques are mimicked to get the realism required, like chopping plastic vegetables with a chefs knife, or deep frying plastic shrimp in hot oil.
Today there are a few large food replica companies in Japan, but for the most part many of them are mom and pop artisans who have raised the level of craftsmanship to an art form. Techniques and trade secrets are closely guarded in an industry that generates billions of yen per year. If a single restaurant ordered replicas to be made for most of its menu, it may cost hundreds of thousands of dollars–the replica is always custom made to be exactly like the restaurant's dish.
Replicas courtesy of Bentoss, Trends in Japan (web-Japan.org), Japan Online. Photos by Bert Tanimoto and Shelley Opunui.