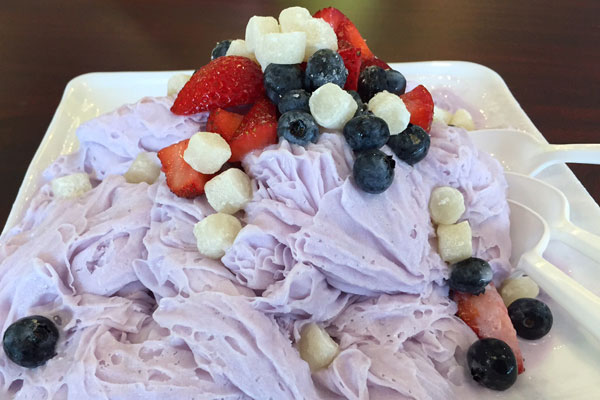 Growing up in Hawaii, I was raised on "shave ice" since small kid time. And do me a favor, don't call it "shaved ice" to a local kama'aina–you'll show your malihini (newbie) colors. I am, of course, partial to Hawaiian style shave ice, but I'm aware that there are other kinds these days. Long gone are the days when the only good shave ice was on the Islands and everyone else had to settle for sno-cones.
A style that is very popular now is a "snow ice" type of hybrid between ice and ice cream, originally from Taiwan. Whereas shave ice is ice that's drizzled with fruit flavored syrups, snow ice has been infused with milky flavor prior to freezing. It is then shaved off into sheets of ice–the effect is a creamy, ice dessert that melts in your mouth. Truly the only kind of shaved ice that competes with shave ice in my humble opinion. I tend to like my snow ice simple, with a minimum of toppings–maybe the little mochi bits or raspberries or kiwi. But if you like yours with more imagination, you can get a mountain of ingredients that will make yours look like a gaudy psychedelic iceberg. Above pic is taro flavored snow ice with strawberries, blueberries and mochi bits.
In Japan, their traditional version of this dessert is known as kakigori, which literally means shaved ice. Theirs is a coarser, more crystalline consistency topped with syrup, often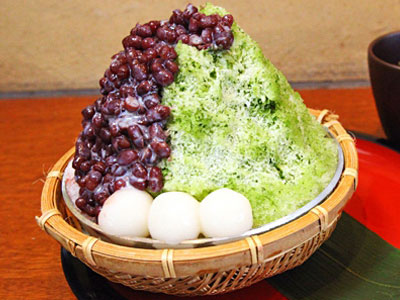 strawberry or green tea flavored.  Sweet condensed milk is also added sometimes, and one of my favorites is super charged with matcha ice cream, azuki (red beans) and mochi–the classic Ujikintoki. Hawaiian shave ice fans might find the ice texture too coarse for their taste, but I think it has a character all its own.
If you're in Japan, you can find the coffee shops that serve kakigori by looking out for the universal sign for "ice", a banner that they display outside their storefronts.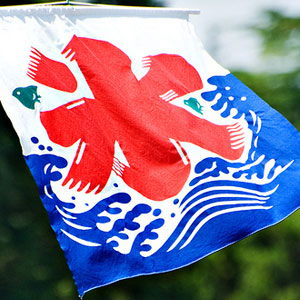 I recently had a Korean version that was an ice parfait in a cup–mango juice, pineapple,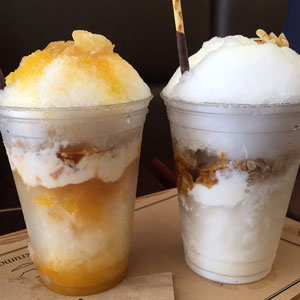 vanilla yogurt, coconut flakes, granola and honey. That's the one on the left; the other one has condensed milk, yogurt, coconut flakes, granola and honey. These were both surprisingly good. They're obviously going for the texture with all those crunchy ingredients, and hoping to blend it with the cold, sweet ice. It works!
Nothing though, beats my childhood Hawaiian shave ice. Let's face it, for the shave ice purist, there's nothing like the Rainbow one with the classic flat wooden spoon sticking out of it. Whenever I get a chance to go back, I make sure to make a stop at the world famous Matsumoto Shave Ice. They've been there for as long as I can remember, and on any given day you'll see a busload of tourists stopped outside the store. If you go to visit on your way to the North Shore, be sure to follow the instructions on how to order your shave ice; it'll make the line go faster!
Thanks to timeout.jp for Ujikintoki, sneakers-actus.fr for Kakigori, and ahappyhowto.blogspot for Shave Ice. Other photography by Shelley Opunui, visit her Instagram here: ironchefmom