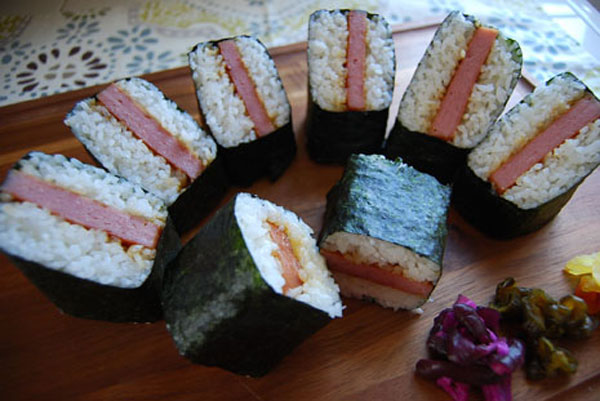 I was raised in Hawaii "during hanabata days, when Chunky's was da bes' plate lunch in Moilili fo' ono grindz." Although I just dated myself tremendously with that statement, I'm guessing that most of our readers don't even know what I just said, so I'm not too worried. The point is, as important as rice is to the culture of Japan, it is equally as important to our tiny state in the middle of the Pacific Ocean.
Probably the most famous Hawaiian variant of a Japanese rice dish is the classic Spam Musubi, the Hawaiian rice ball (more like a brick) made with SPAM®, rice and a sheet of nori (seaweed). There are 2 basic styles–with the slice of SPAM® on top of the rice and a strip of nori wrapped around its waist like a belt, or with the SPAM® slice buried in between two layers of rice and completely wrapped with a sheet of nori, leaving the ends exposed.
SPAM® is the canned mystery meat that everyone loves in Hawaii. Introduced by the Hormel company in the 1930s, SPAM® became a popular wartime food for the military because it could be shipped easily without spoiling. Even after the war, the large military presence on the Islands made it a local favorite, and the Japanese-Americans there created the Spam Musubi, their own version of the traditional onigiri (rice ball).
Today, you can make Spam Musubi with a rectangular rice press, designed to form perfectly shaped little bricks of rice. The SPAM® is sliced, pan fried and seasoned according to family recipes that add anything from teriyaki sauce to flavored rice sprinkles to pickled vegetables for extra zest.
Earlier I mentioned the "plate lunch", a unique meal most certainly native to Hawaii. With most plate lunches, there is an entree, macaroni salad as a side dish, and rice. What is distinctly Hawaiian, however, is that the rice is always served with an ice cream scoop, forming one or two balls of rice on your plate. "One or two scoops" of rice on a plate lunch essentially makes the difference between a small or large plate lunch. I believe the aesthetics of eating rice that's been mashed into a perfectly round ball may not be to everyone's liking, but hey, it works in Hawaii!
Another local favorite is Fried Rice, which you may say, is just fried rice. But if you think about the thousands of different ways this simple dish is prepared all over the rice eating world, you'll understand why "Hawaiian style" is unique to the 50th state. It almost always has bacon in it, if not Portuguese sausage or SPAM®, or all three if they happen to be around. This would truly be a deluxe version. If you added bits of the pink and white kamaboko (Japanese fish cake), you'd really be stylin'. On the other hand, if you're a student on a budget or just out of ingredients around the house, you can make the "junk kine fried rice dat only get peas and carrots inside." Rest assured, it will still taste great and be quite filling if you do it right.
Rice is awesome, isn't it? Even the haoles eat rice in Hawaii!
Where Am I?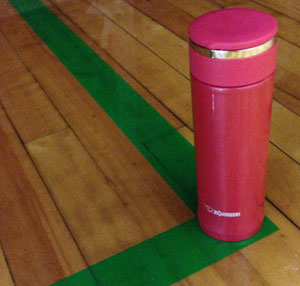 Starting this month, I'd like to share my shot of my Zojirushi Vacuum Bottle, out in its natural environment in the great outdoors and not stuck in my kitchen cupboard. Can you guess where I took it? Let me know!