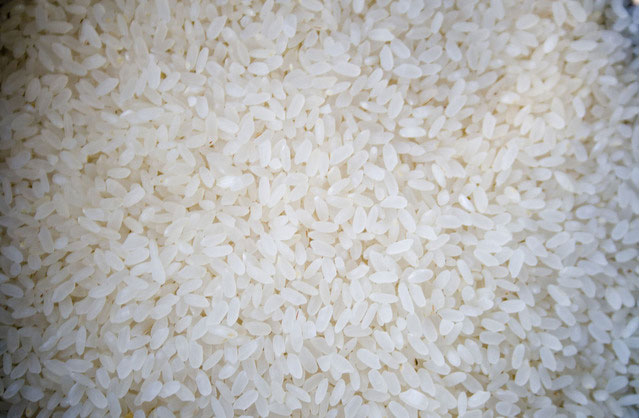 We continue our series about rice this month with an exploration of medium-grain rice!
Medium-grain rice is classified as such because of its size, with each grain measuring two to three times longer than it is wide (or, in more scientific terms, between 5.0 – 5.99 mm in length, and possessing a grain shape with a ratio of 2.1-3.0). When cooked, medium-grain rice tends to be moist and to stick together, although the stickiness varies depending upon how it is prepared. Asia produces the largest amount of medium-grain rice, but it's a popular crop elsewhere in the world, as well.  In the US, medium-grain rice is grown in Arkansas, California, Louisiana, Missouri and Texas.  It's becoming an important crop in Africa and Latin America, too.
Different types of rice are suited to different types of cooking; for example, short-grain rice is the most common type used in Japanese cuisine, and long-grain rice, which we'll talk about next month, is the most common type used in gourmet Indian and Middle Eastern dishes. Medium-grain rice also has its special uses. In Japanese cuisine, especially when made outside of Japan, medium-grain rice is often substituted for short-grain. It is also heavily consumed in parts of South India, the Caribbean, Sub-Saharan Africa, West Africa, Central America, South America and in parts of Europe—especially Italy, where it is ideal for risottos. In the US South, medium-grain rice is used in puddings and desserts.
Medium-grain rice is used in some of the most delicious recipes! You can find an excellent recipe for Fava Bean Risotto, full of savory creaminess perfect for the spring crop of fresh fava beans. We also recommend this beautiful Arroz con Pollo, where the cook's who've tried the recipe prefer using medium-grain rice to long-grain rice—and how about this spicy Cajun Jambalaya created by Emeril Lagasse? Don't forget to finish it all off with this classic British Rice Pudding!
Medium-grain rice is versatile, nutritious and perfect for so many kinds of dishes.  We hope you enjoy these recipes and please let us know how they turned out. Stay tuned for next month's post about long-grain rice and more great recipes!