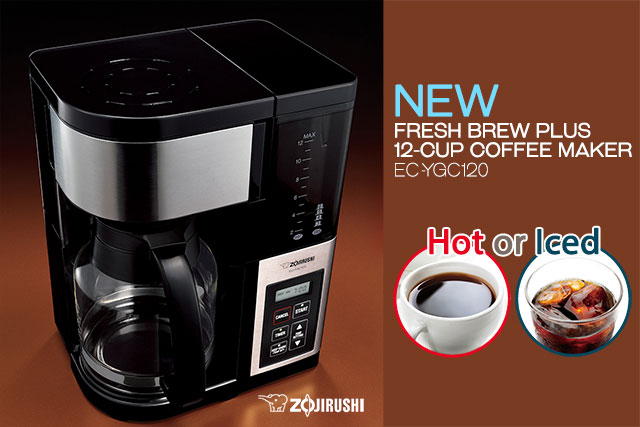 Is one of your favorite experiences waking up to the aroma of freshly brewed coffee? Or sharing a glass of iced coffee with a friend on a hot afternoon? We love our coffee here at Zojirushi, and are excited to share the new Fresh Brew Plus 12-Cup Coffee Maker (EC-YGC120) with special features for brewing iced coffee with you!
This stylish coffee maker brews up to 12 cups of hot coffee, or up to  6 cups of iced coffee! Ideally, coffee should be brewed at 200°F, and our coffee maker quickly heats water to this temperature to maximize the flavor of your coffee. For hot coffee, open the easy-access swing basket and fill the filter basket with your desired amount of ground coffee.  Then, fill the removable water tank with fresh water corresponding to the amount of coffee you're brewing using the clearly-marked 'HOT' water measure lines as a guide. Press START. Your coffee is all set to brew!
The heating plate that the glass carafe sits on has four keep warm settings–HI, MED, LOW, OFF–and keeps the brewed coffee warm at the temperature you like. When the carafe is removed, the machine inhibits messes with the drip prevention mechanism, and the clean spout design of the glass carafe makes pouring smooth and easy, helping to avoid dribbles and dripping.
If you prefer your brew iced, the Fresh Brew Plus makes brewing complex and bright iced coffee a cinch. Fill the Ice Basket in the glass carafe with ice, add water to the water to the level line on the water tank marked "ICED", put your ground coffee into the filter basket, then turn the heating plate keep warm setting to OFF. Press START to brew your coffee. The coffee is instantly chilled as it brews, locking in delicious flavor and aroma… ready to drink!
Our Fresh Brew Plus 12-Cup Coffee Maker is easy to clean and maintain, just like our other products. A Clean Indicator illuminates when cleaning is recommended, and the filter basket and swing basket are easily removed for washing in the sink.
We've even added a few other great features to this new coffee maker:  a convenient clock timer that can be set at night so you can wake up to the enticing aroma of freshly brewed coffee, a measuring spoon that works perfectly with our coffee maker to make filling the filter basket easy, and sample filters, so you know exactly what fits!  All food contact zones are BPA-free.
We know you'll love this new coffee maker as much as we do, and you'll be able to purchase it from our great retail partners this month! As always, we'd love to hear from you, so be sure to leave a comment below.