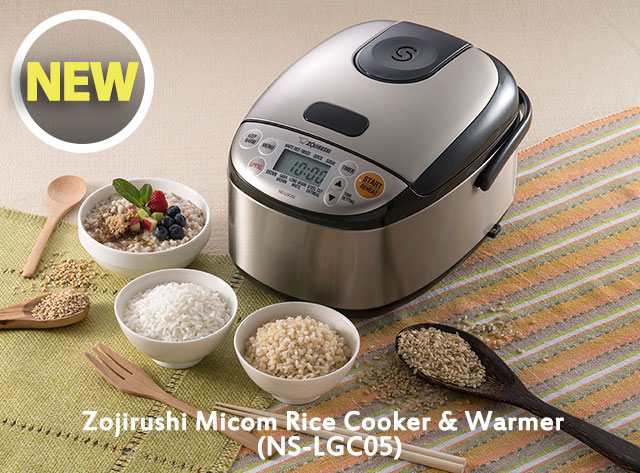 We're excited to introduce our newest small-capacity, microcomputerized rice cooker this month!
The Micom Rice Cooker & Warmer (NS-LGC05) is stylishly designed, and has innovative technology and cooking features that make it easy and convenient to use.
This rice cooker's microcomputer uses advanced fuzzy logic technology to make fine adjustments to cooking temperatures, so that rice cooks perfectly each time. The multiple settings let you easily cook a variety of rice, including white, mixed, sushi, brown, and—for the first time—long grain white rice. Expanded healthy menu options include settings for steel cut oatmeal and GABA brown rice, which soaks the brown rice before cooking for enhanced nutrition. Each of these menu settings can be selected on the easy-to-read LCD control panel, which also has a clock, and delay timer function.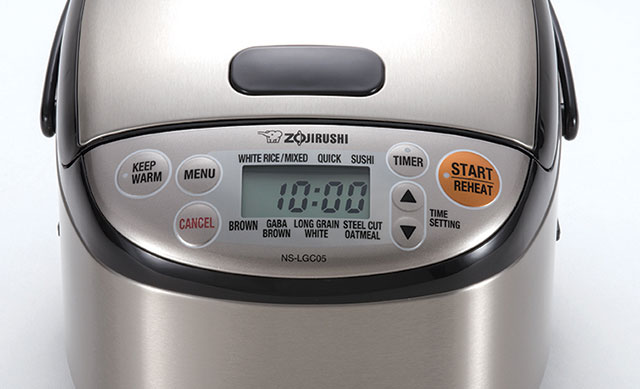 This rice cooker uses a triple heater on the bottom, sides, and lid to generate heat all around the inner cooking pan so that the rice heats evenly. The removable steam vent cap located on the outer lid allows for high-temperature cooking without messy overflows. Once rice is cooked, the rice is automatically kept warm, and the REHEAT cycle brings the rice back to serving temperature when you're ready to chow down.
Along with these great features, the rice cooker comes with a practical and easy-to-clean nonstick coated spherical inner pan. High-contrast water level lines on the inside of the pan make it simple to read how much water should be added to the pan for the specified amount of rice. The pan and the detachable inner lid are both hand washable, and the clear-coated stainless steel exterior is easy to wipe down after use. The built-in retractable power cord and sturdy fold-down handle make it easy to store and transport this compact rice cooker.
The NS-LGC05 Micom Rice Cooker & Warmer comes in a 3-cup capacity, making it ideal for small kitchens. Individuals and small families can make as little as ½ cup of rice or oats and as much as three cups of perfectly delicious rice. Accessories include a rice measuring cup, spatula and spatula holder.
We know you'll love this new rice cooker as much as we do, and you'll be able to purchase it from our great retail partners this month! As always, we'd would love to hear from you, so be sure to leave a comment below.