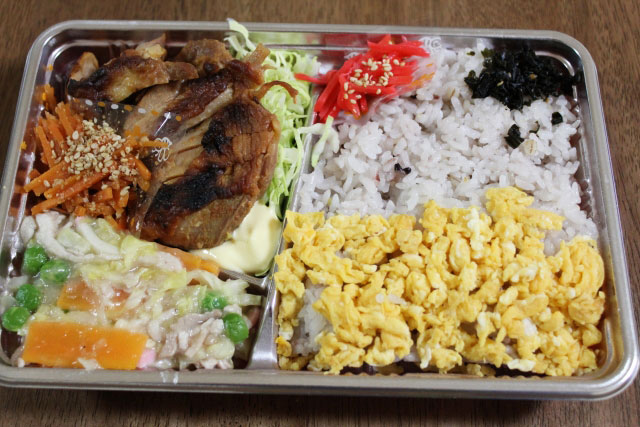 In case you can't tell, we love bento! We're continuing our Japanese Bento series this month with an entertaining look at where to find ready-made bento in Japan!
Bento are quite often made at home to take to school, the office or outdoor events, but delicious bento can easily be purchased at shops, railway stations, convenience stores and department stores across Japan, too.
During the late 19th century when Japan was going through the height of industrialization, travel by rail became commonplace and enterprising vendors began selling prepackaged bento at train stations. These bento were called ekiben, with "eki" standing for station and "ben" for bento. These types of bento made prepackaged, wholesome food available for workers and travelers outside of their homes, and the trend spread to vendors and shops throughout cities. Prepackaged bento became more and more popular, especially after World War II, and began to be sold in supermarkets. In the 1980's, convenience stores started to sell bento boxes, and with soaring demand, dedicated bento shops opened, offering some of the most tasty and innovative combinations. These shops are sometimes open 24 hours a day!
So where should you go for bento?
Konbini, or convenience stores, are ubiquitous and serve various combinations of premade bento, including hamburger patties, steak, karaage fried chicken and salmon, at an inexpensive price. In cold weather, tonjiru or miso soup with pork, and other soups are popular additions to a bento set. The nice part of getting bento from konbini is that customers can take the meal home or to the office and warm it up in a microwave.
Bento shops serve freshly made bento along with prepackaged ones. Some of the most popular shops in Japan are Hotto Motto, Hokka Hokka Tei, Origin Bento and Honke Kamadoya. These dedicated bento shops often allow customers to create their own combinations by selecting mains, sides and salads from the restaurant menu. Nori seaweed sets with grilled salmon, savory breaded tonkatsu pork and fried karaage chicken are often the most popular items. Served with pickles, salad, vegetable sides and rice, these bento from dedicated shops are the best takeout–and can be purchased at around ¥500 (or $5 USD)—in Japan!
Supermarkets are onboard with bento as well. At the end of the aisles, in sozai (prepared side dish) corners, supermarkets in Japan also carry several bento that you can take home to eat. These bento often become easy dinners for many working people in cities.
When looking for a fancier bento meal, depachika are the best places to go. Depachika are the basement levels of department stores, where groceries, delis, gourmet food stalls, sweet shops, chocolatiers, alcohol and bento vendors are located. The bento found in depachika range from the kinds found at konbini and bento shops to fancier ones with premium items such as Kobe beef or matsutake mushrooms. Depachika vendors are also constantly adding new and flavorful items to create innovative bento. While many customers pick up bento to go, some diners prefer to select their bento and enjoy the public eating areas, like small gardens or the store rooftops, for their meal. Some even call depachika a bento wonderland!
Bento are very popular in Japan and they can be found at train stations or airports. Stay tuned for our post next month where we talk about ekiben and the types of the wonderful items in them!