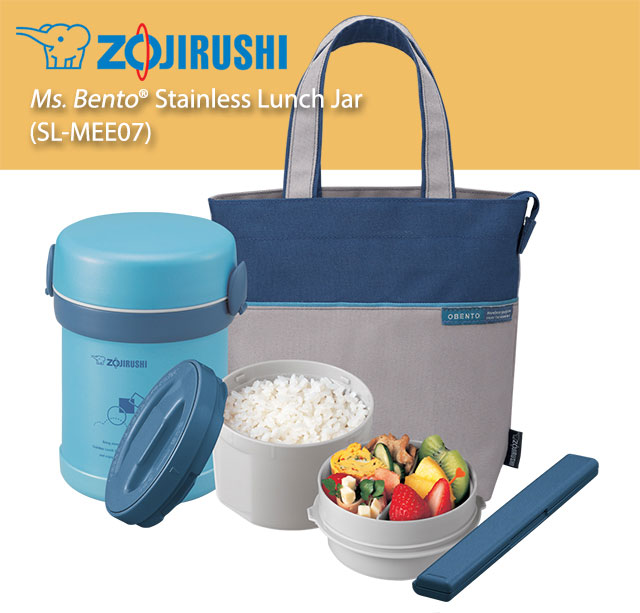 September means back to school, college and work! Our Ms. Bento® Stainless Lunch Jar keeps you organized with a convenient way to take fresh and wholesome food with you, wherever you go.
The Ms. Bento® is a complete package, containing a washable, stainless steel outer jar, two microwaveable inner bowls, chopsticks, chopsticks holder and an easy-to-carry bag.
The durable outer container is made using Zojirushi's superior vacuum insulation technology, which creates lasting insulation by removing the air between two layers of stainless steel walls. This keeps food hot or cold for hours.
The two inner bowls are perfect for a variety of foods. The main bowl has a 10 oz. capacity, good for holding rice, meat, vegetables, pasta or noodles. The main bowl's insulated lid locks into place and helps to retain the temperature of the food inside the bowl, as well as prevent heat or cold from transferring from the side bowl, which sits above the main bowl and keeps foods at room temperature. The side bowl has an 11 oz. capacity, and holds foods such as salads, vegetables, fruit and desserts. Both bowls are locked into place with the outer lid.
Like all of our products, the inner bowls, outer container, lids and chopsticks are all easy to clean with soap and warm water.
The Ms. Bento® Stainless Lunch Jar comes in Aqua Blue and fits into the matching tote bag. It's one of our best-selling products and we know you'll love its practical and stylish convenience.
As always, we would love to hear from you, so be sure to leave a comment below.