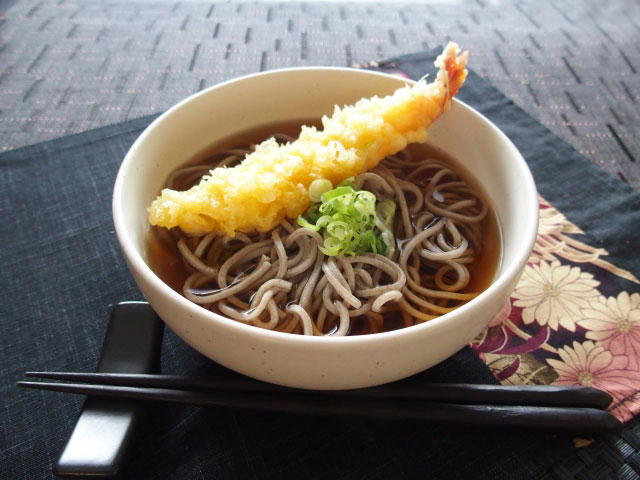 "May you live a long, thin life."
As 2015 comes to an end, we hope you have a moment to be a part of the quintessentially Japanese tradition of enjoying toshikoshi soba on New Year's Eve. For hundreds of years, Japanese families have shared this tradition as part of a year-end festivities. Toshikoshi means "jump from the old year to the new". In the days leading up to the end of the year, families clean their homes from top to bottom, sweeping out the old and worn and stale to make room for a fresh and clean new year. Business dealings are finalized, loose ends tied and financial matters are settled. And, in between parties and revelry, families gather at home on the final day of the year to be close, enjoy a warm bowl of thin buckwheat soba noodles in broth, watch TV together and reflect, listening to the sounds of the bells from Shinto shrines ringing 108 times, banishing the traditional 108 evils.
According to Japanese tradition, eating toshikoshi soba noodles on New Year's Eve is rooted in legend. One story says that the tradition began during the 13th or 14th centuries during the Kamakura or Muromachi periods, when wealthy feudal lords would feed their citizens the last meal of the year to represent their power and strength. Another legend states that eating toshikoshi soba began during the Edo period in what is now Tokyo. During that time, the merchant class began eating soba noodles that were made with the same type of fine soba flour used by goldsmiths to gather leftover gold dust. Eating soba noodles made from the same type of flour signified wealth and prosperity. Eating toshikoshi soba at the end of the year symbolized strength and resiliency, as the buckwheat plant would survive rain and wind. The thin noodles were also thought to represent a long life and the ease with which they were eaten represented the ease of cutting off troubles from the past year.
Regardless of the basis of the tradition, sharing a bowl of soba noodles is a treasured experience, full of comfort and warmth.
As the New Year approaches, we wish everyone a "long, thin life… full of good fortune and peace." Happy 2016!