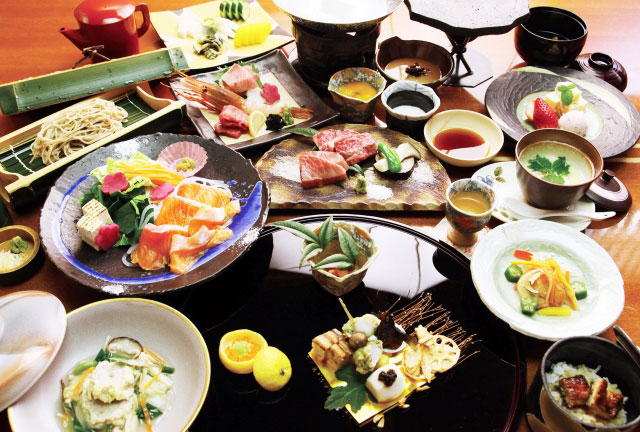 Refined, delicate, purposeful, seasonal, healthy, flexible… all of these words describe the essence of Japanese cuisine, or washoku. As part of our exploration of the essentials of Japanese cooking, we've learned about the ingredients and foundational foods at the core of this cuisine. This month, we explore the principles of the washoku tradition that guide kaiseki ryori and shojin ryori.
Washoku is often translated to mean harmony ("wa") and food ("shoku"). According to Elizabeth Andoh, one of Japan's premier chefs, in her book Washoku: Recipes from the Japanese Home Kitchen, "washoku, or the "harmony of food" is a way of thinking about how we eat and how [food] can nourish us. The term describes both a culinary philosophy and the simple, nutritionally balanced food prepared in that spirit."
This philosophy is best illustrated by an ichiju sansai meal, which consists of a bowl of rice, a bowl of soup and three side dishes, typically comprised of a piece of grilled fish or meat or tofu, pickles and simmered vegetables. An ichiju sansai meal is the typical meal served at lunch and dinner in Japanese households and is loosely translated to mean "well-balanced meal". Both kaiseki ryori, Japanese haute cuisine, and shojin ryori, Japanese temple food, rely on this framework.
Kaiseki ryori (as seen in the title image) offers a richer, more elaborate but no less balanced version of an ichiju sansai meal. Kaiseki meals were originally prepared as part of formal Japanese tea ceremonies, and were later served to nobles as a sign of wealth and class. A kaiseki meal consists of four courses or "sets" offered in a prescribed sequence. The starters set includes an aperitif course (skokuzen-shu) in which a small cup of sake or wine is served, followed by an appetizer course, consisting of decoratively prepared bite-sized appetizers served on a long dish called a hassun. The starters are followed by the main set, which consists of a soup course (suimono), a sashimi course (otsukuri), a simmered dish (nimono), a grilled dish (yakimono), a deep fried dish (agemono), a steamed dish (mushimono) and a pickled dish (sunomono). The third set, called a shokuji set, includes a bowl of white rice, miso soup, and pickles (tsukemono). Finally, the meal is concluded with a small dessert of fruit, confections, sorbet or ice cream.
Though there are many dishes in a kaiseki meal, each dish is served in small proportions, slowly and with great attention to detail, and with the utmost in hospitality. Even seating, tables, flowers, quiet and privacy are considered in the preparation of a kaiseki meal! Today, kaiseki meals are served in Michelin-starred and fancy Japanese-style restaurants and high-end ryokan, or Japanese-style inns.
Devotional or temple cooking, known as shojin ryori, hones the concept of "harmony of food" into a set of offerings that are based on Buddhism's inherent respect for living a life that eschews doing harm. This type of cuisine became popular in the early 11th century when Buddhist monks used this way of "earnest commitment" to procure, prepare, serve and eat their meals. At its most fundamental nature, shojin ryori is vegan, consisting of no animal products, uses gentle seasonings and reduces waste as much as possible. A typical meal consists of a few vegetables such that all parts are used, the leaf, the root, the skins, prepared using simple techniques like blanching, simmering and braising, along with rice, soup, pickles, beans, legumes and tofu. Each item is prepared simply, without strong tastes such as garlic, chilies or wasabi. The entire meal is prepared with quiet thoughtfulness and eaten with reverence. Restaurants that serve shojin ryori meals offer more creative versions of this honest, simple food and are becoming more popular as people are gravitating towards a plant-based diet.
Both kaiseki ryori and shojin ryori style meals make a conscious effort to use seasonal ingredients, taking care to respect when foods are most fresh and full of their inherent flavor. These two styles of cuisine are also deeply concerned with how food is presented, including how ingredients are cut, arranged, plated and served.
The utter refinement of washoku in these cooking styles shows you the wonderful variety of Japanese cuisine. Which ones have you tried? Which one is your favorite? Let us know in the comments below!