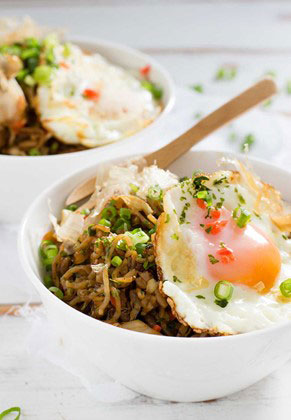 Image link: https://www.chopstickchronicles.com/wp-content/uploads/2017/03/Sobameshi-11.jpg
When you think of street food in Japan, you probably think of noodles or fried rice. But, have you ever heard of Sobameshi?  Sobameshi derives from the words for both noodles and rice: yakisoba and yakimeshi – coming together to make the ultimate street food, comfort dish.
This delicious meal is said to have originated in Hyogo in 1957, when a customer brought cold rice from their lunch box to a shop and asked the owner to heat it up for him. The owner then added the rice to the soba dish that was in the middle of being prepared, and voilà! This shop is believed to be Aomori located in Nagata ward, Kobe City, which is still serving their delicious creation to this date.
Another story suggests that the dish was invented by women factory workers, who mixed the rice and noodles they brought for lunch with sauces on grills at okonomiyaki restaurants close to their work.
Whatever the origin, the dish has become a fan favorite across the country. The main ingredients? Rice, noodles, and beef – with many variations available at each establishment.
The meal is generally prepared by placing a bowl of rice on top of the grill, along with a pile of noodles. Next, there is a sweet and salty mixture of meat, some cabbage, and then a delicious sauce. All ingredients are chopped and grilled. The dish is finished with more sauce that was used to cook the dish, and sometimes other sauces are offered as options (from mild to spicy, depending on your taste preferences).
Sobameshi is often considered to be a must-eat when visiting Kobe, renowned as the most famous cheap-and-easy local dish in a town known for its many gourmet dishes. You can find the dish at okonomiyaki restaurants or grill-it-yourself (or grilled live in front of you) dine-ins. Dining in this type of eatery is often a social affair, where regulars and new patrons sit at the counter and socialize while they enjoy their meals. In front of the guests is a large griddle where everything is cooked and served. It's a sight to watch the ingredients being chopped and prepared in front of you, and an enjoyable scene to see the community of people enjoy their meal together.
If you're looking to make the dish at home, take a look at this easy-to-follow recipe on YouTube, with English and Japanese subtitles:
https://www.youtube.com/watch?v=4ZV_hdjy87A
Where You Can Find Sobameshi
Aomori: Considered to be the creators of this dish.
Kobe Entrecote (Teppanyaki): Menu available in English, where sobameshi is available as a side to the fine tenderloin steaks they're known for.
Nagata Tank Suji: Known for their sobameshi, which features many sauce options to pair with and top the dish.
Let us know if you try any of these restaurants, or make this dish at home by tagging Zojirushi on your photos with #zojirushi on Twitter, Facebook or Instagram!