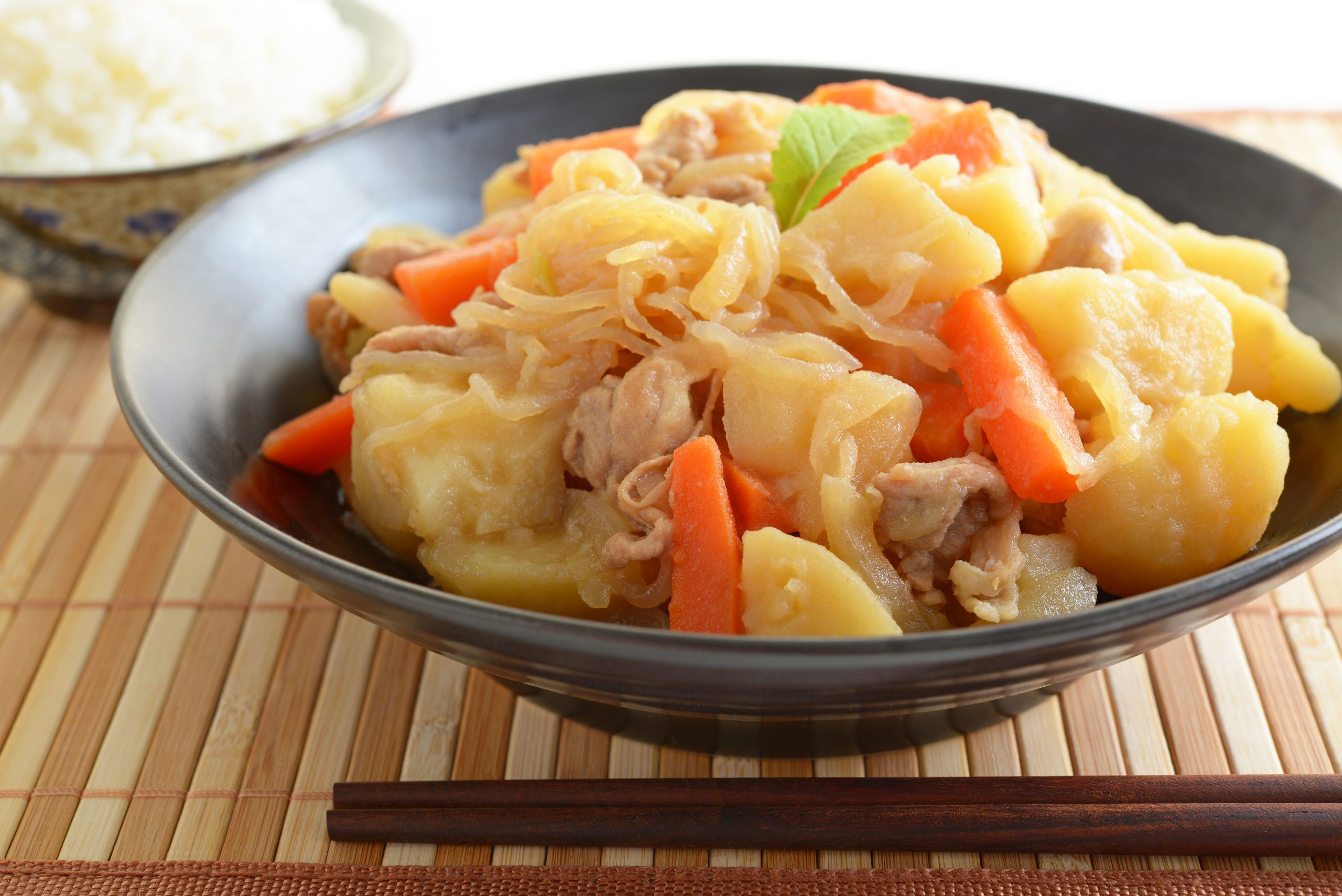 Today, we visit mom's kitchen for one of the most famous home-cooked meals in Japan — Nikujaga (sometimes spelled Nikujyaga). This savory beef stew is the epitome of comfort in a bowl, with large chunks of potato, noodles, and tender beef in a warm, umami-filled soup. It is simple, nutritious, filling, and a true staple in any Japanese household. Is your mouth watering yet? Ours, too! Below, we'll dive into the history of this dish and how to make this delicious meal for yourself.
Nikujaga's Birthplace
Nikujaga has deep roots. It was invented in the late 19th century by chefs in the Imperial Japanese Navy as a Japanese version of a British stew. This type of Japanese adaption of Western cuisine even has its own word – "yoshoku," and nikujaga is one of the first recorded examples of Japanese "fusion" food.
The story goes that the Naval admiral Tōgō Heihachirō wanted his naval cooks to create a version of the beef stews served in the British Royal Navy, but because Western ingredients such as demi-glace were not familiar to the chefs, they made their own rendition through soy sauce and sugar. It worked! Apparently, you can still find the original recipe in Japan's "Navy Kitchen Textbook."
This dish was lauded for its simplicity, soothing flavor, and the high energy it fueled for the hardworking sailors. However, nikujaga was mainly a dish cooked at home by mothers until the 1970s, when there was a renewed interest in the dish and popularity skyrocketed. Now, nikujaga fans all over the world enjoy the dish for all occasions, and you can find this dish in many Japanese restaurants as well.

Nikujaga's Ingredients, Explained
Nikujaga directly translates to "meat and potatoes. "Niku" means meat and "jagaimo" means potatoes. Easy, right? The recipe is even easier. There are four main components to the dish that bring this stew to life. Here are the main ingredients broken down:
Beef
In the spirit of a true stew, you use what you have. The beef for Nikujaga can be from a variety of cuts, and some people like them chunky, and others like them thinly sliced. Just make sure to use a cut with some fat on it to keep the meat tender and juicy. Fun fact: pork is more common for this dish in eastern Japan!
Potatoes
The second star of this show is the potatoes, cut in large, bite-size chunks. Other common vegetables to include are carrots and onions and colorful greens such as snow peas. You can always toss in whatever vegetables you like. The more, the merrier!
Noodles
There are different types of noodles that can be used for this dish, Shirataki being the classic take. These noodles are low in calories and are often called the "miracle noodle" for their nutritional value and carb-free ingredients. You can find these at most Japanese or Asian grocery stores or even order them online!
Broth
The base for Nikujaga is typically dashi, which is made from water, kombu (dried kelp), and bonito fish flakes. It has a salty and umami-packed flavor. However, this dish can also be cooked in beef stock or water. The broth is then seasoned with soy sauce, sugar, and mirin, another common combination in Japanese cooking.
Tips for Enjoying Nikujaga
Traditionally, this dish is served with a side of white rice and miso soup. Get those prepped as you cook this stew if you want to enjoy the full experience.
This dish absorbs more flavor and tastes better with time, so you can enjoy it for days. Score!
Have fun with it! As you make this stew, make sure to taste the broth and add in additional ingredients to shake up the flavor. You can add anything from garlic, ginger, green onions, and even tomatoes.
We have a pretty traditional Zojirushi Nikujaga recipe available on our website that you can make easily in a saucepan. Try it out, and let us know what you think!
How did your nikujaga come out? Make sure to tag Zojirushi on your photos with #zojirushi on Twitter, Facebook, or Instagram to let us know how you did!