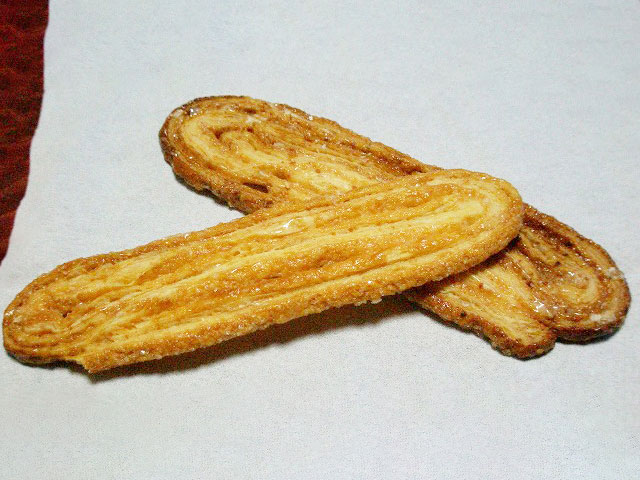 UNAGI. PIE. Sounds like eel pie, doesn't it? Maybe even like the eel pie and mash found in London shops. But nope. Because unagi pie is an awesome Japanese sweet treat!
What is unagipai? It's a sweet butter cookie made with dried, powdered eel as one of the ingredients. This treat is a popular omiyage, or Japanese souvenir, and has a well-documented history.
Unagipai is a special pastry originating in Shizuoka Prefecture, near Lake Hamana. Lake Hamana is a freshwater lake renowned for its eel, which is found in a variety of local cuisine. A resident of the area, and a president of a pastry and wagashi shop called Shunkado, Mr. Koichi Yamazaki realized that all over Japan, the eel from Lake Hamana was famous. He was inspired to make a special treat in his shop, and package it so that it could be a unique souvenir that travelers to Shizuoka Prefecture could give to loved ones. So, in 1961, unagipai was born.
Unagipai is a delicately crispy, oblong-shaped butter and sugar cookie inspired by palmier, a type of French pastry. The classic cookie is made using eel powder for a subtle yet complex taste, along with a bit of garlic powder, to counterbalance any fishy smell from the eel powder. Other flavors include unagipai with nuts and unagipai V.S.O.P, which contains brandy and macadamia nuts.
The cookie is famously considered a nighttime snack, and in Japan, that means something really fun! Mr. Yamazaki wanted to market unagipai as a "nighttime snack" because he thought people would enjoy them in the evening with their family when they got back from their travels. But there's a double meaning! Back in the 60's, the Hamamatsu area was known as a party area, with lots of nightlife. Combine that with the idea that unagi, or eel, enhances male prowess, many buyers assumed that unagipai was to be eaten at night as an aphrodisiac!
At Shunkado, unagipai is made in a factory by Unagipai Artisans. It can take up to ten years to be recognized as an Unagipai Artisan, and as part of their training, these chefs learn how to make the cookies while taking into account the quality of the ingredients, the outside temperature and humidity, and even how much pressure to place on the rolling pins to roll out the cookies for optimal crispiness. Artisans prepare the dough and then the cookies are baked in industrial-sized ovens. Packaging is automated, although workers are involved to ensure quality control. Visitors to the Shunkado shop can get a guided tour of the factory and of course, sample the goodies!
Unagipai is so beloved that it's used as part of other desserts, sometimes filled with cream and fruit, and other times dipped in warm, melted chocolate.
No matter what, if you're in Japan, definitely check out this unique food!
Main photo by 健ちゃん