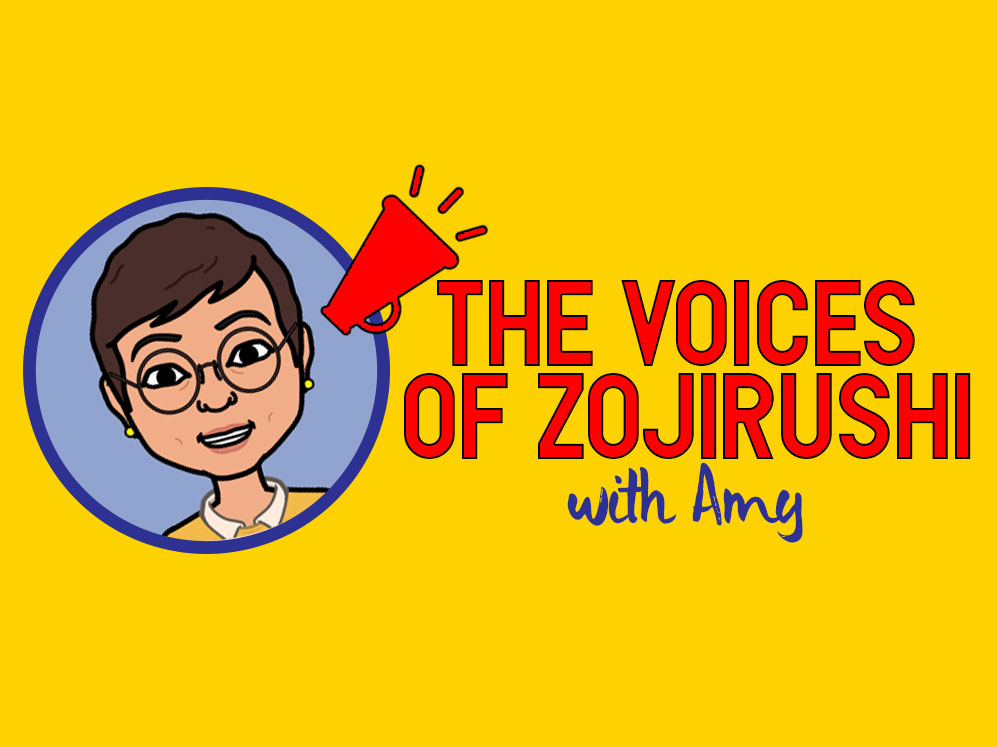 We have a wonderful treat this month – a chance to get to know Amy, Zojirushi's Social Media Manager!
Amy started at Zojirushi as a Customer Service Representative and then became part of the Marketing Team managing the Zojirushi social media accounts on Instagram, Facebook and Twitter. Amy's multifaceted passion for connecting with Zojirushi customers and fans is just one of reasons we're excited to share her with you!
Amy, you've been with Zojirushi for a while now, and have a unique perspective about the products, customers and company goals. What do you see as Zojirushi's corporate values and how do you believe they're embody in the products and services?
It's all about dedication to the customer experience. We know you can't see it, but Zojirushi products are R&D'd to within an inch of their lives! Our commitment to creating innovative products manufactured to the highest standards is our lifeblood. We are always striving to exceed the expectations of our customers, because we want Zojirushi products to be a reliable part of their owners' lives. We think that the quality of the products produced by this madness is evident. It's always a pleasure when customers tell us they are still happily using a rice cooker or breadmaker we produced in the 80s!
How do you see your position at Zojirushi create a better quality of life for our customers, which is part of Zojirushi's mission?
The Zojirushi experience doesn't end when the customer exits the retailer's door. Our social media presence is an opportunity for us to continue educating the customer about the product, and supply fun and useful things like recipes that let them find new ways to enjoy it. It's also an invaluable tool for connecting with customers, because reaching out to us is so easy and instant—no phone call required.
Our corporate tagline is Inspirations from Everyday Life. How do you believe Zojirushi products inspire customers?
Just ask our customers and Zojirushi evangelists! The quality and functionality of our products inspire fans—we've heard many times that customers feel like they've stumbled upon something really unique and different, and they love to share that discovery with others. Not all customers find our brand the same way; for instance, someone who purchases and loves our Stainless Mug may not know that we also manufacture world-class rice cookers. But because our commitment to manufacturing products only at the highest standards, customers know that no matter what they're eyeballing in our catalog, it will be made and function with Zojirushi quality.
You must have been inspired by something yourself to feel so passionate about Zojirushi! Was it a trip to Japan or something about Japanese food or culture that you love?
I've been to Japan twice, once when I was 18 for a month-and-a-half to participate in a Japanese language-learning program, and once last year for a handful of days to visit Zojirushi Corporation headquarters in Osaka, where I had the opportunity to tour the factory and learn a little more about how our water boilers and rice cookers are assembled. The most interesting experience I have had while in Japan was visiting the onsen (hot springs) in Odaiba, because communal bathing is not a typical American experience. As for food, I love all types of Japanese food—sushi, ramen, soba, takoyaki, okonomiyaki, sukiyaki, yakitori, gyudon… neatly individually-wrapped portions of various wagashi—but there's something about really fresh, perfectly seared cold beef tataki served with a bright and refreshing citrus sauce that always hits the spot. (Shout out to izakaya-style restaurant Kappo Honda in Fountain Valley, CA, whose beef tataki is on point!)
If you could tell people one great thing about Zojirushi, what would it be?
We are a relatively small company, and the ties between employees are close. Many employees have been with Zojirushi America since we opened our office here in 1987 (or maybe even before then) and have shared a lot of history together. Our company president, Mr. Yamasaki, is right up the hall—if an employee wants to chat with him, he's available to listen. Our staff is also a diverse one that speaks many languages—Japanese and English, of course, but also Spanish, Tagalog, and Vietnamese—and boasts a variety of personalities. Zojirushi America is full of incredible people, and it's a big part of what makes working here a pleasure.
—-
We love working with Amy, and we hope you've enjoyed getting to know her this month. Stay tuned for our next Voice of Zojirushi!