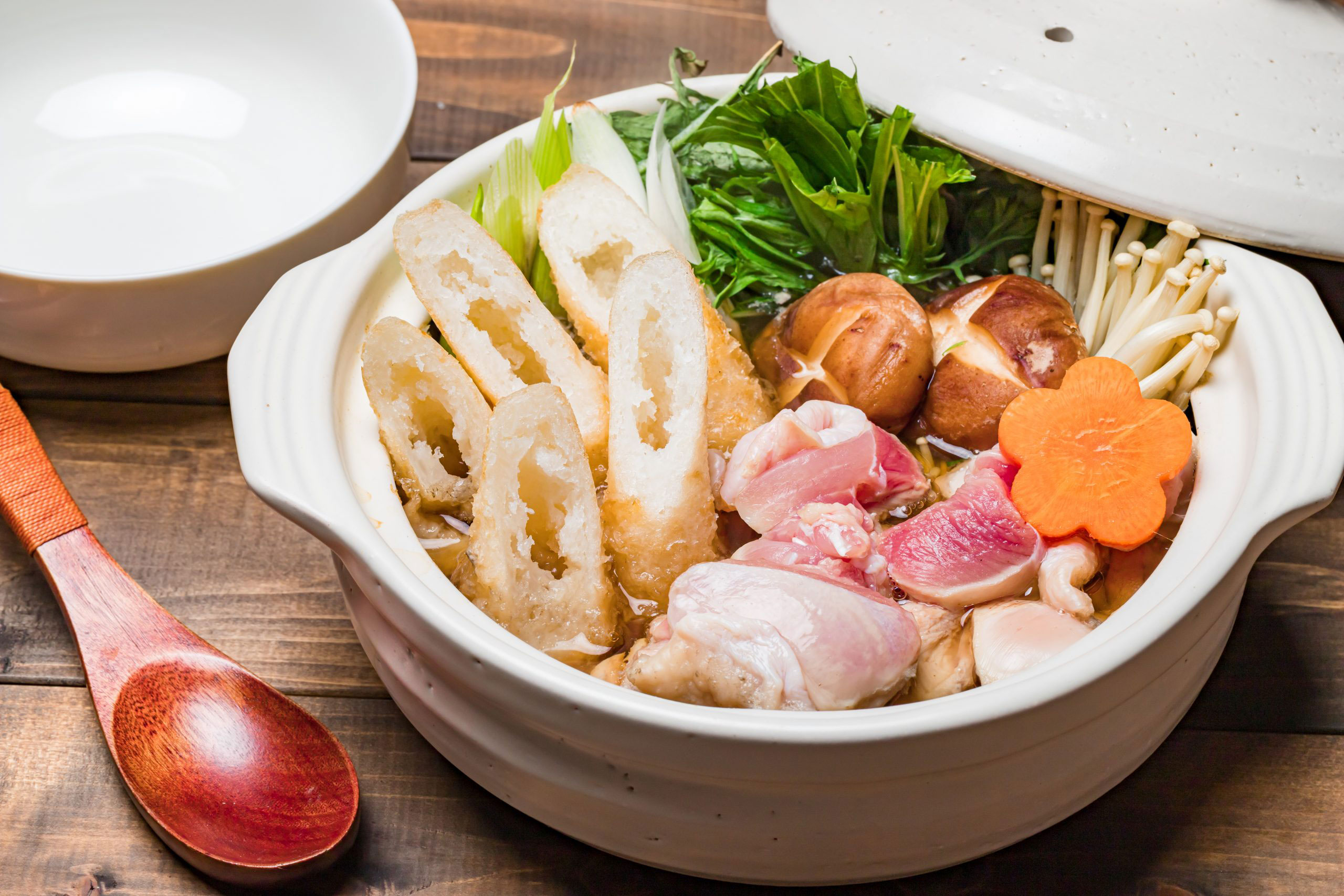 Nabemono, or Nabe for short, is a hearty Japanese dish that was traditionally prepared in clay pots. "Nabe" actually translates to "cooking pot," and "mono" translates to "thing." This popular dish can be prepared in many different ways depending on which region of Japan you're in, but is typically made with vegetables, flavored broth, mushrooms, and meat. As a staple dish that reminds of mom's cooking, we know that most moms will add a festive touch by preparing flavorful dipping sauces and colorful accoutrements. Nabe is a delicious dish that brings families and friends together, as it is a social event where the meal is cooked right at the table and enjoyed collectively.
History of Nabe
Nabemono is said to be as old as Japanese earthenware, dating back to a thousand years ago. It was traditionally enjoyed during the fall and winter seasons over a sunken fireplace, or "irori," which was typically built at the center of Japanese homes.
As time progressed, nabe was moved over to charcoal stoves, and became portable with the invention of the "shichirin" clay stove. Today, nabe can be made at any time of year thanks to modern portable stoves.
Preparing nabe can be ceremonial as well — the family nominates a "nabe bugyo," who is in charge of deciding which ingredients are cooked and in which order.
There is a dizzying number of ways nabe is enjoyed throughout Japan. Depending on the region, exotic ingredients such as pufferfish and wild boar can be used! Here are some of the most common styles of nabe you can keep an eye out for the next time you're looking to enjoy Japanese hot pot:
Yose-nabe is the most common and type of nabe, made with a mix of vegetables, mushrooms, meats and seafoods. Often, raw eggs and cooked rice are added to the condensed broth to end the meal with a thick rice porridge.
Sukiyaki features thinly sliced beef or pork simmered with vegetables in a mix of soy sauce, mirin, sugar, and water. Ingredients are usually dipped in raw egg before eating.
Shabu Shabu often has a lightly flavored broth, made with kombu and dashi. Vegetables are added to the pot, and meat is added last. The thinly sliced meat only needs a few moments to cook before it is removed and dipped in a ponzu or sesame sauce before enjoying
Oden broth is often simmered for hours, and includes ingredients such as fish cakes and potatoes. You can find oden ready-to-eat at many Japanese convenience stores.
Chanko is a type of Japanese nabe that is eaten in huge quantities by sumo wrestlers as they attempt to gain or maintain their fighting weights in Japan. The broth is usually made from dashi and/or chicken, sake, and mirin. Fun fact: sumo wrestlers will not use beef and pork for soup base because being on four legs represents a loss in sumo wrestling.
How to Enjoy Nabe
The great thing about nabe is that you can truly make it your own. There are some basic guidelines, however, that can help make your nabe experience more enjoyable (and tasty!). Here are some of our favorite tips on how to enjoy nabe:
Set the table. Each person should have a small personal bowl in which they can ladle their ingredients into. Additionally, each person should have personal condiments and dipping sauces nearby for when the ingredients are ready to eat.
Prep the sauces. Depending on what kind of nabe you are having, you can have different condiments such as ponzu, grated daikon, yuzu kosho, and mustard. Feel free to mix and match the sauces, or even try something completely new!
Make the most of it. Near the end of the meal, make the most of your leftover broth by adding rice or noodles to it. Or, save the broth for the next day and simply add water to dilute and enjoy with rice or noodles.
Make Nabe at Home
Ready to show off your nabe-making chops to your loved ones? Zojirushi has nabe recipes that you can make in the comfort of your own home using your Gourmet d'Expert® Electric Skillet EP-PBC10 or EP-RAC50. Which one will you be making tonight?
Let us know if you try (or make) any of these dishes by tagging Zojirushi on your photos with #zojirushi on Twitter, Facebook or Instagram!