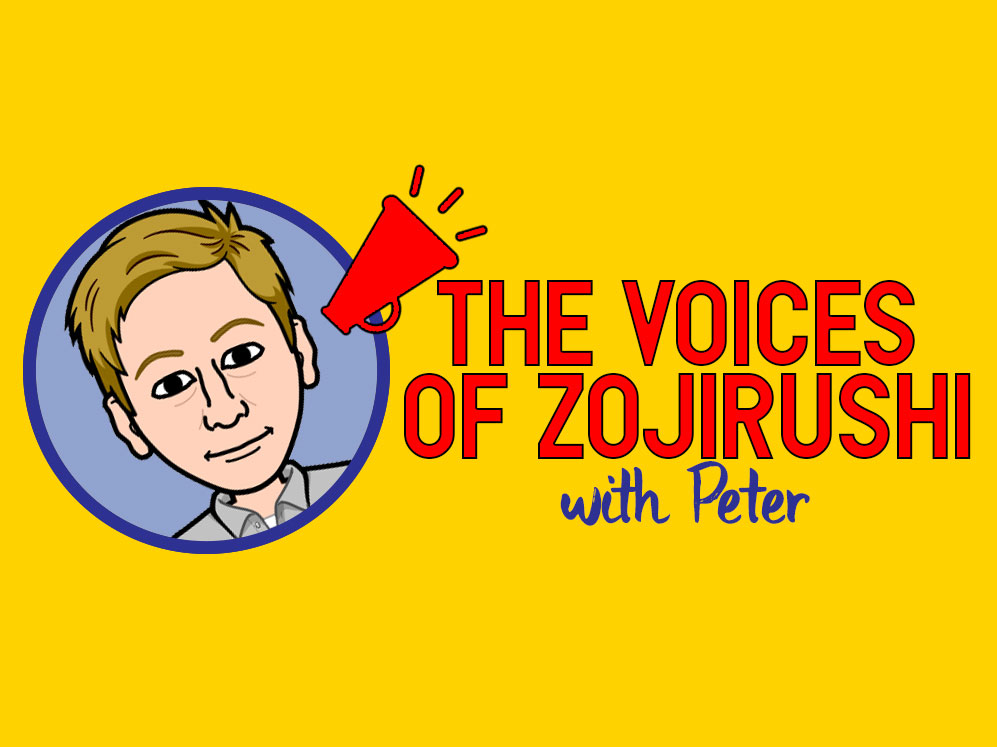 We enjoyed speaking with our Administration Manager, Peter, this month and want to share the thoughtful, exuberant and diverse perspective he brings to our team.
Peter, tell us about yourself and your background.
Before working for Zojirushi, I was in fast-paced, commission-based sales. It was go, go, go! I took a break and went to Japan, where I taught high school English. I began working for Zojirushi in 2003 after returning from Japan. My plan was to continue teaching high school English, and while I applied for teaching positions, I decided to look for temporary work as a sales associate. Serendipitously, I was offered a position in Zojirushi's Retail Sales Division, and have been with the company ever since!
I'm now the Administration Manager, and although my position does not involve sales or marketing activities where I interact directly with customers, I support those efforts by ensuring that our office operates smoothly and efficiently, by helping to recruit and retain quality employees, and by doing all I can to support our corporate philosophy of Creating a Quality of Life right here among my Zojirushi colleagues.
When you mention Creating a Quality of Life, what do you see as our company's values and how do you believe we embody them in our products and services?
You can tell a lot about a company's values by the way they treat their employees. When you look around our office, you see people who have been here for decades, some from when Zojirushi America opened its doors in 1987. It's extremely rare these days to see that kind of loyalty and longevity. The company realizes that it's strength and success is dependent upon the people who represent it.
When I look at the values of this company and how it operates, I see people who have devoted a significant part of their lives to building it up to where it is today, and I see how loyal Zojirushi has been to them. That same level of commitment and loyalty the company has to its employees is the same kind it shows to its customers. It puts them first, above profit and everything else, because the company knows that without satisfied customers, there is no company, there is no future. And it realizes that you can only earn the trust of those customers—and keep them satisfied for the long-term—by producing quality products and supporting them with the highest level of customer service.
Much of our product design focuses on practicality, quality, craftsmanship, sustainability and stylishness. Do you have a favorite Zojirushi product that you believe embodies these qualities?
My family owns a simple-to-use, single switch rice cooker and we use it several times a week. We have had that rice cooker for several years now and it has worked dependably without any problems at all. That one single rice cooker, which by the way looks great sitting on our kitchen counter, embodies all of those qualities: practicality, quality, craftsmanship, sustainability and stylishness.
When you say it that way, we can see how our tagline—Inspirations from Everyday Life–imbues our product design. Do you believe Zojirushi products inspire customers?
When you produce a product that brings simple joy to a customer, you are selling much more than just convenience and utility. You're contributing to that customer's overall enjoyment of their normal day and enriching their life. All of our products inspire our customers by providing those simple joys throughout the day.
For example, we have technologically-advanced and aesthetically-pleasing coffee makers and hot water boilers to make coffee or tea in the morning or throughout the day. We have rice cookers for lunch and dinner. We have bread makers that bake delicious (and wonderful smelling!) breads. If you surround yourself with these types of life-enhancing products, you are, quite simply, adding more joy to your life. And that is what makes them Inspirations from Everyday Life.
So true! Any final thoughts you'd like to share with us?
When I look back at my career path with Zojirushi, I feel like I have been given the opportunity to use my strengths in really great ways, whether through my love of learning, or helping customers or educating our employees… I get to do it all here.
—
We hope you've enjoyed meeting Peter as much as we have sharing his story with you. Stay tuned for our final Voices of Zojirushi blog for 2018!