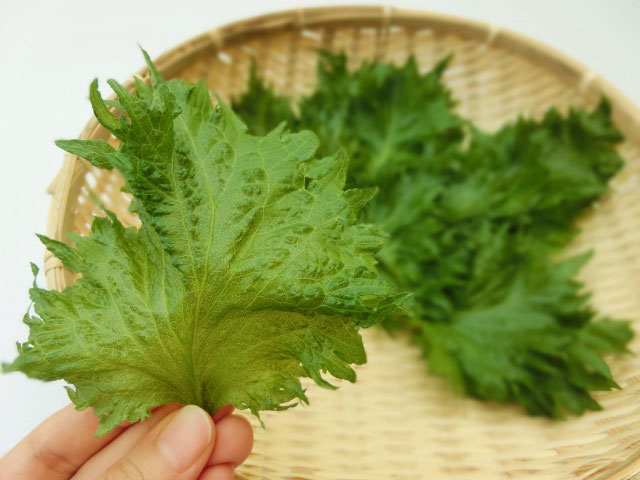 As we've learned in previous posts, ryori no sa shi su se so and umami-rich dashi are the essential seasonings used in Japanese cooking. But what other flavorings does Japanese cuisine rely on?
In our post this month, we explore the most popular herbs and spices used in cooking both traditional and modern Japanese dishes. Let's begin by answering these questions: What is an herb? What is a spice? And how are they different?
According to the Herb Society of America, herbs are "small, seed-bearing plants with fleshy, rather than woody, parts. They are valued for their flavor, fragrance, medicinal and healthful qualities, economic and industrial uses, pesticidal properties and coloring materials (dyes)." Commonly used herbs in European cooking include parsley, basil, thyme, sage, oregano and chives. In Japanese cooking, popular herbs include mitsuba, shiso and negi.
By contrast, spices are "any dried part of a plant, other than the leaves, used for seasoning and flavoring a recipe, but not used as a main ingredient." Well-known spices include cinnamon, black pepper, cloves, ginger and turmeric. In Japanese cooking, popular spices are wasabi, togarashi and shoga.
Herbs and spices can sometimes come from the same plant. For example, cilantro, the herb, produces coriander, the spice made from its seeds. And shiso leaf (top photo), the herb, produces shiso seeds, the spice. Herbs and spices exhibit different properties during cooking and are prepared and stored differently. Herbs are best used while they are fresh and green, usually picked just before using. Spices are generally dried, with the exception of some spice roots, and are either ground, made into a paste or used whole. Both herbs and spices can be used uncooked and cooked, adding different tastes to food.
Japanese herbs such as mitsuba, shiso and negi are commonly used in Japanese dishes. Mitsuba, or trefoil, has a thin greenish-white stalk and a three-pointed leaf. It looks similar to flat-leafed parsley, with a flavor similar to sorrel or celery, and is most famously used in Chawanmushi. Shiso is a member of the mint family and has an earthy flavor. It is fried as part of tempura dishes and used to garnish and season various dishes such as Salmon Chazuke, salad and sashimi, or slices of fresh cut fish.
Negi is a member of the allium family and is used as an herb in many dishes. Both the white and green parts of negi are used in Japanese cooking, although different regional dishes use one or the other more often. Negi has a taste similar to scallions and leeks, with the white portion becoming sweet when cooked and the green portion used as a garnish atop dishes such as miso soup, cold soba noodle, and cold tofu.
Herbs generally add a fresh, light, green flavor to dishes. Spices, by contrast, add depth and intense flavor. Togarashi, or hot red chili peppers, are used both fresh or dried. Crushed into a powder, ichimi togarashi, which means "one flavor chili pepper", is commonly added to soups and udon noodles just before eating. Ginger, or shoga, is another spice typically found in Japanese cooking. The freshly ground root is highly aromatic and pungent, and is often used in seafood dishes to mask any unpleasant smell of the fish. When pickled, ginger is served as a condiment alongside such dishes as sushi, okonomiyaki and takoyaki. One of our favorite summer recipes is Shoga-Yaki, or Ginger Pork, and we know you'll enjoy it too!
Wasabi is probably the most iconic of all Japanese spices. Made into a paste from the grated root of green horseradish, wasabi has antimicrobial properties that can keep food from spoiling. Wasabi is highly pungent and spicy and is most often served with Nigiri Sushi and other types of sushi or sashimi.
Subtle to strong, herbs and spices are essential for bringing out the flavor of Japanese foods. Which one is your favorite? Let us know in the comments below!