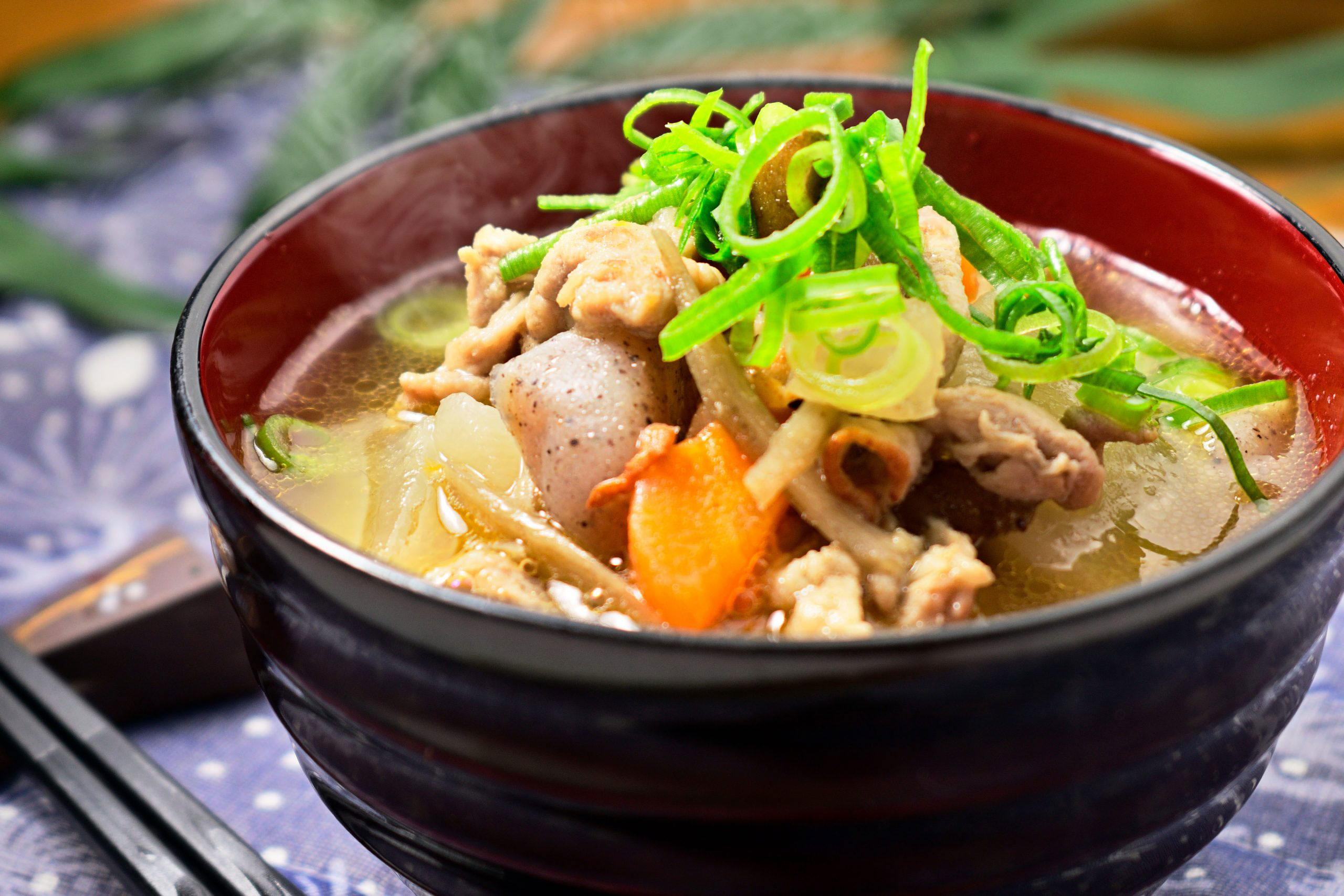 We all may be familiar with miso soup, but tonjiru is a classic type of miso soup that is widely popular in Japan during the colder months. This hearty home-cooked favorite features a savory, pork-infused broth complemented by seasonal vegetables and is perfect as a snack, appetizer, or main dish when paired with a bowl of rice. Not only is it incredibly easy to make, but it packs huge flavor and nutrients for anyone craving a comforting meal.
Where Does It Come From?
Tonjiru (豚汁) comes from traditional Chinese characters that mean "pork" and "soup." Sometimes, it can be read as "butajiru," but the Japanese kanji characters are the same. Tonjiru was created sometime in the Meiji era (late 1800s) and has been a traditional winter dish ever since. This soup was meant to feed many mouths, and because meat was not as readily available as it is today, the soup that we enjoy today has a much higher pork to vegetable ratio than before. This soup is preferred not only for its flavor but because of its high-fat content, which keeps the soup warmer for longer.
How to Enjoy Tonjiru
Here are some of the tastiest ways to prepare tonjiru right at home.
Pork
Marble-rich cuts of pork like pork belly or shoulder are most commonly used for this dish. Thinner cuts will cook faster, but thicker cuts may add more depth and flavor. The choice is up to you!
Brown the pork first to add more flavor to the soup base. Fry evenly on both sides until the meat turns brown. Some even like to char the pork before adding it to the soup.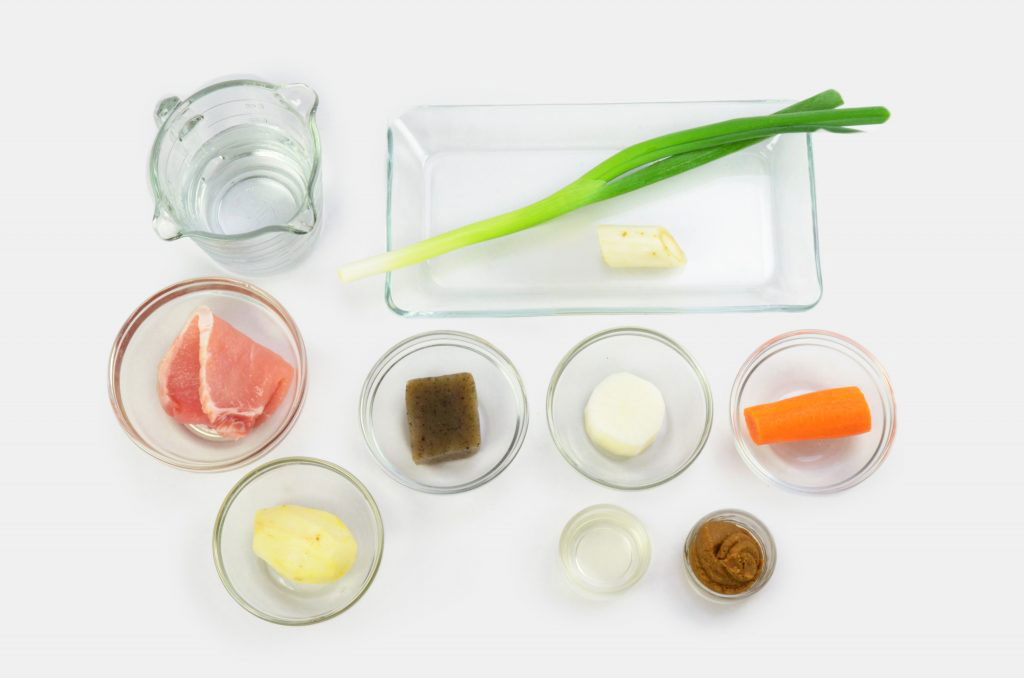 Vegetables & Add-ons
After browning the pork, "sweat" your vegetables in the same pan to release their flavors and aromas. Use seasonal vegetables that are available to you, such as mushrooms, carrots, and onions. The more veggies, the better!
Japanese people like to add local ingredients like daikon, shimeji mushrooms, taro, burdock, konnyaku, and Asian chives (nira).
You can also add in ingredients like tofu or noodles for a heartier meal.
Soup
The pork will add plenty of flavor to the soup, but traditional recipes use less pork and more miso. Add small increments of yellow miso to your water base, and taste as you go. To preserve the miso's full flavor, add the miso in at last before the water gets to a boil.
You can also use dashi to add more flavor and umami.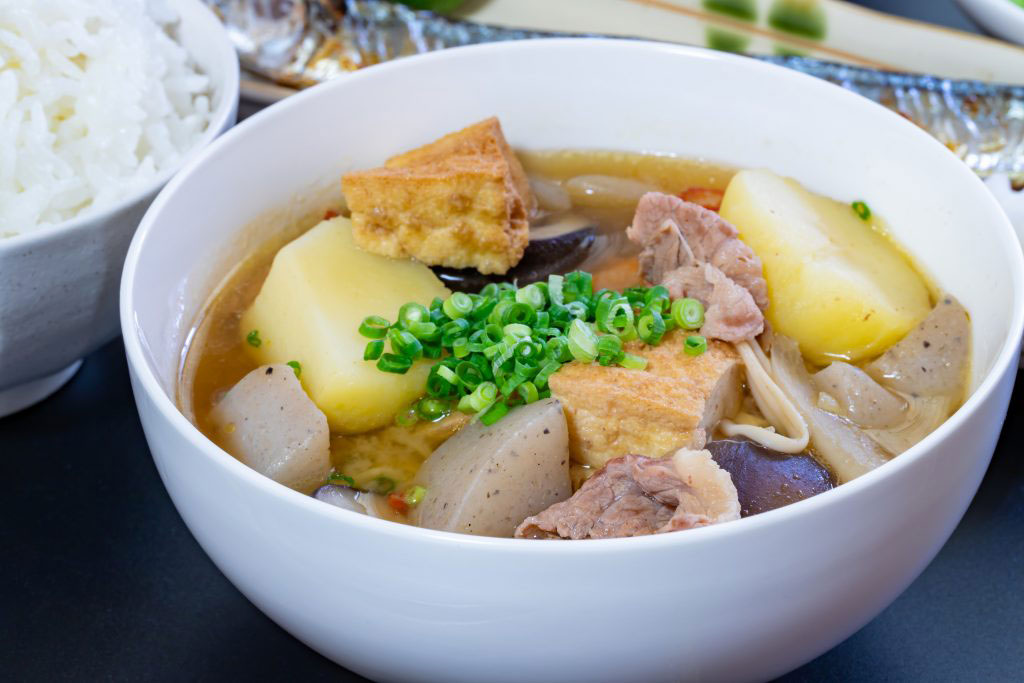 Garnish
Finish off the dish with finely chopped scallions or togarashi (Japanese chili flakes).
Serve with a steaming bowl of rice and enjoy!
Now that you know all the key points on how to make the tastiest tonjiru, try making it at home with our very own Total Tonjiru Soup recipe.
Have you ever tried tonjiru? How do you like to prepare it at home? Let us know by tagging Zojirushi on your photos with #zojirushi on Twitter, Facebook, or Instagram!