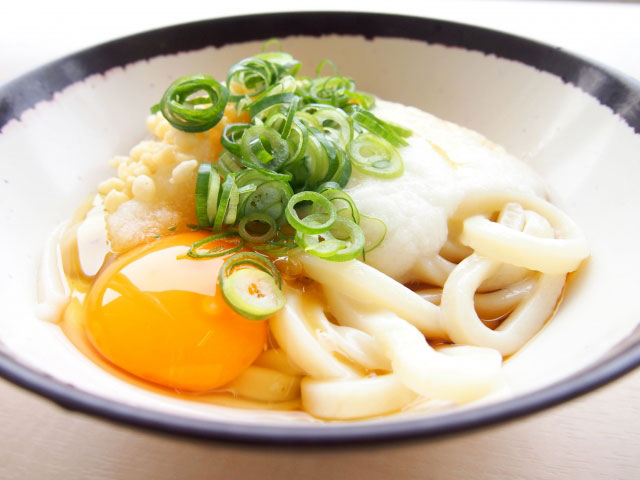 It's the perfect time of year for luscious noodles in hot, savory broth. And Kagawa Prefecture, famous for its udon, is our destination this month!
Kagawa Prefecture lies on the northeastern part of Japan's Shikoku Island. Its southern border is the Sanuki Mountain Range and the Seto Inland Sea borders the north. In between the mountains and the sea is a fertile plain of land where cotton, sugar, salt and wheat grow, and where cities famed as centers of trade and transportation have flourished since feudal times.
Takamatsu is the capital of the prefecture, serving as a hub for the rail system throughout Shikoku Island and the administrative, economic and cultural center of Kagawa Prefecture. In feudal times, Takamatsu Castle served as the area's citadel and was surrounded by Ritsurin Garden and near to Honen-ji Temple. The old town is now surrounded by the modern city, and is a wonderful area to visit while journeying along the Kagawa coast, where one can visit Yashima, a 961-foot high lava plateau with breathtaking views of the islands in the Seto Inland Sea. Of the 116 islands in the Seto Inland Sea, Shodoshima Island is famous for its olive groves! This small island enjoys a surprising Mediterranean climate, making it ideal for cultivating olives, herbs and citrus fruit. And the island is also home to sheer cliffs and scenic valleys, making it a nature lover's paradise.
Because of the prefecture's central location and access to various trade routes, many influences helped shape the culture of the area. Buddhism with a special emphasis on protecting sailors and travelers thrived here. Konpira-san, the protector god of sailors, is revered at the Kotohira Shrine. The shrine is located half-way up the side of Mt. Zozu and visitors must climb 1,368 steps to reach the inner shrine. If you can't climb yourself, you can hire a palanquin to carry you! No matter how you get to the top, the view is worth it as you can see across the Sanuki Plain all the way to the sea, and can visit the treasure and art-filled rooms of the complex.
History, nature and religion aren't the only attractions in Kagawa. Naoshima Island boasts world-class art, architecture, literary culture and environmental stewardship. The small island inspired Raymond Benson's The Man with the Red Tattoo and the stunning art collections at the Benesse House and Chichu Art Museum, both of which were designed by world-famous architect Tadao Ando. Not to be missed are traditional bunraku puppet shows and a stay at a ryokan or minshuku.
Regardless of where you visit in Kagawa Prefecture, you'll be amazed at the delicious offerings of world-class udon. Japanese udon are thick wheat noodles that are cooked until chewy and firm, then served in a soy-based soup. Udon is said to have been introduced to Japan from China. Today, many types of udon are made throughout Japan, with regional specialties adding unique and gourmand options to menus across the country.
Udon can be prepared and served in numerous ways, but at the heart of the preparation is the careful boiling of the noodles in hot water. After cooking, the noodles are served either hot in a tsuyu, or soup broth, or cold, zaru-style with a side of dipping sauce or bukkake-style with a chilled broth and toppings of scallions, ginger, sesame, nori seaweed and powdered chili pepper. Regional udon recipes include adding tempura, kakiage, raw eggs or tofu skin to the dish, and two very popular variations are to serve the noodles in a Japanese curry or as a stir-fried yaki-udon dish.
There are so many varieties and combinations of how to prepare, serve and eat udon! In Kagawa, where a regional specialty called "sanuki udon" is so loved that the prefecture has been nicknamed the "Udon Prefecture"!
Sanuki udon got its name from the ancient ancestral name of the prefecture, called Sanuki. In this version of udon, the noodles are boiled in hot water and then removed from the cooking liquid. They are then added to a hot tsuyu broth and topped with an egg and finely chopped scallions. Udon is such a famous dish in Kagawa that "udon meguri", or udon restaurant crawls, are common activities for locals and tourists alike. Each restaurant features their own take on sanuki udon, with some making tsuyu with their own special recipes and others offering unique and varied toppings. Most people can't eat more than what they sample at three restaurants, but each day offers a new and interesting group of venues!
We love udon so much that we've features many recipes on our website. Whether or not you can sample authentic sanuki udon, try our recipes for Chilled Zaru Udon, Homemade Teuchi Udon, Hearty Tempura Udon, and Stir-Fried Yaki Udon. Each and every one of these dishes is sure to become a favorite!
We know you'll love udon as much as we do, and can't wait to see your comments below!