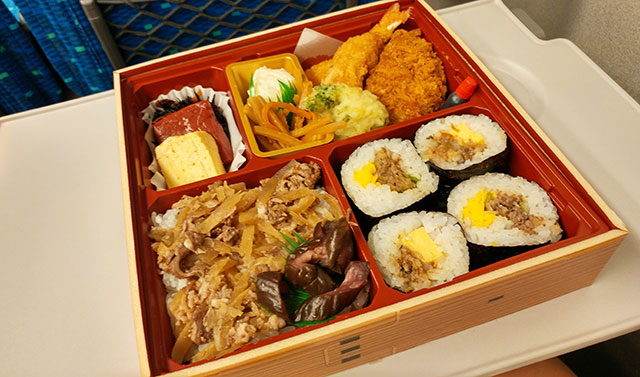 One of the most recognizable types of bento are ekiben… and this month, we're excited to explore these boxed meals that are famously found at railway stations!
Ekiben are special types of bento, or boxed meals, and the name is a compilation of "eki" which means station and "ben" short for bento. They were originally only available at railway stations, to travelers looking for fresh food, and were designed to enhance the adventure of travel. Imagine being able to eat a wholesome, carefully prepared meal while watching the scenery go by!
The advent of ekiben coincides with the advent of the Japanese railway. In 1872, the first train began service in Japan, from Yokohama to Shimbashi in Tokyo. As the rail system grew, travelers' needs grew, too, and ekiben made their debut in the late 1870's to the early 1880's. This first ekiben was essentially a rice ball. Realizing how large of a market there might be for fresh, boxed meals for travelers at railway stations, more and more vendors began selling ekiben, showcasing their wares by holding them in carriers around their necks and selling them to passengers through the open windows of trains. By 1910, ekiben had increased in popularity to such an extent that vendors began creating regional recipes and packaging to reflect the specialties available at their local train stations. One of the most famous specialized ekiben was introduced in 1941 by a local ekiben shop in Hakodate, Hokkaido, during a time when rice was not plentifully available because of World War II. They stuffed a small amount of rice into squid and simmered it in a savory sauce. This rice-stuffed squid is still popular today!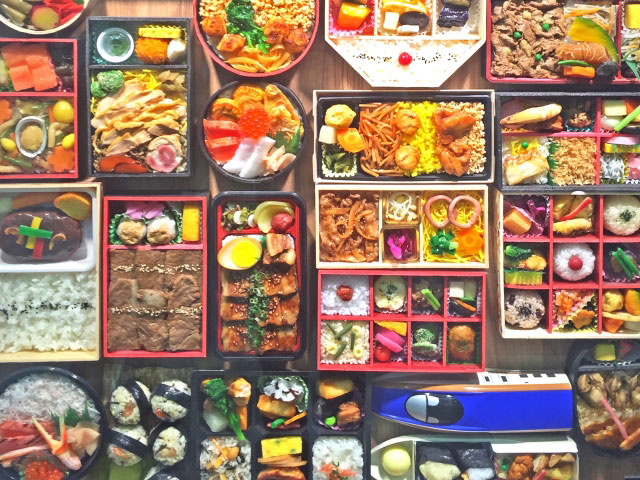 Ekiben design and ingredients were also influenced by popular culture. In the 1970's, when popular television shows became a mainstream form of entertainment, vendors began selling ekiben that mimicked those found in TV. Travelers always recognized them! But soon after, many Japanese stopped traveling as much by train, as owning vehicles and traveling by plane became easier. Ekiben sales decreased by approximately 50% between 1987 and 2008! To counter this downward trend, ekiben vendors got even more creative and innovative, such that today travelers can find elaborate ekiben at stations.
The Shinkansen E7 Series Bento is a great ekiben to purchase when traveling by bullet train, especially for kids! The container looks like a shinkansen train and it can be used to hold small keepsakes after the food is gone. The Gyu-tan Bento, from the Sendai area, uses a self-heating container that heats the food inside when activated. The Feel Good Meal sold at Matsue Station comes with sake. Rustic ekiben evoke nostalgia, like the Toge No Kamameshi rice bowls. Sometimes the boxes seem ordinary, but the wrappers are works of art, commemorating modern and historical events, samurai, manga and famous people.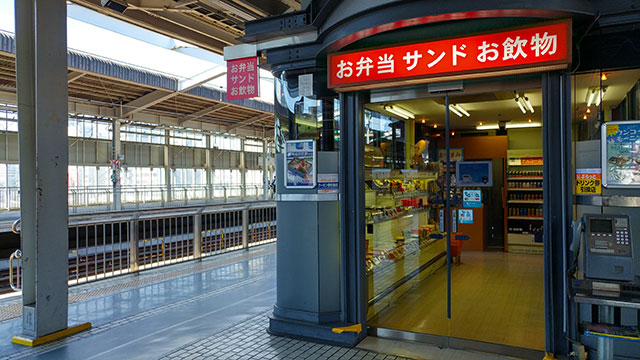 Ekiben are made by independent artisans and also in larger factories. Regardless of where the ekiben originate, freshness and quality are of utmost importance. Even department stores have gotten onto the ekiben train! They host multiweek festivals, showcasing ekiben from various regions of Japan and giving buyers a chance to experience the flavor of travel, without leaving home.
When you're feeling the bug to travel but can't manage a trip to Japan, try making some popular items found in ekiben. As always, white rice is a key ingredient in bento, and items like mini-hamburgers and aemono are great additions to a balanced bento. Try out these recipes and let us know what your favorite bento items are!