Last month, we started our Essentials of Japanese Cooking series with the first two ingredients of ryori no sa shi su se so—sugar and salt—and how they're used to begin preparing a simmered dish. We continue this month with the next two ingredients… vinegar and soy sauce.
Vinegar, or su, is a key ingredient in the traditional Japanese pantry. Japanese vinegar is typically made from rice and has a light, golden brown color and mild, sweet taste, without the strong acidity found in distilled or wine vinegars. Rice vinegar serves many purposes in Japanese cooking: it is a preservative used for pickling, it prevents discoloration of vegetables and rice, it tones down salty flavors and tenderizes meat, poultry and fish, and is used to prepare sushi rice and sunomono, Japanese pickled salad. As part of the 'principle of five', vinegar is used to marinate ingredients before they are cooked and to add to the supercharged liquids used for simmering. It's also used to create complexity in sauces, dressings and pickles.
Vinegar's acidity is balanced by the savory taste of shoyu, or Japanese soy sauce, the se. Two types of shoyu are most predominantly used in Japanese cooking: light (usukuchi shoyu) typically used in Kansai style cooking and dark (koikuchi shoyu), traditionally used in Kanto style cooking. Both types of soy sauce are made from soy beans, wheat, rice, salt and yeast, with the ingredients fermented and aged naturally to give the resulting sauce a rich flavor.
In Japan, shoyu is both mass-produced and artisanally prepared. Traditionally, shoyu is made by combining the ingredients and fermenting them in large vats that are hand-stirred. Larger manufacturers follow a similar process, but allow machines to mix the ingredients. In either process, the sauce is aged for at least six months. Koikuchi shoyu is produced most often, and is considered the 'standard' type of Japanese soy sauce. It is made with equal parts soy and wheat, plus salt and yeast. This darker soy sauce is used for simmered dishes and most often in home cookery.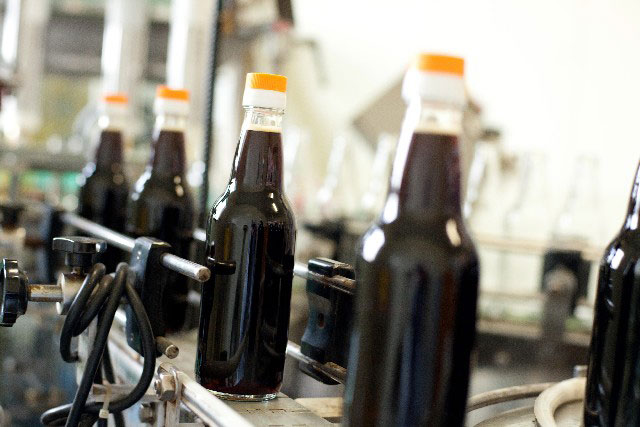 Usukuchi shoyu, the second most popular soy sauce is lighter and saltier than koikuchi shoyu. It's the preferred soy sauce for haute cuisine and recipes originating from the Kansai region of Japan, and because of its lighter color and unique flavor in dips and sauces that need to be light in color. Usukuchi shoyu is made from soy, wheat, salt and yeast, and is often flavored with fermented rice, wheat gluten or amakaze.
Tamari, Saishikomi and Shiro shoyu are specialty types of sauces, often used as dipping sauces and for flavoring specific dishes.
Shoyu is serious business in Japan, as it is one of the essential condiments used in all Japanese cuisine. The Japanese Ministry of Agriculture, Fishing and Forestry and the Japanese Soy Sauce Association both monitor the grading and labeling of shoyu. Grades include special, first grade, standard grade, extra select and ultra-extra select and labeling includes the notation of any additives, whether the ingredients were grown without pesticides or chemical fertilizers, whether the sauce was made from the whole soy bean, whether the sauce is low sodium and whether it raw and unpasteurized.
Simmered dishes, or nimono, rely a great deal on sa shi su se so used in a dish in a particular order, and are exemplary of the fundamental rules of Japanese cooking. Vinegar is used to tenderize or marinate meat or poultry before adding these types of tougher materials to a simmered dish, and is used to coat vegetables after quickly simmering to prevent discoloration. Shoyu is often added to simmering liquids to impart light to robust flavor and umami to foods. Each step of a nimono recipe is performed precisely in an order that enhances the qualities of each ingredient, building complexity while remaining delicate and true to the tastes of the food itself.
We have a lovely Nimono (Japanese Summer Vegetable Stew) recipe on our website that is easy for beginners and we hope you enjoy trying it!
In our next post, we'll discuss how miso is used and how this essential of the Japanese pantry is used in many dishes. We'd love to hear back from you about your experiences as a beginner with Japanese cooking, so leave us a comment below.