We continue our Essentials of Japanese Cooking series this month with a feature on miso… the so in ryori no sa shi su se so. Miso is a fermented paste made from soybeans, salt, either rice or barley, and a fermentation starter called koji. Used in miso soup, as a marinade, in dressings and sauces and a variety of other dishes, miso is an important staple in the Japanese pantry.
Miso is said to have originated in China, as early as the 4th century BCE. It was introduced to the people of Japan by Buddhist monks who traveled from China and brought many new ideas that inspired and informed Japanese food culture. The way Japanese people began to produce miso refined it into a few varieties, each with a distinctive flavor and nutritional profile, texture and umami (the rich and savory taste of glutamate-based foods).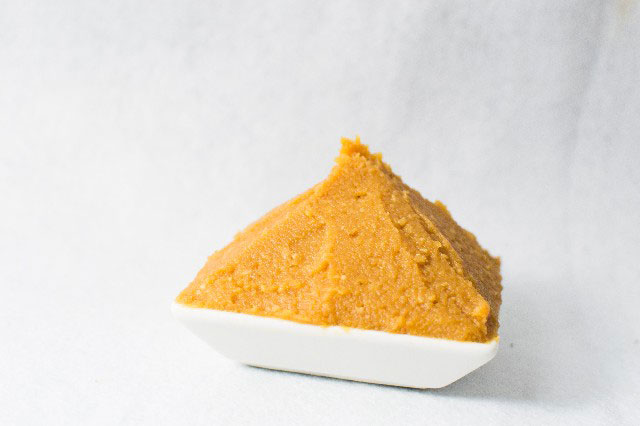 Four main varieties of Japanese miso are available at most grocery stores in Japan, along with a few specialty gourmet types. The main varieties include rice or 'kome' miso, which is the most commonly consumed variety, barley or 'mugi 'miso, pure soybean or 'mame' miso, and blended 'awase' miso, made with two or three types of other miso pastes. Each of these pastes are fermented from a few weeks up to three years, and the lighter varieties are more mildly flavored than the darker ones.
Specialty miso pastes including hatcho miso, an all-soybean paste with a medium sweet/strength/saltiness profile, saikyo miso, a golden yellow paste with a naturally sweet, low salt flavor, and moromi miso, a chunky miso with the grains of rice or barley only partially crushed. Each of these specialty miso pastes are used in particular dishes, and not in general preparations such as miso soup or grilled fish.
Miso is high in protein, the B vitamins, enzymes, Vitamin E, fiber, lecithin, isoflavones, peroxidase inhibitors and prostaglandins–all of which may help to nourish and regulate the body. Miso was a critical component of Japanese diets during lean times and famines, and it is still consumed almost daily by people in Japan.
Traditionally, miso soup is enjoyed first thing in the morning, as part of a Japanese breakfast, to cleanse and nourish the body. (We have a great recipe for tofu misoshiru on our website!) The soup is made using a miso koshi, or small metal strainer, to create an even, smooth broth. Miso is also used in marinades and as a glaze for meat, seafood and vegetables, but must always be added to a dish either before or at the tail end of cooking, so the beneficial nutrients and the delicate flavor in the fermented paste are not destroyed by heat.
Miso is most often used in marinades, sauces and dressings. When used as a marinade, miso helps to breakdown the proteins in fish and poultry, infusing them with umami and drawing out any acidity or bitterness from the animal flesh. Salmon and cod marinated in miso and then broiled are popular preparations for these healthful oily fish. Miso-Marinated Chicken Kushiyaki is a great way to broil chicken. When used in sauces and dressings, miso can be mixed with mayonnaise, ginger, sesame oil, honey, citrus and even spicy sriracha sauce. Miso is even used occasionally in simmered nimono dishes, called miso-ni, in which miso is blended with dashi, mirin, soy sauce and fresh ginger and then used to cook various meat and vegetables.
In our next post, we'll discuss cooking with sake and mirin, and give you some other great recipes to try out! As always, we'd love to hear about your experiences as a beginner with Japanese cooking, so leave us a comment below.