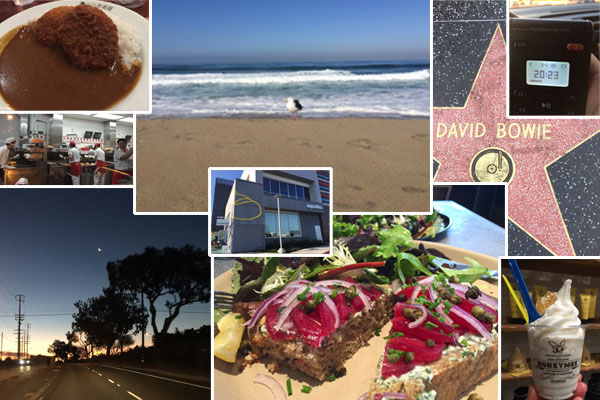 Well, maybe it's more than a day, but I've always wanted to use that title. I just thought I'd share some of my cell phone shots, which show what I've been doing lately. Think of it as my Instagram feed, except in blog form. I haven't been very good about posting these days, so this is my way of catching up.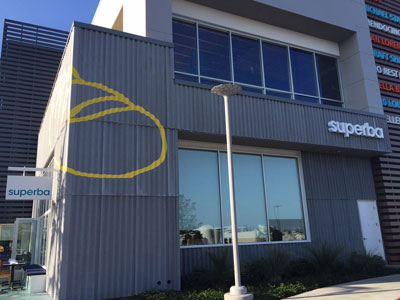 On weekends we go out to eat a lot–it's become our activity to explore places we've never been, to see if those Yelp or Serious Eats reviewers know what they're talking about. SUPERBA was one of those places. I got the beet marinated salmon on artisanal bread, dressed in herbal goat cheese and topped with capers. Pretty tasty, except it shocked me at first because I couldn't figure out where the salmon was. Then I realized–oh yeah, marinated in beets!
I think this was the day we ended up with something less frou-frou and more to my liking for dinner–Croquette Curry at COCO ICHIBANYA, my favorite Japanese style curry place. I'm a bit of a wimp. I can't go past Spicy #2 without setting my hair on fire.
Some Saturday mornings we'll fight the laziness and make it to the beach (we live about a mile away) and take a morning walk. The seagulls and surfers are usually already out there by the time we get there, but at least we make the effort, right? Did I tell you we drive there even though we're only a mile away?
My weekday mornings are much earlier. Since my work commute is pretty far (70 miles), I leave when it's still dark and I come back when it's already dark, during the winter months when the days are short. But it's peaceful when there's no cars yet in the city. You can see the sun just rising as the moon above is just setting. In no time though, I'm on the freeway and hitting morning traffic. I pass my time listening to audio books on CDs and MP3 players like the one you see here. I've "read" so many great books now, more than I've ever read in my entire life. How did I ever get through college as an English major?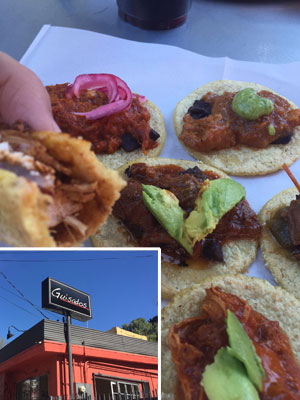 Recently on another "family activity day", we drove up to downtown Los Angeles to have lunch at GUISADOS, a Mexican place we found on Yelp, where they're known for their soft tacos. They have this sampler dish on the menu with 6 different tacos; I've never bothered to remember what I'm eating, I just know they're all muy bueno. (My daughter goes there for the horchata.)
That day since we were in the area, we decided to extend the field trip by stopping in Hollywood, where we never go–and now we know why; bad traffic, bad parking, too many tourists. But I couldn't resist taking a picture of David Bowie's star on the Walk of Fame–I'm a classic rock fan, remember? RIP Ziggy, you were way too young to leave us on earth.
Sometimes dinner is simple. We'll go to In-N-Out and just bring it home. I took a shot of the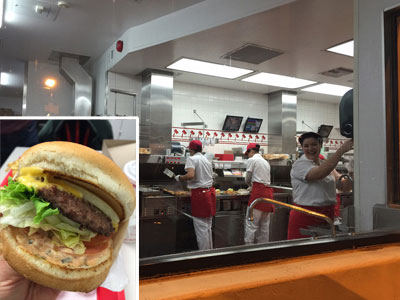 employees hard at work, making the best hamburgers in the West, right from the car at the drive-thru window. My son, who is going to school in Boston right now, told us that people on the East Coast think In-N-Out is the holy grail of hamburgers. Lucky we live L.A., eh? But it's all relative…a lot of people here think Shake Shack from New York is the best. I've had both, they're both good and different so it's tough to compare, but In-N-Out is the better value for sure.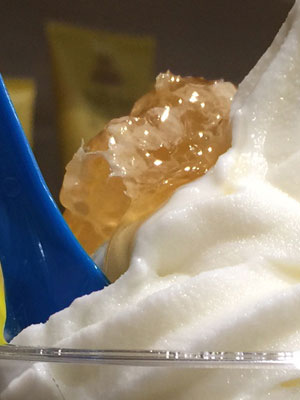 Our trending dessert for us right now is an ice cream place called HONEYMEE. It's actually a rich and creamy kind of soft-serve, with a cube of real raw honey, still in its honeycomb, sitting on top. What it reminds me of is the old days when I would stop at a gas station to get a soft-serve from those machines. Of course, this is much better–the milk is real and flavorful, without being too sweet. I can do without the honeycomb, which is basically like chewing wax.
This was fun to write…thanks for reading!
All photos by Bert Tanimoto