School's out, the sun is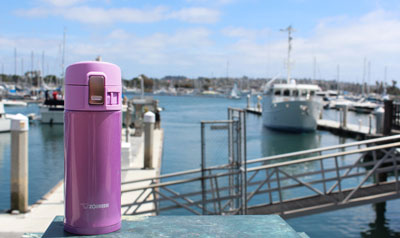 shining and summer is in the air! What is better than spending a weekend grilling with family and friends? At Zojirushi we love grilling everything from farm-fresh zucchini to apples and oranges – grilled fruit is the perfect addition to a summer cocktail or sangria! Here are a few pointers for those who are planning to elevate their grilling skill this year.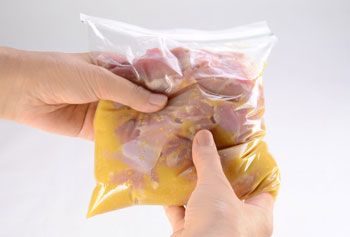 Grilling is a great way to get your feet wet in the world of umami. The fifth taste is often characterized as meaty or savory, and beef and pork are great places to play with the elements of umami. Try brushing your meat with shrimp paste, or soaking it in a miso marinade before throwing it on the grill. These unusual ingredients are a great way to add flavor in new and interesting ways. It's also a great conversation starter as most people don't think to add seafood flavors to a meat marinade! Lead the way.
Not a fan of mixing shrimp with meat? Another way to elevate your grilling is by using different types of wood chips and charcoal. You can find several kinds of Japanese charcoals online such as binchotan, that are sure to add unique flavors to any meal. A simple wood chip from your local market will also do the trick. Cook low and slow using indirect heat when possible. This style of cooking is perfect for a slow afternoon and will make for a truly delicious meal rich with happy memories.
Take your time and have fun with it! Summer afternoons stretch on forever, so you can spend more time enjoying yourself with loved ones. As always, Zojirushi will be there for you every step of the way. We look forward to seeing all of your summertime creations on Facebook and Twitter! Good luck!
Six Ingredients for Umami


Umami. That mysterious and oh so popular taste you can't quite put your finger on. It's not salty, not sweet, but somewhere in between. Hiding in the shades of grey, its subtle savory elements are hiding in plain sight on the shelves and countertops of your local grocery store. Ingredients you know and some you've never heard of can take your next meal from good enough to AMAZING with a few drops of this and a sprinkle of that. Here are six ingredients that will make your food shine with umami that will impress friends and family alike.
1.)   Miso: The mysterious bean paste that epitomizes umami in every form from shiromiso (white miso), akamiso (red miso) or awasemiso (mixed miso), can be added to anything from salad dressing to apple pie. Miso can be used as a sauce thickener, glaze, poultry rub or marinade. This ingredient is sure to stand out from the crowd and get people talking.
2.)   Usukuchi-Shoyu: Now this is your chance to   impress. It's lighter than regular shoyu, or soy sauce, but it certainly isn't "light" soy sauce. With a saltier flavor and lighter color, usukuchi-shoyu has a flavor that is more intense than regular soy sauce. It pairs well with citrus for marinades and dressings, and works as a fun salt substitute nearly anywhere. Try it with roasted red peppers for a salty sweet flavor that can only be umami.

3.)   Parmesan Cheese: Shave it on top of vegetables, eggs, toast and pasta for a salty finish without using salt. Parmesan cheese is a simple way to add umami to any dish. We love it with eggs!
4.)   Oyster Sauce: Too fishy? Absolutely not. Oyster sauce is the caramel sauce of the sea. Made with sugar, salt and oyster essence, this super concentrated condiment will add umami to anything it touches. Add a touch to meat marinades, BBQ sauce and veggie stir-fries for that subtle umami edge that's seemingly so hard to come by.
5.)   Dried Fish: A distant cousin of oyster sauce, dried fish can be found in many forms from baby shrimp to giant squid. Be careful though because a small amount of dried fish packs a huge punch. Dried fish is a great way to make soup starters or savory broths, delicious reductions and glazes as well. Simmer it with garlic and add as a finishing touch to veggies on the skillet.
6.)   Bacon: That's right, good ol' fashioned, thick cut bacon. It's not just for eggs and  pancakes anymore. This fatty, smoky, greasy delight can add depth to anything from pasta with white sauce to farm fresh kale. Let it sizzle with onions as a base for veggies, add it to thick cut greens or use it to wrap up fish before you throw it on the grill. Bacon is a simple way to add savory decadence and elevate any dish.
Origami (折り紙): The Art of Paper Folding
Origami is a traditional Japanese art of paper folding in which a flat, square sheet of paper is folded in a variety of ways to create intricate shapes without the use of scissors or glue. Ori (折り) means "folding", and kami (紙) means "paper. There are only a few basic folds, but they create endless forms of animals, plants and other shapes. The most well known is the origami crane.
The history of origami begins soon after papermaking was introduced to Japan in the 7th century. Prior to paper folding, paper was generally used for record-keeping and religious writings. Eventually it was used to fold formal traditional ornaments for decorating gifts and wedding ceremonies. Later in Edo period (1603-1868), origami gained popularity and became a common activity amongst ordinary people.
Today you can find an endless array of books on Origami and Origami paper across the United States. It has been embraced around the world as a creative way to make something beautiful out of nothing. It is also a common activity in grade schools, senior homes and rehabilitation centers. Instructions can be found on various websites and videos online. All you need is some paper, and you are ready to go! Happy folding!
Product of the Month: Indoor Electric Grill EB-DLC10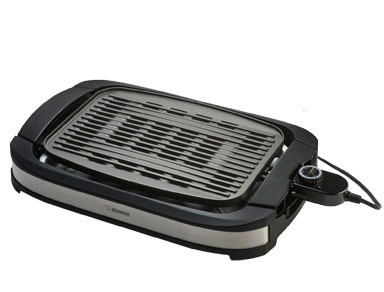 Grill foods where ever you want. The Indoor Electric Grill allows you to enjoy all the delicious elements of grilling without the hassle and mess of an outdoor barbecue grill. This portable grill has a large ceramic grilling surface for fast and easy grilling; perfect for parties. Its variable heat setting allows you to grill different types of food at its ideal temperature and timing. Now you can enjoy barbecued meats, veggies and fish, all year round. With the Indoor Electric Grill, last minute barbecues and dinner parties will be as easy as plugging in the cord. Plus, the stainless steel exterior will definitely fancy up your party.