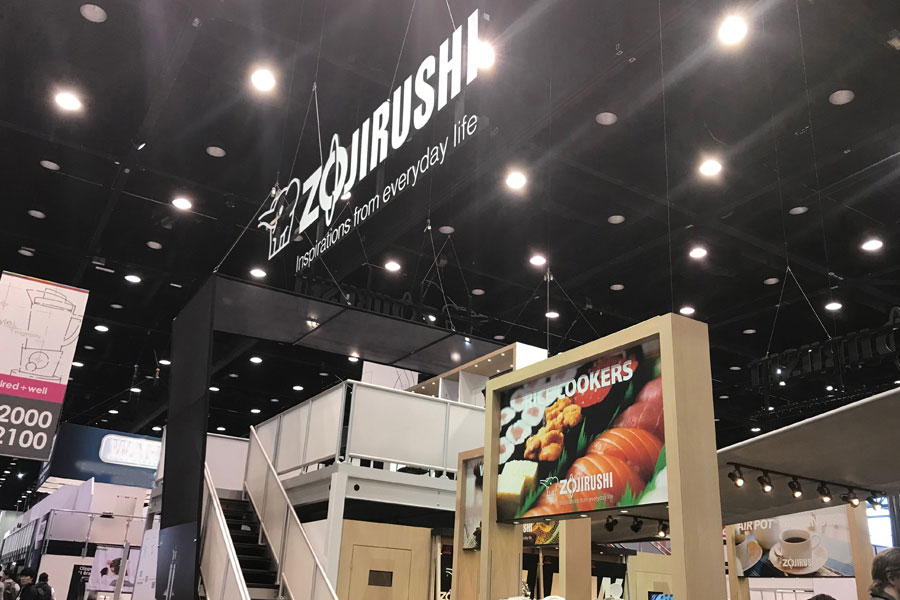 Earlier this March I was at the International Housewares Show in Chicago again, and this year I thought I'd do my report exclusively on your favorite company and mine, Zojirushi. For more on what the IHA Show is all about and a peek at what goes on there, see my past post on the IHA Show here. As always, it was a sold-out conference of over 2200 exhibitors from 47 countries, showing off their newest innovations in kitchen and home cleaning products. It's an exciting, fast, activity packed 4 days of meetings, seminars, panel discussions and dinners for all of these exhibitors—and our friends from Zojirushi were there, unveiling brand new creations and celebrating their 100 Birthday!
Just to give you a bit of the overall picture, the Show is divided into 3 halls at the McCormick Place convention center in Chicago. Home cleaning takes up the North Hall while kitchenware takes up the South. A smaller, but definitely the coolest hall, is filled with all the manufacturers of home electrical appliances—and that is where Zojirushi is, right in the middle of it all.
As always, our friends had many new products and innovations to unveil, and I'm sure you'll hear more about them during the year. Here's a couple of sneak peeks from me–the updated Fresh Brew Coffee Maker, and a new drink bottle from their travel mug collection. The Fresh Brew will now come included with a permanent, gold mesh coffee filter basket, so you won't have to replace the paper filters anymore. This is great news! Permanent filters save money, are easy enough to clean and are better for the environment because there's no paper waste. I like that!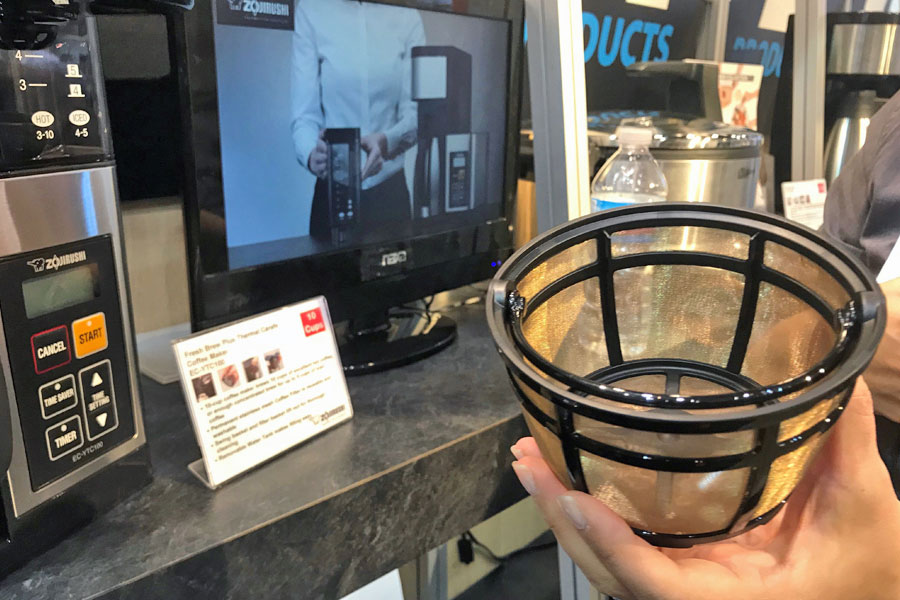 Their newest insulated travel mug has these very stylish, gradient colors that accentuate the tall cap design on this bottle. I've always been a fan of the colors that Zojirushi comes up with for their bottles, but they've outdone themselves this time with these!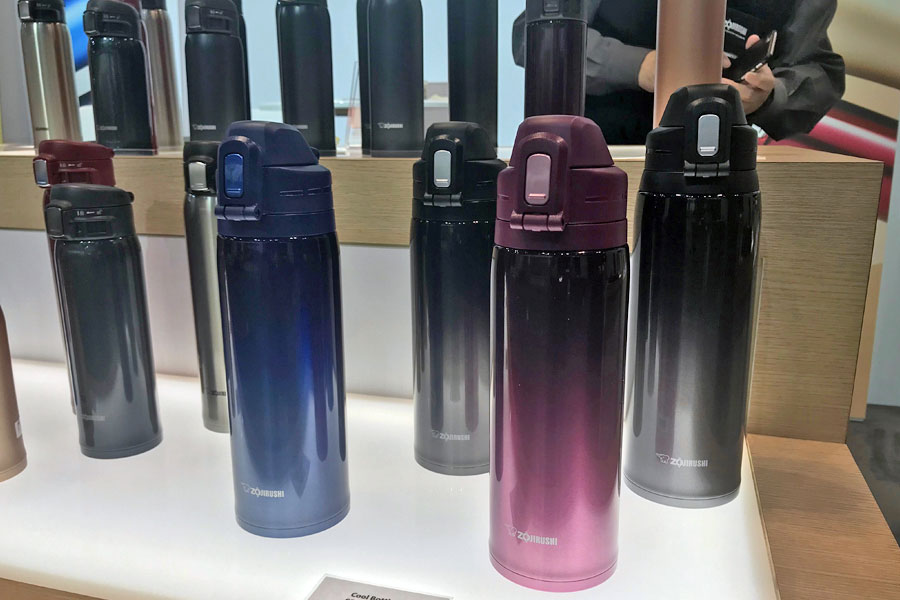 Also being introduced are these new drinking spouts on some of their models. The large opening is designed for quick guzzling when you're very thirsty—but they're still watertight enough for your backpack. Neat, huh?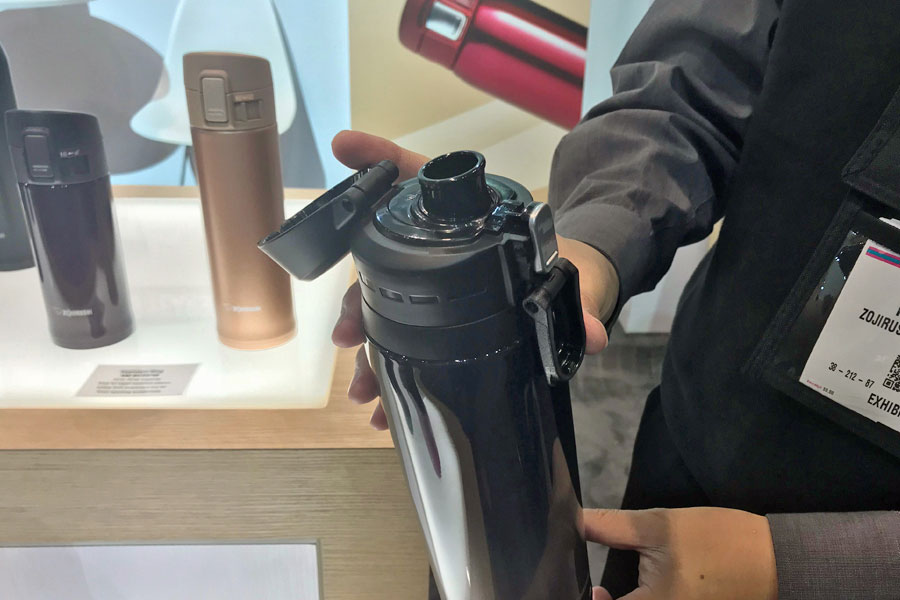 I was also told that for fans of stainless steel, there is a new water boiler with an inner tank made of their patented SlickSteel® surface, and a steel option will also become available on one of their rice cooker models. So if you'd rather have stainless steel than a nonstick surface, you can look forward to those!
Besides all the wonderful technical gadgets and appliances that are demonstrated in this hall, you can smell all the aromas from fresh coffee and food cooking as you roam the aisles. Manufacturers of coffee makers and various cooking appliances all give out samples throughout the day, and Zojirushi is no different, as the staff is extremely busy, grilling tasty snacks on their gourmet griddles and cooking rice dishes with their rice cookers. I'm telling you, it's a smorgasbord, and there's nothing like the smell of good food to attract customers to your booth!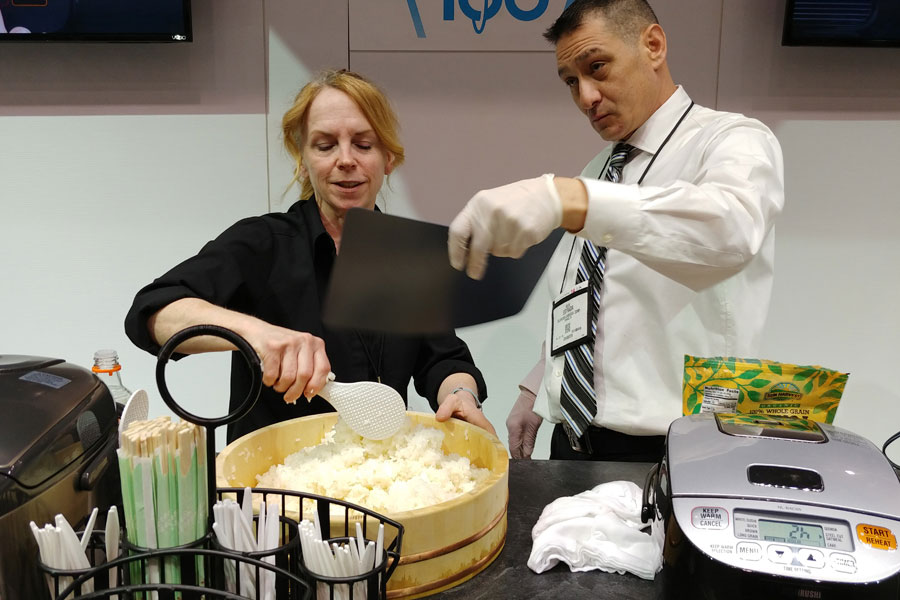 Marlene and Nick from Zojirushi fanning and cooling fresh cooked sushi rice.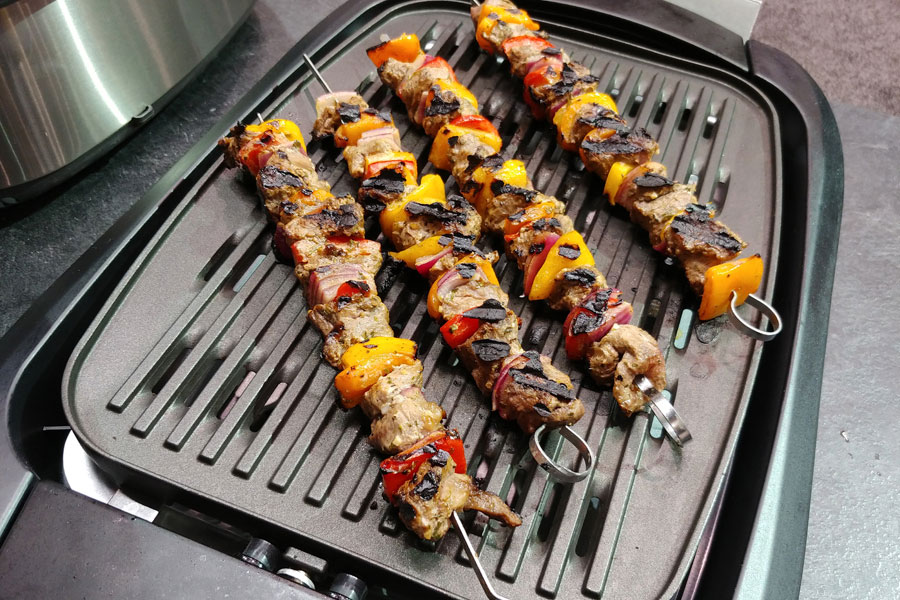 Lamb Kebabs (original Zojirushi recipe)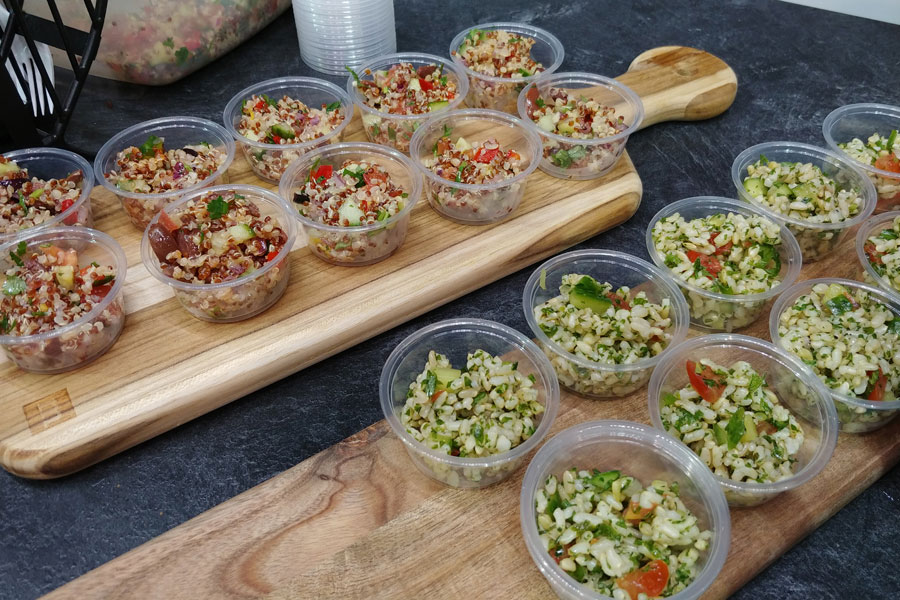 Mediterranean Quinoa Salad (recipe from Marlene) & Brown Rice Tabbouleh (Zojirushi original)
Scenes from the 100th Anniversary party that Zojirushi held at their booth for their customers and guests.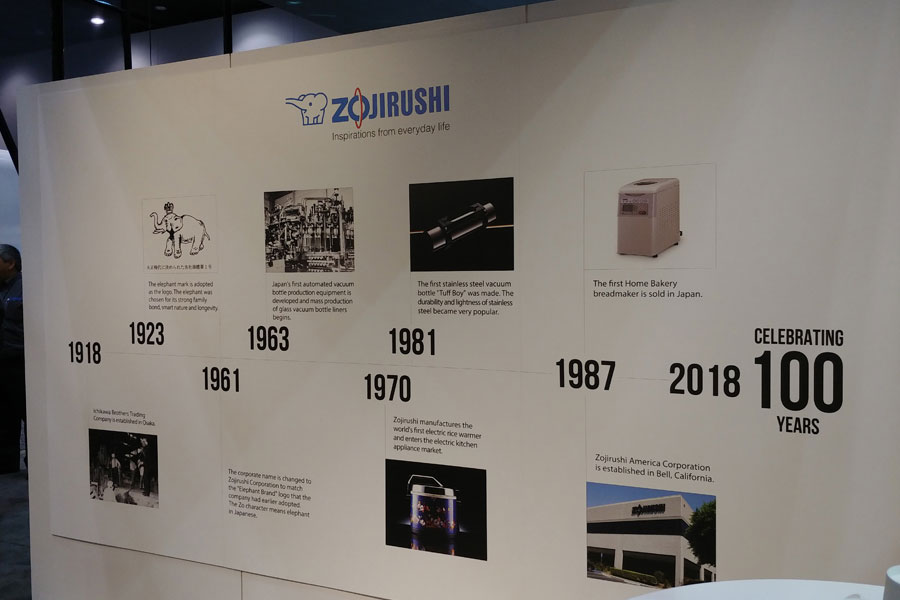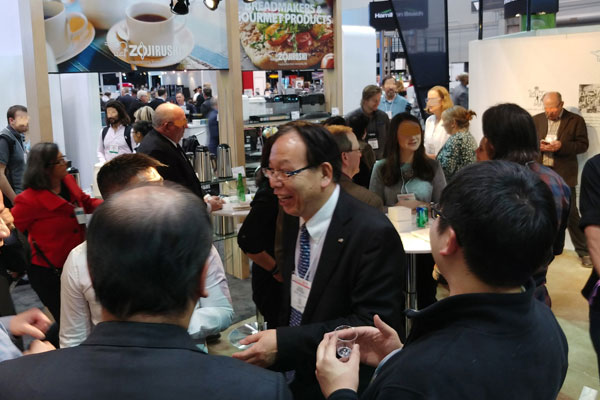 What a spread!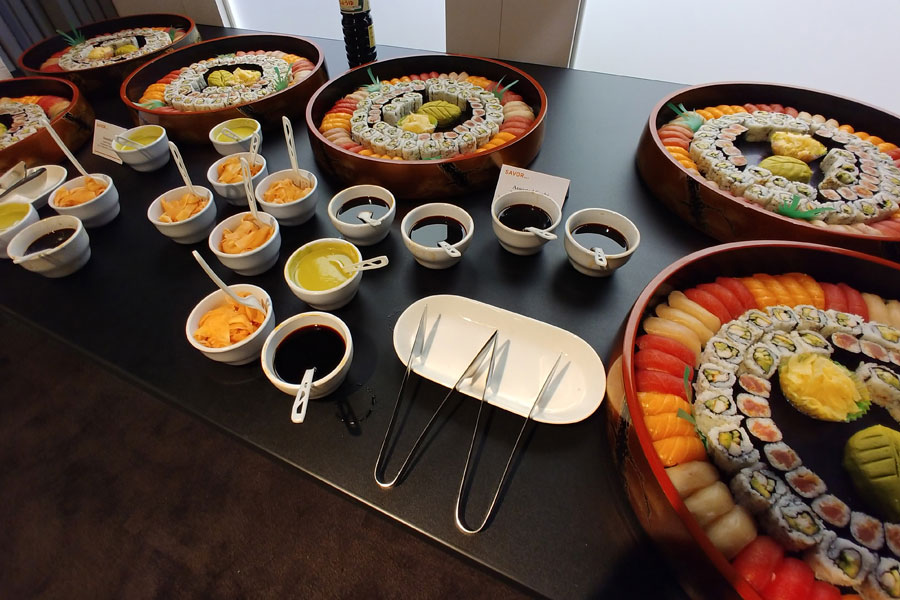 I hope you enjoyed this look from behind the curtains at this year's International Housewares Show. You can see how much work is involved in putting an event of this size together, both for the organizers and for all the exhibitors that attend it. Luckily, the weather in Chicago was fairly mild again this year, and I was able to fly out just as snow hit the city. This was at the airport and it looks bad, but I only got delayed an hour.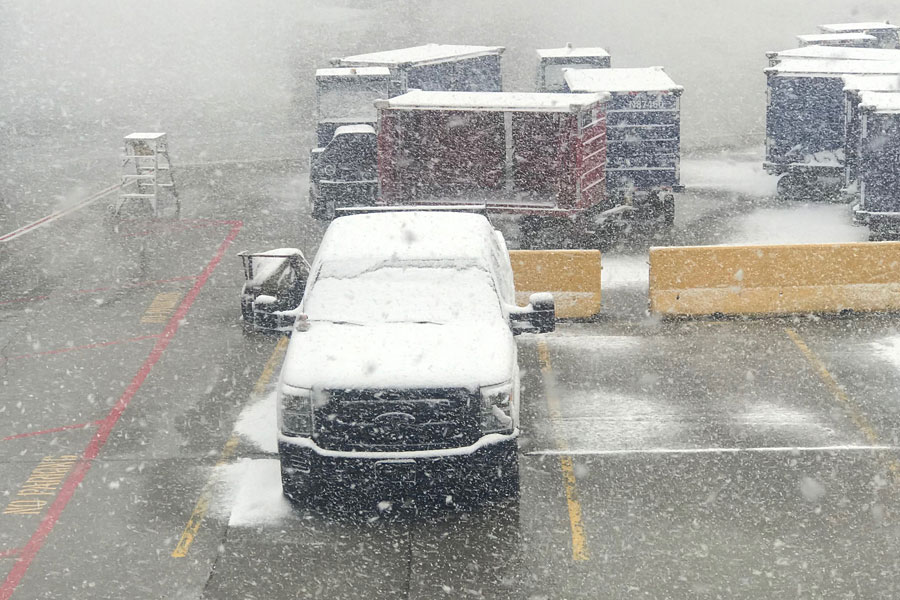 Airport crews busy at work, de-icing the wings before takeoff. I think that green stuff is anti-freeze.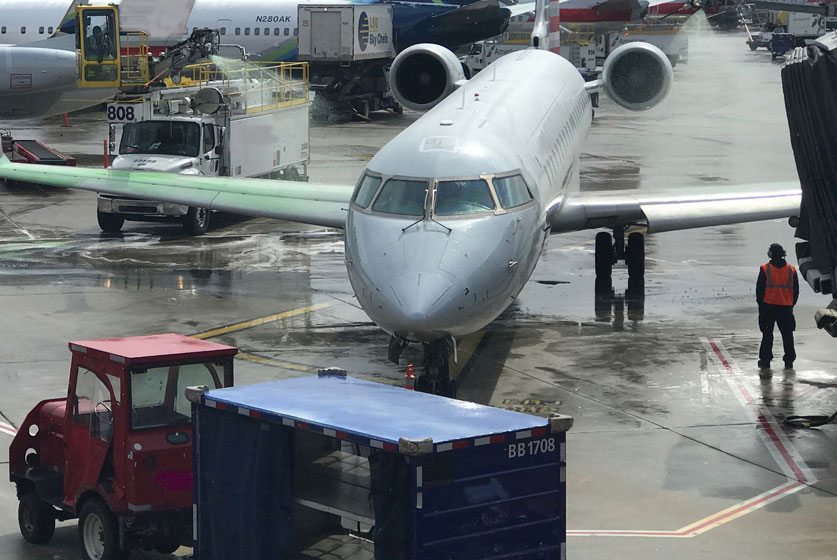 I hope to attend next year too—looking forward to it!
photos by: Amy Barnum and Bert Tanimoto